Zeus: JP Morgan's Paris cocktail, with an olive
Attacked from all sides on climate, the biggest U.S. bank's latest pledge will soon be dated by the speed of the markets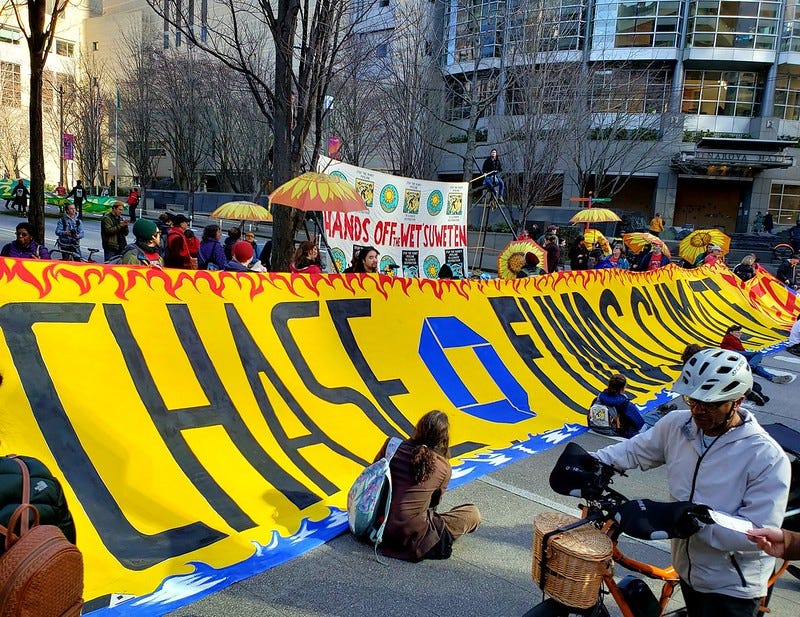 Above, Seattle climate protest, February 2020. Photo:
Wil_i_am Murray
/flickr.
(David Callaway is founder and Editor-in-Chief of Callaway Climate Insights. He is the former president of the World Editors Forum, Editor-in-Chief of USA Today and MarketWatch, and CEO of TheStreet Inc.)
SAN FRANCISCO (Callaway Climate Insights) — One of my favorite Winston Churchill martini stories is that rather than add Vermouth, he'd simply raise his glass and toast in the direction of France, where much of it is made.
JP Morgan Chase's (JPM) awkward tilt toward the Paris Climate Agreement this week reminded me of just such an empty and somewhat cheeky move, promising to someday move its clients to carbon neutral without actually adding the splash of real action.
The bank said it would begin reviewing lending activities to all of the industries it helps finance, setting goals for 2030 next year and moving toward alignment with the 2015 Paris agreement, which asks countries to reduce greenhouse gas emissions to limit the earth's heating to less than 1.5°C. above pre-industrial levels by 2050. For now, it won't stop lending to any industries, such as fossil fuels, or turn down any clients who don't reduce emissions.
Climate activists were quick to criticize the pledge as not enough, or any, immediate action. They're right. Setting goals for a decade from now, or 30 years from now is good marketing, but without a blueprint on how to get there that starts with action in 2020 — when climate change's effects are already being felt — is only so much cocktail dressing.
The corporate climate change fighting industry is big on future goals as a substitute for direct action. Indeed, I even saw a study this morning that mentioned the cost in trillions by 2200 — 180 years from now — of not taking action soon. Not sure what the world will look like then but I would bet my New York Jets will still be looking for another Super Bowl win.
JP Morgan is one of the biggest lenders — along with Citibank (C) and Bank of America (BAC) — to energy companies and utilities, with $43 billion and $32 billion in financing commitments, respectively, to each, according to S&P Global Markets. Nobody expects the bank to realistically pull out of those deals overnight. But acknowledging that it will need to move in that direction is at least a first step.
The reality is that the markets will move faster than any climate pledges could possibly achieve, making lending to fossil fuel companies quickly less attractive than other industries, such as the renewable energy. As companies in the green sector become more competitive and their prospects grow, their ability to create profits for their financial backers will lure reluctant banks to the hotter money.
The new CEO of Norway's massive, $1 trillion sovereign fund, Nicolai Tangen, acknowledged as much in an interview in the Financial Times this week. He said the fund, built on the back of the company's oil industry, should start divesting companies which perform bad on environmental, social and governance (ESG) issues and start risking more money on the ESG sector, which has so far been profitable for it.
JP Morgan, the man, built his fortune on railroads and steel, both booming industries at the turn of the 20th century that rewarded risk-lending with colossal profits. Big Oil played that role the past 50 years, with obscene profits for the banks and few perceived costs to production plans. Turns out there were huge costs, they just weren't included on any financing commitments.
The shift toward other forms of energy — wind, solar, hydrogen, battery — are quickly becoming cheaper and more efficient. The market is rapidly moving toward them and the big banks — JP Morgan included — will follow their noses to where the money is rather than their consciences.
All roads might not lead to Paris. But it's as good a direction to turn toward and toast as any.