ZEUS: The wind behind renewable energy stocks
A pickup in orders in June and enthusiasm for renewable energy has helped wind energy stocks take flight in July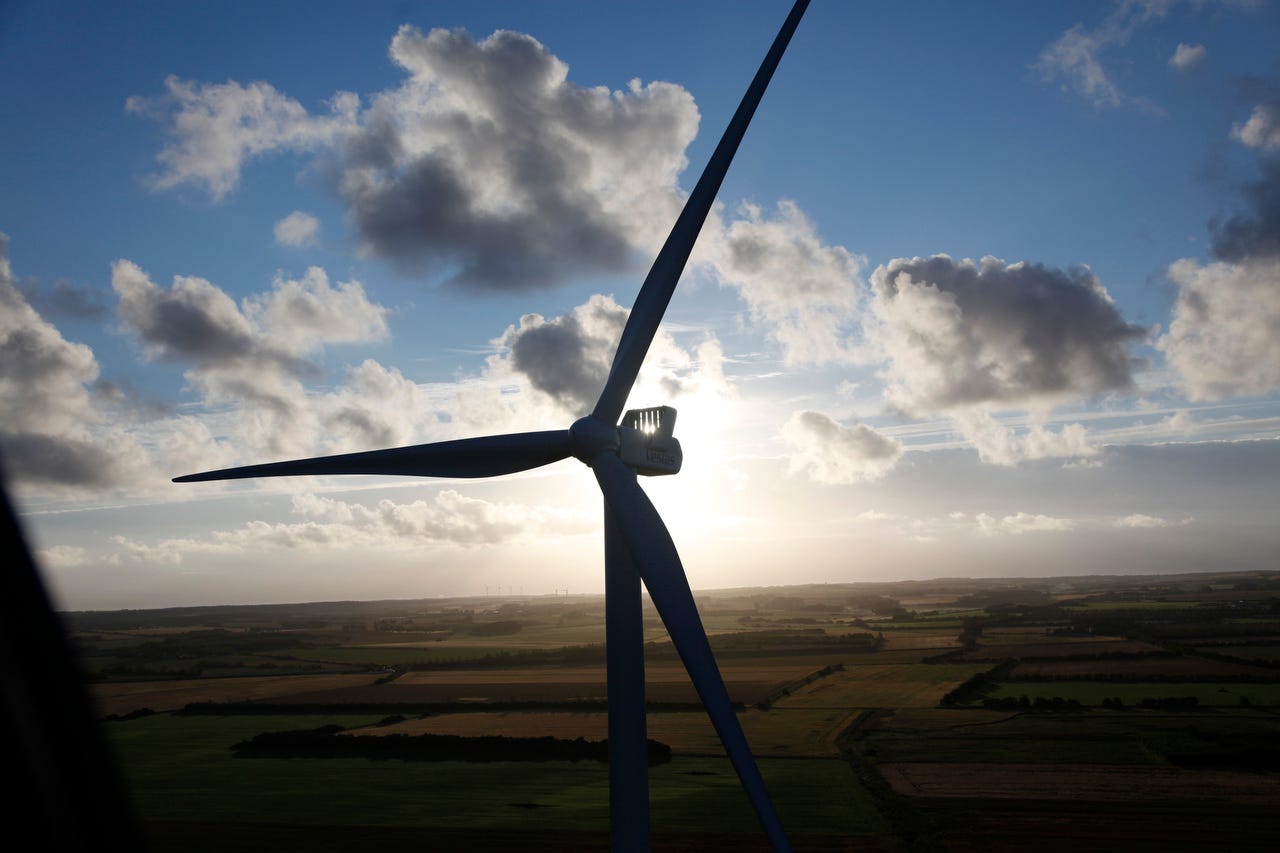 SAN FRANCISCO (Callaway Climate Insights) — As Congress bickers over renewable energy projects in its infrastructure spending plans, wind energy stocks have quietly rallied this month on a pickup in new orders for turbines and other equipment and a push by large companies for aid to the renewable energy industry.
Shares of Vestas Wind Systems (VWDRY), the Danish company, are up more than 25% since July 1, and 50% since May 1. Shares of Siemens Gamessa (GCTAY) are on a similar path, and shares of other wind providers such as Northland Power (NPI) of Canada and Nordex (NRDXF) of Germany also are higher.
Shares of wind ETFs, such as the First Trust ISE Global Energy Index Fund
(FAN) or the Invesco Cleantech ETF (PZD) show similar chart patterns. And Broadwind (BWEN), a microcap turbine and gearing company based in Cicero, Ill., are up more than a third this month — and have tripled since May 1.
Behind the gains, aside from the general stock market rally, is a rebound in orders in June that has helped the industry recover from the shock of the pandemic in the spring, according to Windpower Intelligence. While orders are down compared to last year, the recovery is beginning to attract attention.
Broadwind, for example, reported a surge in orders in its first quarter, enough to return it to profitability for the first time in three years. It reports second-quarter results early next month.
While the solar industry is often viewed as sexier than wind power, wind energy is picking up both onshore and offshore. Most of the offshore projects are in Europe and Asia, mostly China. In the U.S., there is only one online, although the Vineyard Wind project off of Massachusetts is making progress.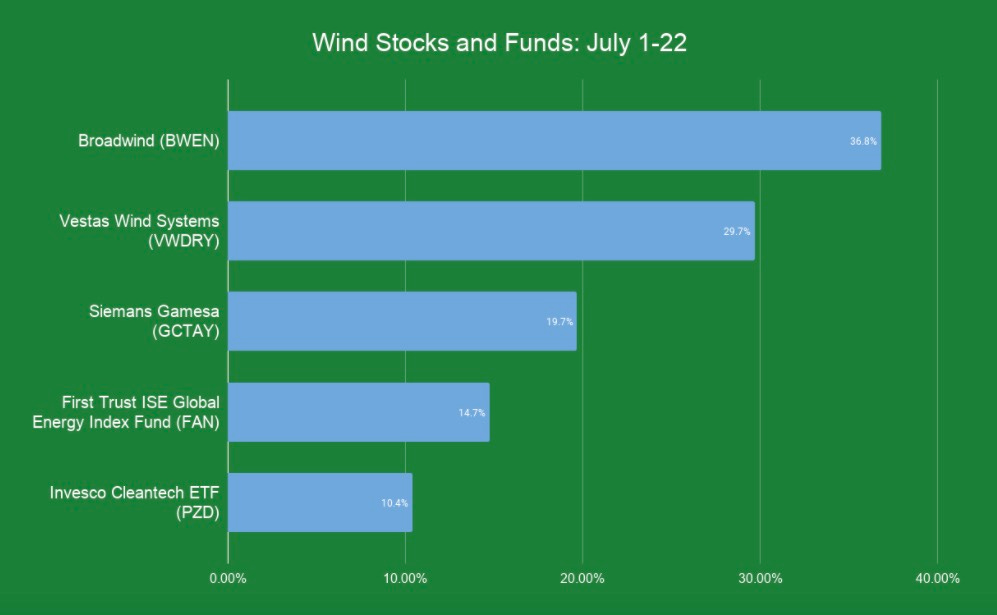 Often billed as a source of cheap power, wind projects — especially offshore ones — are quite expensive and manpower intensive.
There are more than 50,000 wind turbines on shore, however, in the U.S., in states like Texas, Oklahoma, the Dakotas and many others. Together they employ more than 100,000 people, though supply chain disruptions tied to the pandemic have hit wind energy just as hard as other renewables. Estimates are more than 600,000 renewable jobs have been lost this past spring.
Big business is trying to help. More than 30 large companies, such as McDonalds (MCD), Starbucks (SBUX), and PepsiCo (PEP), called on Congress this week to include renewable energy in its infrastructure plans.
Some states are helping, too. New York Gov. Andrew Cuomo said this week he will reach out to renewable energy firms. and in particular offshore wind projects, to try to power up to 1.5 million homes.
The investor interest and corporate push contrast with a general apathy among Republicans in Congress to include renewables in any infrastructure deals. The companies want tax credits to support the investment, but I don't see any deals getting done before the election in November.
That may hamper further gains in wind equities. But the fact that these stocks are moving higher and orders have picked up, despite the downbeat news coming out of Washington, is noteworthy.
As I've argued before, Congress and regulation often lag industry and investment in important business evolutions. Such could be the case with renewables right now, where a dark outlook is being viewed as an opportunity by braver souls.
Above, wind turbine in Lem, in central Denmark. Photo: Vestas.