Discover more from Callaway Climate Insights
Callaway Climate Insights provides news, critical analysis and original perspectives at the intersection of global finance and the challenges of climate change. 
Over 3,000 subscribers
ZEUS: Trump, Biden and the fallacy of fracking
While candidates argue about fracking, renewable energy jobs become the pivot point for economic recovery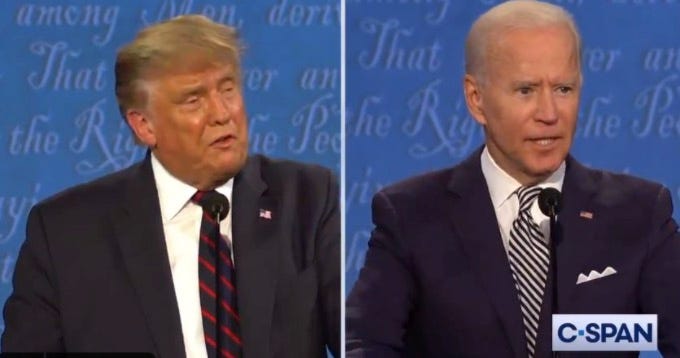 (David Callaway is founder and Editor-in-Chief of Callaway Climate Insights. He is the former president of the World Editors Forum, Editor-in-Chief of USA Today and MarketWatch, and CEO of TheStreet Inc.)
SAN FRANCISCO (Callaway Climate Insights) — Fracking good. Green New Deal bad. No fracking jobs will be lost. No Green New Deal coming. The synthesis of these complex, rolling issues into campaign brickbats by the presidential and vice presidential candidates is enough to make me spit up my hydroxychloroquine.
Sound bite messages — made worse and even less credible by social media — have plagued politics for decades. This year's election like no other has morphed them into an art form along the lines of the classic "read my lips" genre. None will end up true.
We will hear about the Green New Deal for a long, long time, no matter who wins in three weeks. Fracking, probably not so much. Industries evolve like everything else. Horse rustling gives way to auto manufacturing; trains to planes; vinyl to streaming; rotary to mobile. No industry will be disrupted in the next 20 years like energy.
The International Energy Agency said in a major report this week that solar is the fastest growing form of energy and that together with wind and hydropower, renewable energy would support 80% of energy needs in a decade. Coal, oil and natural gas will predictably decline, and with them, the jobs that have carried American blue-collar workers for more than a century will transition to the next big thing — clean energy.
A quick look at the jobs numbers reveals what's at stake. There are about 650,000 fracking jobs in the U.S., according to the Bureau of Labor Statistics. That is well down from when fracking peaked in 2015, and the U.S. became the dominant fossil fuel supplier in the world. About 26,000 of those jobs are in Pennsylvania, a key swing state, which explains why they are even a campaign issue.
There are also about 600,000 renewable energy jobs, which were the fastest growing in the energy sector the past three years. But like almost every other job in 2020, they are getting whacked as well. No real mention of them by the campaigns, though.
Also, no mention of the jobs impact in the top five employing industries in the U.S., according to IBISWorld. They would be schools (6.6 million), hospitals (5 million), restaurants (4.2 million), office staffing or temps (3.1 million), and colleges (3.1 million). No mention, despite these being five of the industries most affected by Covid-19.
Utilities employ more than 500,000 people, and given the work that will need to be done to transition our grids, this will be a key source of jobs in years to come. Wind power is about 100,000 jobs and solar about 30,000 but growing fast. Battery-focused jobs number about 90,000 and that doesn't include Tesla (TSLA), which itself employs 48,000. The electric vehicle industry is about 70,000 total, and when you add hybrid vehicles it grows to 250,000.
Since we're counting, there are less than 50,000 journalism jobs in the U.S. these days, with about 25% of those running digital only. No word on newsletter employment yet. So my profession is either the coal of the media world or, if you're an optimist, the digital part is the solar. Some might prefer "failing," though "transitioning" is more accurate, like every other industry.
Long after President Trump or Joe Biden declare victory on, uh, sometime this fall, the pivot to renewables from fossils will be in the headlines. Possibly even more so for the jobs it will create than the benefit it will have in helping us mitigate climate change. And whether you like the term Green New Deal or not, the goals-oriented focus of the legislation will form the basis for a lot of other strategies.
For proof, take a look at the performance of renewable energy stocks this year, and in the past few weeks as Biden surged in the polls. Investors are often ahead of the game. Compare the chart of the iShares Global Clean Energy ETF (GCEI) to the iShares S&P 500 Energy Sector ETF (ISRHF) for a better look at the expectations for renewables vs fossils after the election.
Remember, there are still Americans alive who bristle at the mention of FDR's original New Deal, which created the social programs that helped lift the country out of the Great Depression. As a result, there are more than two million federal government jobs today, and another 24 million state and local government jobs. But that's an issue for another election.