Discover more from Callaway Climate Insights
Callaway Climate Insights provides news, critical analysis and original perspectives at the intersection of global finance and the challenges of climate change. 
Over 3,000 subscribers
ZEUS: We stand with Maria Ressa
Too late to save Khashoggi and others, world must stand up for crusading journalist in legal standoff in Philippines with strongman President Rodrigo Duterte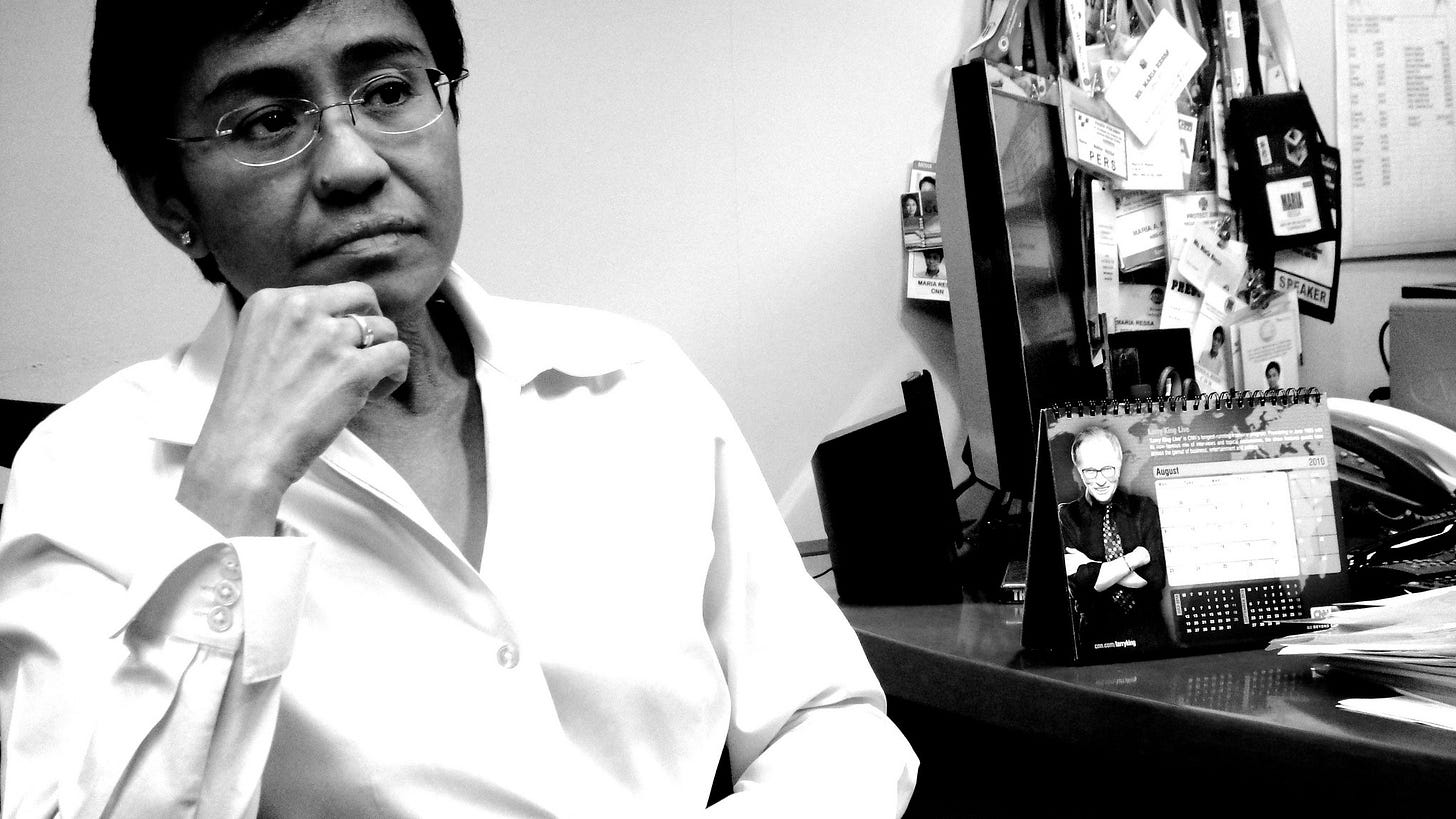 (David Callaway is founder and Editor-in-Chief of Callaway Climate Insights. He is the former president of the World Editors Forum, Editor-in-Chief of USA Today and MarketWatch, and CEO of TheStreet Inc.)
SAN FRANCISCO (Callaway Climate Insights) — We stand with Maria Ressa.
Not just the crusading journalist and the example she sets in defending journalism against strongmen, populist leaders such as Philippine President Rodrigo Duterte. The smiling colleague with gleaming eyes, who will shut her laptop, take your hand and ask about your family, even as she's being besieged by fans at a conference or hounded by legal emails and phone calls from a half world away. The person behind the symbol.
Ressa, a former CNN reporter in Asia and the founder and CEO of Rappler, a digital news service, was convicted of cyberlibel on Monday along with a former colleague for defaming a local businessman in Manilla eight years ago. She faces six years in prison in a case being closely watched for its implications for a free press throughout Asia, and really, everywhere. (See the story on Inkl)
Rappler has been at the forefront of exposing the corruption and human rights violations of Duterte, who has become increasingly bold in his battle against the media's reporting. Last month, he engineered the closing of the country's largest broadcaster amid displeasure about how it treated political campaign commercials. His campaign against Rappler also involves charges of tax evasion against Ressa, who faces many more years in prison on that. Duterte has also made the Philippines one of the most dangerous places in the world for environmental protesters, though that is another story.
Ressa was in the audience in Glasgow, Scotland last year at the annual meeting of the World Editors Forum and media publishers group WAN-IFRA, when I gave the forum's Golden Pen Award posthumously to Jamal Khashoggi, the Saudi journalist murdered six month earlier by thugs tied to the Saudi leader.
Five months later, she accepted an award herself at the annual awards dinner of the International Center for Journalists in Washington D.C. While she was giving her speech, she received news on her phone that she had been charged with tax evasion by the Duterte government.
Ressa is about five feet tall and soft-spoken. She laughs a lot and asks more questions than she gives answers. But when she takes the microphone she fills the room with courage and purpose in a way that has captured the hopes of journalists around the world that the rapidly declining trend of a free press can be turned around. Time Magazine featured her on its cover last year in a piece called The Guardians and the War on Truth.
As I spoke in Glasgow, I mentioned the increasing threats President Donald Trump had made against the "fake news" media in the U.S. Those have now manifested themselves in actual violence against dozens of reporters during the Black Lives Matters protests in the past month. They bode poorly for the tense months leading to the U.S. election, especially with John Bolton's new book claiming Trump had said some reporters should be executed.
This stuff feeds on itself, and is a direct threat to journalists, and journalism for all of us, in many countries. It is too late to help Khashoggi, or Lyra McKee in Northern Ireland, or Norma Sarabia Garduza in Mexico, or any of the other two dozen journalists killed around the world since him. But at the time of Khashoggi's death in October 2018, the world's media rallied at the shock of the killing and said "never again."
Now it is again. This time we can do something. Hundreds of journalists are already in prison worldwide and there is time to make sure Maria Ressa does not join them. She is out on bail and there is still time to help. To add your voice to the chorus calling for justice for Maria Ressa, email or write your Philippines consulate. Share on social media. Mention to a friend. Start reading Rappler.
I realize this is a climate newsletter but every voice must be heard on this case, just as they must for Black Lives Matter. In the end, the forces that would censure a free and fair press would also extend racism, environmental racism, and all forms of attack on freedoms around the world by populist leaders.
Ressa — Maria — has admitted she is scared what will happen next. But she will not back down. In this unprecedented year of plague, storm, fire, protest, heroism, and courage, neither should we.