Zeus: Why NYC's Climate Week should be the new annual COP summit
Plus, UK's Rishi Sunak torpedoes green agenda to shore up weak polls.
This column is for Callaway Climate Insights subscribers only, but it's OK to share once in a while. Was it shared with you? Please subscribe.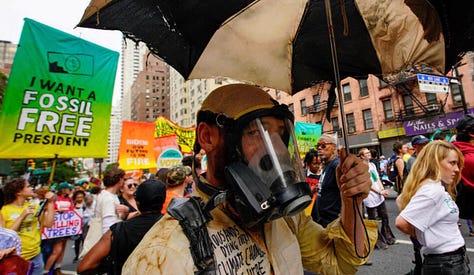 (David Callaway is founder and Editor-in-Chief of Callaway Climate Insights. He is the former president of the World Editors Forum, Editor-in-Chief of USA Today and MarketWatch, and CEO of TheStreet Inc. His climate columns have appeared in USA Today, The Independent, and New Thinking magazine).
SAN FRANCISCO (Callaway Climate Insights) — Tens of thousands of protesters freely gathering to demand an end to fossil fuels. An A-list of global leaders who have demonstrated progress in mitigating climate change. A global platform at the United Nations for scientists to illustrate their stark warnings.
Shouldn't New York's Climate Week just be the new COP series of annual summits?
From almost nothing five years ago, Climate Week and its host, the Climate Group, an international nonprofit, have taken over the most important international week of the year in NYC, which used to be dominated by the United Nations General Assembly and the Clinton Global Initiative.
---
David Callaway explains why this column is called Zeus in The coming battle with the climate gods: How mortal innovators and investors will save the planet.
---
Keep reading with a 7-day free trial
Subscribe to Callaway Climate Insights to keep reading this post and get 7 days of free access to the full post archives.