EU, China, Canada restate commitment to Paris Agreement despite Covid
Timmermans says world can't sleepwalk from pandemic into a climate crisis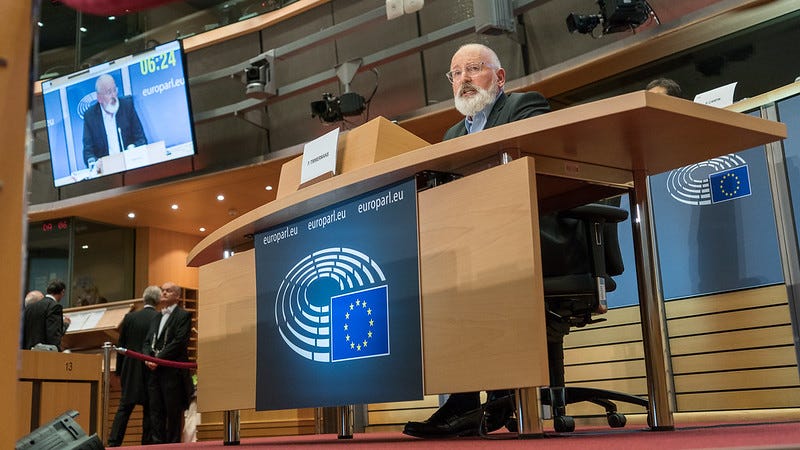 By Elizabeth Hearst
DUBLIN (Callaway Climate Insights) — EU, Chinese and Canadian ministers have reaffirmed their commitment to the Paris Agreement on climate change, despite the global economic crisis sparked by the coronavirus pandemic.
The meeting focused on aligning global recovery measures with the Paris Agreement and improving resilience against future crises, the European Commission said.
First Vice President of the European Commission and Commissioner for Climate Action Frans Timmermans hosted the fourth ministerial meeting on climate action (MoCA) in a video conference Tuesday, with the environmental ministers of Canada, Jonathan Wilkinson and China, Huang Runqiu.
"The planet cannot wait for us to take action on climate change," Timmermans said. "Without a green recovery, we would come out of the Covid-19 crisis only to find out we've sleepwalked into a climate crisis … It is also our duty to come up with plans to restore our economies and to increase the resilience of our societies," he said.
The statement comes after calls for the European Union to put the Green Deal on the back burner, including from Czech Prime Minister Andrej Babis, who urged the EU to ditch the ambitious program.
This commitment "sends a clear political signal that the recovery from the coronavirus pandemic will go hand-in-hand with the transition to low-carbon and climate-resilient economies", according to the MoCA.
Countries around the world have scrambled to invest heavily in their economies as a result of the coronavirus pandemic, with environmental policies and plans sometimes forgotten about in the press of restarting economies. In May, China said it would allow more provinces to start building coal power plants beginning in 2023, in an attempt to bolster the economy and provide employment.
As vice president in charge of Europe's Green Deal, Timmermans warned that nations will not have a second chance at getting their recovery plans right, adding, "The climate crisis is still there, the biodiversity crisis is still there and we will have one shot at addressing them together with the recovery plans that will now be made."
The rescheduled conference of parties (COP) has been postponed to November 2021, with ministers agreeing to reconvene next year ahead of COP26 in Glasgow, where the impact of coronavirus on climate change and program will be seen.
Above, Frans Timmermans at a European Parliament hearing, 2019. Photo: European Parliament.