Europe buckles on green recovery demands
Stephen Rae reports in his European notebook that progress will be limited until Europe's three most powerful women are aligned on carbon goals.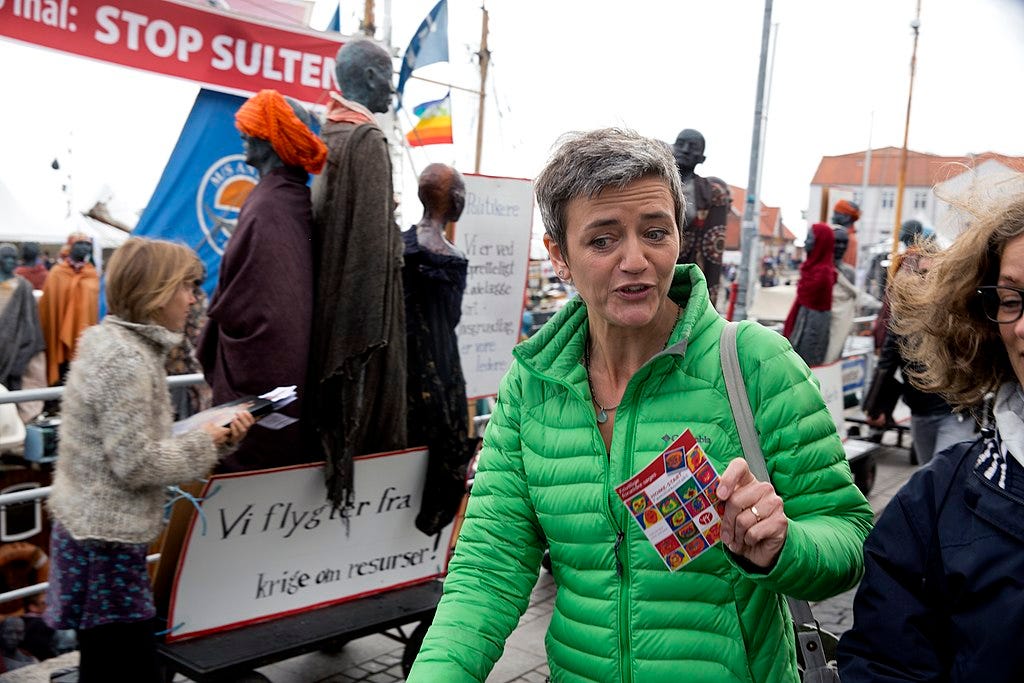 Scant signs of 'green strings' in pandemic bailout plans

Merkel faces domestic resistance to her Petersberg commitments

Meet Executive VP Margrethe Vestager, a gatekeeper for state aid schemes
DUBLIN (Callaway Climate Insights) — The old adage goes, "do as I say, not as I do."
It could sum up the European approach to the Green Deal goals announced with much fanfare just before Covid-19 hit and now the realpolitik of recovering from the pandemic.
In the intervening period we have heard many times from European Commission President Ursula von der Leyen that the Green Deal will be the "motor" driving the economic recovery. Impetus packages must have a climate element, she and her commissioners have stated. Yet as tens of billions are being spent to bail out the aviation and automobile industries, there is scant sign of "green strings" being attached — so far at least.
. . . .
A worrying development is that German Chancellor Angela Merkel is already facing domestic resistance to her Petersberg Climate Dialogue commitments (European Notebook, April 30) to "reduce emissions in the European Union by 50% to 55% by 2030, compared to 1990."
Conservatives in her own CDU party in the Bundestag have responded saying this will place huge burdens on the German economy. "We reject an increase in the EU's climate target for 2030 without a change in burden sharing," a briefing note from the CDU party, and its Bavarian counterparts the CSU, says.
"The health crisis has considerably changed the economic situation of employees and companies in our country and Europe," the authors say in the document seen by Germany's largest newspaper Suddeutsche Zeitung. Government policy should be to avoid "as far as possible burdens on employees and companies through laws and other regulations," the conservative CDU members implore. They want the European Green Deal to "be designed in such a way that it does not hinder but rather supports the management of the coronavirus pandemic."
"Our European partners must contribute to achieving the climate target with comparable efforts" before Germany should support the 50% to 55% emissions reduction, the report (which has not yet been adopted by the parliamentary group) insists.
. . . .
All of this is very concerning. Germany assumes the revolving presidency of the European Council [of governments] on July 1. From that date Berlin becomes de jure as well as de facto political driving seat of the continent and begins pulling together the economic recovery agenda. If Merkel faces resistance from within her own government, it could have a major impact in how quickly the European Commission, led by von der Leyen, can implement her Green Deal of carbon neutrality by 2050.
. . . .
Climate campaigners are already pointing to the bailouts for Lufthansa, Air France and carmaker Renault as examples that the green opportunity afforded by the pandemic are being squandered.
In Paris, the government led by Emmanuel Macron has agreed a €7 billion aid package for Air France and now a €5 billion impetus package for car giant Renault. Back in Berlin, Merkel's coalition is set to approve a €10 billion investment in Lufthansa for an estimated 25% stake in the flag carrier. Starkly, none of the handouts contain any so-called green strings.
Green MEP Henrike Hahn pointed out governments had been afforded a rare chance to influence climate issues by shifting strategic transport goals away from planes and cars to trains and bicycles.
In a tweet, Greenpeace wondered out loud where the incentive was for the emissions giants to change. "We want to know exactly how airlines like Air France-KLM will make a green transition when there is absolutely no constraint, no action," the group said.
In the European Parliament, the chair of the Transport and Tourism Committee, French MEP Karima Delli, agreed. "Where are the constraints and sanctions in case (Air France-KLM) doesn't follow up on its commitments?"
French Economy Minister Bruno Le Maire insists the airlines will have to give ground to the rail companies — but at the same time heaped praise on Renault as an "industrial flagship that belongs to our culture, to our history. It represents 1 million jobs throughout our territory."
He says Paris had no alternative but to save Air France with "the 350,000 direct and indirect jobs that go with it." France is also home to Airbus, which supplies many of the airline's fleet and is itself a major employer of 110,000 French citizens — many at its headquarters in Toulouse in the country's south.
Two conditions the government has placed on Air France are that it reduces domestic carbon emissions by 50% by 2024 and increase sustainable alternative fuels to 2% by 2025. Le Maire also told parliament last week that "as soon as there is a rail alternative to domestic flights with a duration of less than 2.5 hours these domestic flights will have to be drastically reduced and, in fact, limited simply to transfers to a hub."
. . . .
Ranked as Europe's third most powerful woman after Merkel and von der Leyen is the Commission's Executive Vice President Margrethe Vestager.
The Dane is a widely liked politician in Brussels and beyond and has not been afraid to impose multibillion-dollar fines on U.S. tech giants Apple (AAPL) and Google (GOOGL) in her role as Digital and Competition Commissioner. She is also the inspiration for the brilliant Danish political TV drama Borgen — which follows the dilemmas faced by a liberal prime minister of Denmark (is there any other type?). The drama produced by the state broadcaster DR had come to an end after a three-series run but not before becoming hugely popular in the rest of Europe. It's just been announced a new series is to be produced by Netflix in partnership with the Danish Broadcasting Corporation and brought to a much wider global audience in 2022.
That's all a long way of introducing Vestager, the gatekeeper who must sign off on all state aid schemes.
She cleared the Air France deal and noted that it was good that the French government had attached some carbon goals, though she had not required those green strings to be attached.
. . . .
Vestager stepped mid-March to suspend the watertight rules outlawing government bailouts and approved an immediate €1.9 trillion worth of member state solvency packages.
Last week, her department also updated the rules applicable to companies receiving government support during the pandemic. It was immediately apparent the conditions will not include an obligation to reduce carbon emissions. Hence her message of congratulations to Paris.
So while there will be a ban on dividends and bonuses, there are no specific green requirements.
However, "for public transparency, large companies also have to report on the use of aid received and compliance with their responsibilities linked to the green and digital transitions," Vestager says.
"Member states are free to design national measures in line with additional policy objectives such as further enabling the green and digital transformation of their economies," her statement added.
In effect, while there are no obligations, companies will have to show how government loans and grants are being aligned with green goals.
. . . .
In other words, I hear you say, it's a fudge. Yes it is. And until Europe's three most powerful women are aligned on carbon goals it will continue to be just that.
Above, Margrethe Vestager at a rally in Denmark, 2013. Photo: News Øresund/Johan Wessman.