Discover more from Callaway Climate Insights
Callaway Climate Insights provides news, critical analysis and original perspectives at the intersection of global finance and the challenges of climate change. 
Over 3,000 subscribers
Green Lights May 12: Top stories this week
Don't miss a single story: The best from Callaway Climate Insights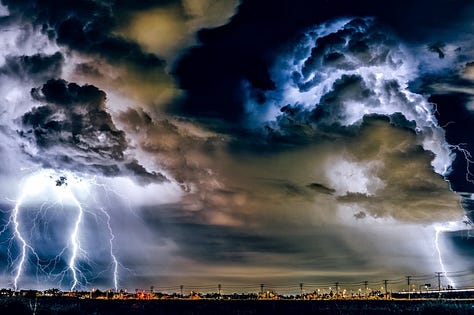 . . . . Welcome to Green Lights, our weekly roundup of the best of Callaway Climate Insights. This week, we're showing you the money. First, David Callaway parses why Warren Buffett is selling shares of an EV maker, then he looks at the the opportunities generated by Microsoft's deal for a fusion energy startup. And Mark Hulbert explains why math, not politics, drives the insurance market. Here are the highlights in a simple and convenient format that makes it easy for our readers. It's also easy to subscribe.
---
. . . . The deal for Washington-based Helion Energy makes one thing very clear: Big Tech, and particularly Microsoft, aim to be big players in the renewable energy game, just like they do with AI. David Callaway writes that the best way to speculate on the potential of these new technologies is with Big Tech itself.
---
. . . . Anti-ESG attacks on Wall Street are growing, but so are the costs of climate risks to investors and residents in states led by global warming's fiercest critics. And 'woke' extremists aren't to blame. It's the good old free market itself, writes Mark Hulbert. An analysis of recent insurance reports by Hulbert shows that insurance companies, which use math, not politics, in setting rates, are charging residents in Florida and Texas more for homeowner's insurance because of the climate risks in those states. And passing on generally higher rates to everybody to subsidize them.
---
. . . . Warren Buffett, who nobody takes for a climate enthusiast, has been selling his decade-old stake in Chinese EV maker BYD for the past six months. What does that mean? It's another signal that investors should take notice of opportunities in batteries, tires, charging stations, and other EV offshoots.
---
. . . . How clean is what powers your EV? Until renewable energy dominates electricity production, chances are that the gains made by the use of EVs will be partially offset by how the power driving them is generated, Matthew Diebel writes in his insights column this week.
---
. . . . It's a small world after all. How can landlocked countries be subject to the threat of rising sea levels? New research shows climate disasters that strike sea ports hurt the affected country's imports and exports, and reduce economic output in major trade partner (both upstream and downstream) countries.
---
. . . . NOAA's National Integrated Drought Information System reports in this week's drought monitor that hit-or-miss storms moved across the Plains and Midwest leaving streaks of improvements (see central NE) within drought areas. Out West, rain and snowmelt reduced drought in spots.
---
More greenery . . . .