Discover more from Callaway Climate Insights
Callaway Climate Insights provides news, critical analysis and original perspectives at the intersection of global finance and the challenges of climate change. 
Over 3,000 subscribers
Green Lights Oct. 20: Top stories this week
Don't miss a single story of the best from Callaway Climate Insights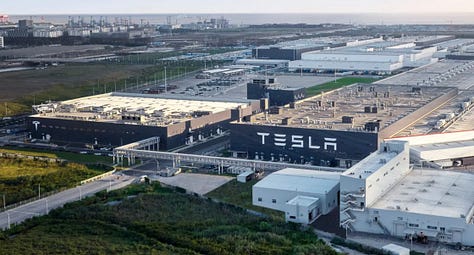 . . . . Welcome to Green Lights, our weekly roundup of the best of Callaway Climate Insights. This week, we put COP28, global manufacturing and energy markets in context against the backdrop of war in the Middle East and Ukraine. Here are the highlights in a simple and convenient format that makes it easy for our readers.
---
. . . . While most Asia headlines focused on Russian President Vladimir Putin's visit to China this week, and Russia and China's role in the emerging Middle East drama, early signs of an economic comeback in the world's largest manufacturer are worth noting for climate tech investors, writes David Callaway. For companies like Tesla TSLA 0.00%↑, which has a big presence in China, the economic green shoots are a good sign.
---
. . . . Latin America is being dogged by emissions concerns tied to the very business driving its economic growth, Michael Molinski writes. Freight shipping costs for its booming commodities business have tripled since Covid, but even more challenging are international concerns about the emissions from those cargo ships.
---
. . . . Will more new and useful tools for EV drivers make the transition away from internal combustion engines easier? Matthew Diebel thinks so. He takes a closer look at a new app coming soon from Google that will help buyers figure out which model would be best for them, what the incentives are, and compare prices and inventory.
---
. . . . The Gulf Stream is essential to maintaining temperate conditions and regulating sea levels. Now, researchers say with 99% certainty that this critical ocean current is weakening. The ramifications will be global, says a report in LiveScience. The flow of warm water through the Florida Straits has slowed by 4% over the past four decades. Scientists say this is the strongest, most definitive evidence we have of the weakening of this climatically-relevant ocean current.
---
. . . . Despite the global focus on conflict in the Middle East and Russia's war on Ukraine, Wall Street heavyweights plan to return to the UN climate summit this year in Dubai, COP28. Larry Fink reportedly will lead a large delegation of financial CEOs and hedge fund leaders, as the summit this year is expected to be focused on investments into emerging technologies such as carbon capture.
---
. . . . Anyone still wondering why Exxon Mobil bought U.S. shale giant Pioneer Natural Resources for $60 billion need look no further than domestic oil production figures this week that showed oil production hit an all-time high of 13.2 million barrels a day. David Callaway says the oil machine shows no signs of breaking down in the face of unprecedented demand for electricity — because of climate change.
---
More greenery . . . .
Growth is good: Massive collection of seeds could help fight climate change (NPR)
Must love the planet: Climate crisis speed-daters (The Guardian)
From wilderness to agriculture: Corn harvests in the Yukon? (Inside Climate News)
We thought so: Atlantic hurricanes strengthening faster due to climate change (France 24)
Hard to forecast: Get ready for a crazy El Niño winter — with a major wild card (Axios)
European ports and pollution: 'A good cruise ship is one that doesn't come' (The Guardian)