Discover more from Callaway Climate Insights
Callaway Climate Insights provides news, critical analysis and original perspectives at the intersection of global finance and the challenges of climate change. 
Over 3,000 subscribers
Green Lights Oct. 6: Top stories this week
Don't miss a single story: The best from Callaway Climate Insights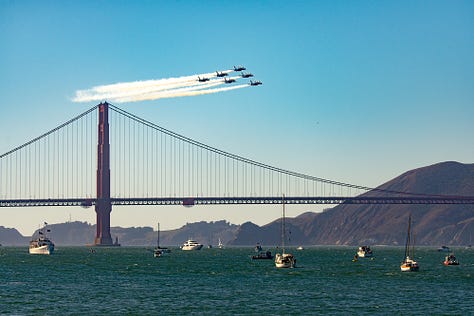 . . . . Welcome to Green Lights, our weekly roundup of the best of Callaway Climate Insights. This week, we have news and insights on the Navy's Blue Angels, bears and beer. Plus, David Callaway talks about how drifting wildfire smoke is sparking international political spats and, on the upside, how the transition to renewables from fossil fuels could happen sooner than expected. Here are the highlights in a simple and convenient format that makes it easy for our readers. It's also easy to subscribe.
---
. . . . There are two bright spots amid the battle in Congress to prevent a government shutdown: As a result of the (temporary) funding agreement, the U.S. Navy Blue Angels (above) and a Navy flotilla are active in this week's San Francisco Fleet Week. Held annually between the Golden Gate Bridge and Alcatraz, the San Francisco Fleet Week Air Show attracts fans from all over the globe. The waterfront event is headlined by the Blue Angels and is the only air show in the U.S. with a commercial airliner, the United 777, to perform a fully choreographed act. Also spared from a government shutdown: The popular Fat Bear Week competition playing out in real time at Brooks Falls in Alaska's Katmai National Park (See below).
---
. . . . New Yorkers famously blamed Canada this past summer for the wildfire smoke that drifted over the city from the north and created orange skies and mask-wearing smoke for two days. Some conservative pundits even said Canada was intentionally blowing it down into the U.S. from its wildfire-plagued forests. But wildfire smoke doesn't respect international boundaries, says David Callaway. Forget water wars; drifting smoke and haze are sparking new political flare-ups.
---
. . . . In a climate world where most of the news flow is tragic, unprecedented, or tied to frustrating setbacks in government actions and agreements, the surge in renewables growth — particularly solar — is turning heads, writes David Callaway. A spate of recent reports suggests that the transition to renewables from fossil fuels could happen sooner than expected, perhaps even this very decade. But the financial markets rout last month threatens that growth at a crucial time as global monetary authorities admit that much of the investment needed will have to come from private investors, who have been shaken by market losses and rising bond rates. . . .
---
. . . . For years, climate activists have said rising seas may someday make Miami unlivable. But flooding in New York in the past week and an impending drinking water crisis in New Orleans show how vulnerable other U.S. cities are as well. At some point, how we live in some major metro areas might have to change forever. The real estate and insurance implications of that are staggering. The only question is which city might go first.
---
. . . . Climate change is a new ingredient in our drinking habits, Matthew Diebel writes in his insights column this week. Researchers say temperature spikes in New York state due to climate change have led to a marked increase in the number of hospital visits for alcohol-related disorders such as alcohol poisoning, alcohol withdrawal and alcohol-induced sleep disorders. Americans don't like warm beer.
---
. . . . Fat Bear Week has begun, and it's not too late to get in on the action. Fat Bear Week is an annual tournament celebrating the success of the bears at Brooks River in Alaska's Katmai National Park. The public gets a chance to vote for the chunkiest champion. According to Explore.org, "Fat bears exemplify the richness of Katmai National Park and Bristol Bay, Alaska, a wild region that is home to more brown bears than people and the largest, healthiest runs of sockeye salmon left on the planet." Find out more (and watch the bears at the salmon buffet) at Explore.org's Fat Bear Week site, or follow Katmai National Park on X, formerly known as Twitter. Fat Bear Week 2023 and runs through Oct. 10 — that's Fat Bear Tuesday. Your vote decides who is the fattest of the fat. Matchups will be open for voting between noon to 9 p.m. Eastern each day. Download your bracket to predict your own fat bear winner.
---
More greenery (and bears) . . . .
Up on the roof: Groundcover on the roof can help cities adapt to climate change (Yale Climate Connections)
Have you heard?: Conspiracy theories are a big obstacle to climate change solutions (NPR)
View from the top: China expands climate change surveillance on Himalayan peak (Reuters)
The record we don't want: 2023 on track to be the warmest year on record (Copernicus)
Climate change making it worse: Millions of children are displaced due to extreme weather events (AP)