Discover more from Callaway Climate Insights
Callaway Climate Insights provides news, critical analysis and original perspectives at the intersection of global finance and the challenges of climate change. 
Over 3,000 subscribers
Green Lights: Our top stories for the week of Jan. 30
Don't miss a single story: The best from Callaway Climate Insights this week.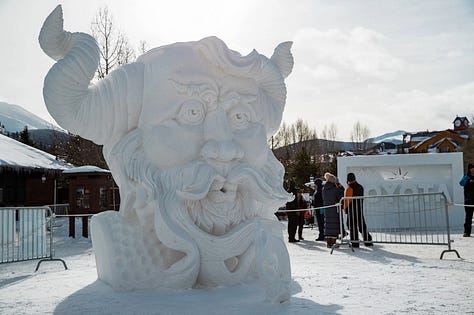 . . . . Welcome to Green Lights, our weekly roundup of the best of Callaway Climate Insights. We know you're busy, and we don't want you to miss any of our great climate finance journalism. So, here are the highlights in a simple and convenient format that makes it easy for our readers. It's also easy to subscribe.
---
Who gets the $7,500 EV tax credit? It's complicated
Bill Sternberg says the $7,500 federal tax credit for EVs is so complex that its rollout this month has been marred by confusion on the part of consumers and dealers alike — confusion that appears destined to get worse before it gets better. So where does that leave buyers of EVs and the companies that sell them? Here are several interesting wrinkles, some of which are great opportunities. . . .
---
EV stocks ride January wave on price cuts, takeover interest
. . . . Fired up by a budding price war between the likes of Tesla, Ford, and others, investors have leaped back into the EV sector in the hopes that a weaker economic downturn than expected and the beginning of a new bull market might accelerate the mass shift among car buyers to EVs, writes David Callaway . . . .
---
Hate those hideous solar panels? There's a handmade solution.
. . . . Beauty and power? Italy's Dyaqua has developed a way of making traditional-looking terracotta roof tiles that also generate power. The tiles include a polymer compound that lets sunlight flow inside, where it reaches a layer of photovoltaic cells. . . .
---
Eureka! The elusive 'greenium' has been found
. . . . It took some digging, but researchers have finally found the elusive 'greenium,' or green premium, in sustainable bonds, writes Mark Hulbert. Long touted as a feature of green financing, the premium was actually hard to consistently locate as sustainable bonds boomed in the past few years, until these researchers discovered a startling twist in the data. Hulbert explains why it was hiding in plain sight. . . .
---
Tightening of ESG standards targets carbon offset schemes
. . . . One of the big criticisms of corporate net-zero initiatives has always been that companies use carbon offset schemes to check their green boxes without actually reducing their actual pollution. But now, David Callaway writes, a major investor group wants to ban portfolios from including companies that push the offsets, and instead focus them on actually cutting their carbon emissions. . . .
---
More greenery . . . .
---
Sponsored
Climate First Fireside Chat with the Real Organic Project & Climate First Bank: Sustainable farming meets sustainable finance
. . . . Join our sponsor, Climate First Bank, for another Climate First Fireside Chat with Climate First Bank CEO and founder Founder Ken LaRoe and special guest Dave Chapman, co-founder of Real Organic Project. Chapman's organization now certifies more than a thousand farms across the country as Real Organic, and that number keeps growing. For more information or to register for the virtual Fireside Chat on Thursday, Feb. 9, click here.