Discover more from Callaway Climate Insights
Callaway Climate Insights provides news, critical analysis and original perspectives at the intersection of global finance and the challenges of climate change. 
Over 3,000 subscribers
Green Lights Sept 22: Top stories this week
Don't miss a single story: The best from Callaway Climate Insights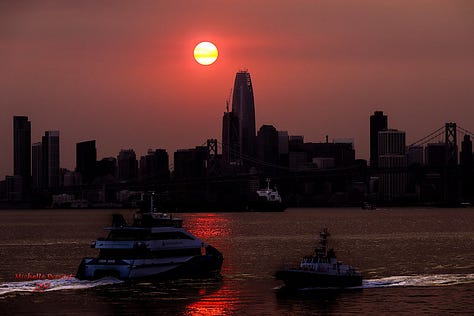 . . . . Welcome to Green Lights, our weekly roundup of the best of Callaway Climate Insights. This week, people made themselves heard, from protestors and activists at New York Climate Week and the UN, to striking auto workers on the picket lines. Here are the highlights in a simple and convenient format that makes it easy for our readers. It's also easy to subscribe.
---
. . . . From almost nothing five years ago, New York City's Climate Week has grown to become the pre-eminent summit of the year on the calendars of the world's top climate activists and leaders, this year eclipsing even the COP28 annual shindig in Dubai, writes David Callaway. While the COP series has been taken over by oil interests, the NYC event is a breath of fresh air, as long as you can get past the choking smog of the extra traffic in Manhattan. Protesters are free to gather and actual leaders who are making a difference are meeting at the United Nations. Why shouldn't NYC just take the crown here?
---
. . . . In his insights column this week, Matthew Diebel admits that he fancies the Ford F-150 Lightning, but has questions about selling energy back to the grid and says he'll probably stick with Honda. Plus, he outlines the heat risks for German hops.
---
. . . . Riding into the sunset: The passionate debate over Rupert Murdoch's legacy will certainly rage for decades, perhaps for even as long as the seven decades the business buccaneer himself strode across the global media landscape. David Callaway writes that as Rupert's influence, and it is his influence, begins to fade over the coming years, the last of the major anti-climate media will begin to fade as well. . . .
---
. . . . New forecasts signal strong El Niño conditions this winter, with increasing global temperatures and the potential to affect weather patterns around the world, says a new advisory from the NOAA's U.S. Climate Prediction Network. El Niño events are naturally occurring and cause parts of the Pacific near the equator to warm. Above, NOAA's sea surface temperature contour chart for Sept. 19.
---
. . . . United Auto Workers officials said Friday that the union's strike would likely expand to all General Motors GM 0.00%↑ and Stellantis STLA 0.00%↑ parts distribution facilities. As the labor actions continue, we look at the impact of EVs on the car manufacturing landscape. . . .
---
More greenery . . . .
---
Follow us . . . .
Twitter | LinkedIn | Facebook | Instagram