Discover more from Callaway Climate Insights
Callaway Climate Insights provides news, critical analysis and original perspectives at the intersection of global finance and the challenges of climate change. 
Over 3,000 subscribers
Notes from Planet Corona
David Callaway writes that climate threats which a few months ago seemed like distant possibilities are today more threatening -- and worth thinking about.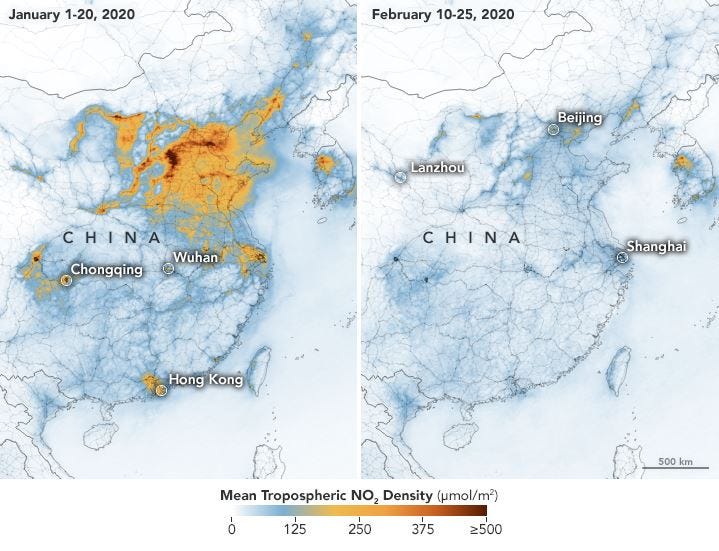 SAN FRANCISCO (Callaway Climate Insights) — The satellite images tell the story. Over China and Italy this past month, what were last year images of stark pollution are now almost clear. The ravages of Covid-19 have produced an unintended side effect -- the dramatic reduction of emissions because of the shutdown of factories and travel. 
A global pandemic is not the way to fight climate change, and emissions reduced now will surely be back when economic engines are fired up again in a few months. But the reduction sends an important message to the world that when we need to rally together to fight for survival, it can happen. 
The cries for change to the fossil-fuel industry and sovereign economic programs to help hold back coming changes have long suffered from apathy. But tap into that evolutionary need for survival that lives in each of us and you can see that there are some dangers that absolutely will make us stand up and notice. 
What happens over the next month or so will be crucial. If we can turn the tide on the virus, as seemingly has happened in China, there will be a huge opportunity to use that new-found discipline to rebuild our economies with environmental, social and governance strategies. The flip side is that, in a rush to kick our economies into high gear again, we will simply revert to our traditional, fossil-fuel-led practices. And the gains of the past month will be lost. 
It is estimated that China's industrial production fell 40% in February. It would be a shame to lose that momentum. 
The coronavirus slowdown also threatens to reduce, or halt, any momentum countries and international organizations have toward addressing their climate goals for this year. Those include a Paris Climate Agreement requirement that they submit long-range carbon reduction plans for 2050, as well as shorter-range plans for 2030, by the time of the United Nations COP26 climate summit in Glasgow in November.
(Read Stephen Rae's excellent piece on how the coronavirus could upend the European Commission timetable this year.) 
Andrew Norton, director of the International Institute for Environment and Development (IIED), wrote this week in Home Climate News, a U.K.-based climate news group, that: 
"Acceptance of the need to make sacrifices and accept restraints for both the common good and personal well-being could help increase understanding of the huge shifts in regulation and behavior that are needed to address the climate crisis."
Indeed, while the coronavirus will hopefully pass in the next several weeks, nobody could safely argue we've seen the last pandemic of our lifetimes. After scares for West Nile Virus, SARS, Ebola, and Zika just over the past decade, the acceptance of what we have to do together should become a new normal. 
One of the threats of global warming, along with rising seas and wildfires, is that the melting of the glaciers in the Arctic and Antarctic could release gasses and bacteria that have been frozen for thousands of years, and which we are not prepared for or immune to. 
A few weeks ago, that might have been seen as a distant possibility, low down the list of climate dangers. Today, as I write from home in a world paralyzed by a new viral terror, it seems a lot more worth thinking about. 
Photo: NASA image taken March 2 shows NO2 emissions over China year-over-year.