Discover more from Callaway Climate Insights
Callaway Climate Insights provides news, critical analysis and original perspectives at the intersection of global finance and the challenges of climate change. 
Over 3,000 subscribers
Startup upstarts: Nils Aldag, cofounder of green hydrogen firm Sunfire
This is the latest in our occasional series of millennials and young leaders in the climate space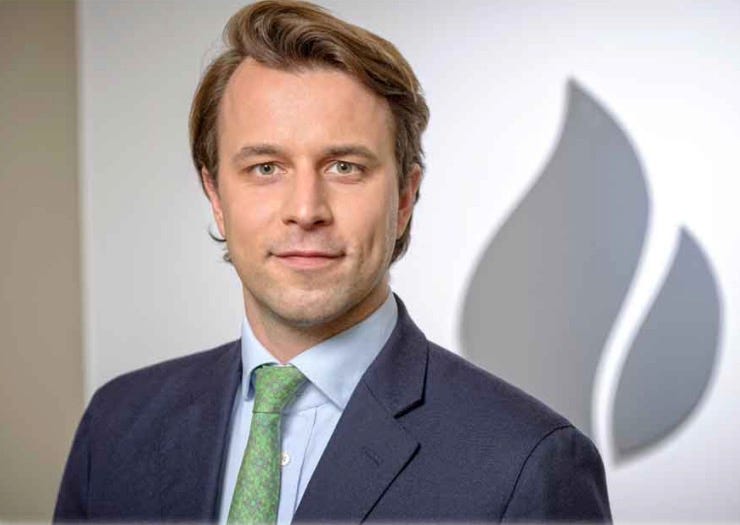 By Darrell Delamaide
(Darrell Delamaide is a freelance journalist in Washington, D.C. He has specialized in business and finance over a long career, writing for Barron's, Dow Jones, Institutional Investor, Bloomberg, and MarketWatch, among others. A longtime correspondent in Europe, Delamaide also has written about international economics, global markets, and foreign policy.)
WASHINGTON, D.C. (Callaway Climate Insights) — Nils Aldag, 33, is the co-founder of the innovative green hydrogen firm Sunfire GmbH and chief commercial officer for the startup, which was launched in 2010 and now based in Dresden.
Aldag is the millennial face of a hot energy firm that in January raised €25 million ($28 million) from engineering company Paul Wurth and other investors, bringing total investment to €60 million. His co-founders are Christian von Olshausen, the chief technology officer (who at 40 is a borderline millennial), and CEO Carl Berninghausen, a veteran entrepreneur in his 60s. 
The three have brought their complementary skills to running a startup that is on the cutting edge of producing hydrogen from renewable energy sources with its steam electrolysis to split hydrogen and oxygen and then use solid oxide fuel cells for its power-to-liquid conversion of the hydrogen into petroleum substitutes.
Electrolysis of steam is vastly more efficient than applying the process to water in its liquid form. The fast-growing company, which now employs 130, has just joined a consortium in Norway, Norsk e-Fuel, to bring hydrogen fuel production to an industrial scale by 2025.
Read more of the startup upstarts we've featured in Callaway Climate Insights:
Aldag got a business degree at EBS University in Wiesbaden. Von Olshausen studied industrial engineering at technical universities in Karlsruhe and Dresden. Berninghausen ran family companies in the wood industry before bringing his management expertise and seed capital to the energy startup. Since its founding in Bremen, Sunfire has made a couple of acquisitions in the fuel cell industry and moved its headquarters to Dresden. Along the way, it has entered into partnership with industry giants like German carmaker Audi to make synthetic diesel and French energy firm Total to make green methanol, as well as steelmakers and chemical companies.
"We are leaving the startup phase and going now for the first time into commercialization," Berninghausen said in an interview last week with the German business daily Handelsblatt regarding the Norwegian project. "We have to show that it works and that it's economical. Then others will follow our example."
Aldag adds that green energy has to free itself from the need for subsidies to be competitive. It is, in fact, the presence of ample renewable energy sources in Norway that decided the consortium to locate the liquid fuels project there rather than in Germany.
In March, Sunfire partnered with Finnish firm Neste to use its high-temperature electrolysis to produce hydrogen at the Neste renewable products refinery in Rotterdam for use in high-quality biofuels. Neste also acquired a minority stake in Sunfire. Aldag said that the partnership with the Finnish firm is part of its strategy to engage with the best companies in renewable energy, welcoming Neste's expertise in engineering, procurement and construction.
. . . .
Do you know of folks making a difference, working on innovative and creative solutions to the challenges of climate change? Send us an email and we'll consider featuring them in this series.