Discover more from Callaway Climate Insights
Callaway Climate Insights provides news, critical analysis and original perspectives at the intersection of global finance and the challenges of climate change. 
Over 3,000 subscribers
Buffett's gas bet, Facebook's climate woes, and the 500-year-old green building
Welcome to Callaway Climate Insights. If you enjoy today's edition, please share. If this was sent to you, please subscribe.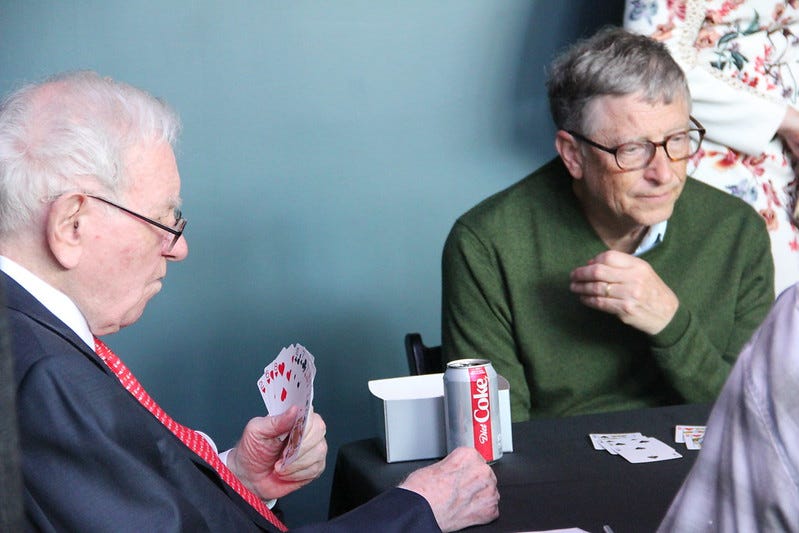 LATEST NEWS AND INSIGHTS
Why is Warren Buffett buying fossil fuels when everyone else is selling?

Big week for pipeline protestors, not so much for pipelines

This 500-year-old Mexican palace received its green certification, and it's not alone

Only four of the 50 largest electric utilities are aligned with the Paris Agreement: new study
As we add subscribers, I'm interested in what more you want to see. Please email me with ideas and insights directly at dcallaway@callawayclimateinsights.com.
SAN FRANCISCO (Callaway Climate Insights) — It's hard to see Warren Buffett's $10 billion play for Dominion Energy's (D) natural gas assets over the weekend as anything other than one of his classic buy-at-the-bottom strategies.
The surprise announcement and the timing, coming after Dominion agreed to end a six-year project with Duke Energy (DUK) for the Atlantic pipeline under the Appalachian Trail, triggered speculation that Buffett is making a climate play with his first big asset purchase in years.
Energy companies have long argued that before renewable energies like wind and solar can take the lead in energy markets, there will need to be a transition period where they are powered through natural gas. This transition play is at the heart of what a lot of legacy energy companies see as their climate strategies.
But with natural gas prices at their lowest levels in 25 years, fossil fuel companies reeling from the collapse of oil prices this spring, and the rest of the market occupied with Covid-19, stay-at-home plays like Zoom Video Communications (ZM) and Netflix (NFLX), the old Oracle of Omaha probably just couldn't resist a nice discount in one of his core sectors of investment — energy.
With a bankroll of $137 billion before the Dominion buy, Buffett's Berkshire Hathaway (BRK.A) (BRK.B) has an open highway in front of it if it chooses to cherry-pick distressed energy assets now. They are the only part of the market that isn't overvalued as the S&P 500 is back within 6% of its all-time high.
While it's tempting to think Buffett is playing the renewable transition game, it's altogether more likely that this is a broader signal that the bear market in commodities might finally be over.
Above, Warren Buffett and Bill Gates play cards during the 2018 Berkshire Hathaway shareholders weekend. Photo:
BorsheimsJewelry
/flickr.
---
Latin America's green building push is attracting investors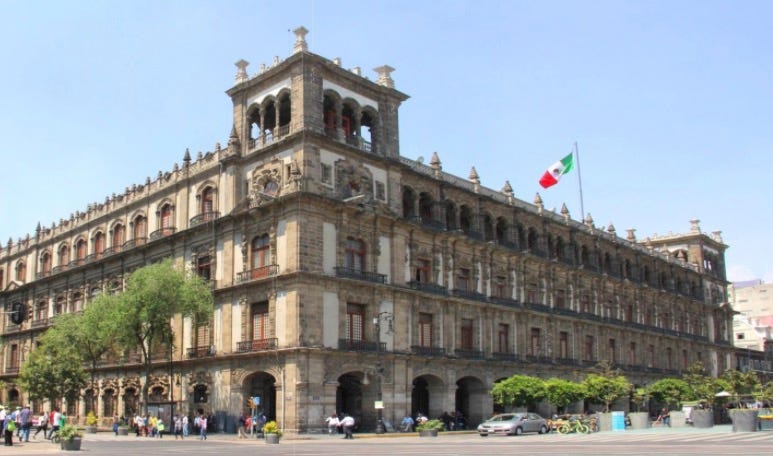 . . . . Built to last: Mexico and Brazil are leading a push in Latin America for green certified buildings, appealing to both investors and environmentalists. In some cases, they are finding that previous generations beat them to it, including Mexico City's Old City Hall Palace, the Antiguo Palacio del Ayuntamiento, which is 500 years old. The push for LEED certification is on across the world, as investors target energy efficient buildings as a way to keep costs low and reduce electric use. . . .
---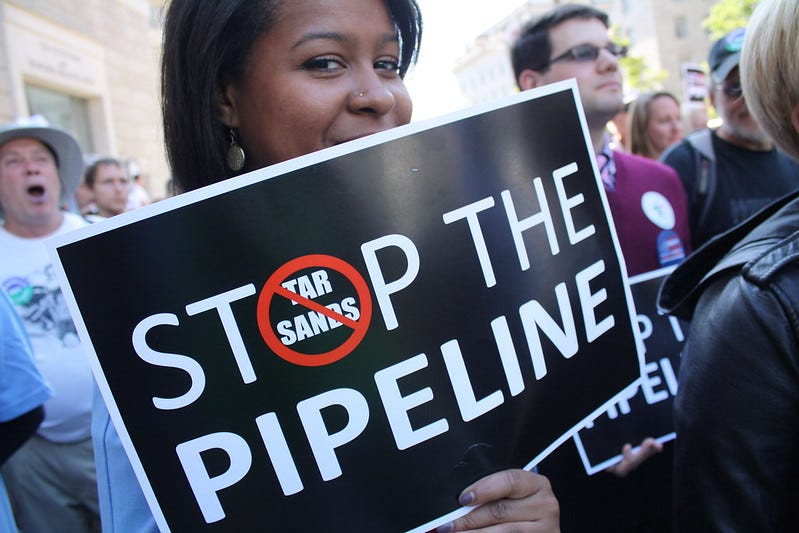 . . . . Keystone cops: It's shaping up to be a good week for environmental opponents of oil and gas pipelines.
First, Dominion and Duke canceled their six-year energy project to develop the Atlantic Pipeline underneath the Appalachian Trail, leading Dominion to sell its natural gas assets to Berkshire Hathaway.
Next, a district court judge ruled Monday that the Dakota Access Pipeline, which runs oil from North Dakota to Illinois, must be shut down and emptied within a month. The ruling hands a victory to the Standing Rock Sioux tribe, which argued that a spill underneath part of where the pipeline runs under the Missouri River could threaten its drinking water and fishing livelihoods. 
Finally, the Supreme Court upheld a temporary injunction on construction of the controversial Keystone XL pipeline. The major project was caught up in a ruling that lifted an earlier ban on several pipeline projects that crossed bodies of water, but it kept the restrictions on Keystone. The ruling also ensures the project will — again — feature in the U.S. presidential election in November. . . .
Above, Keystone XL oil pipeline rally in Washington, D.C. Photo:
Elvert Barnes
/flickr.
---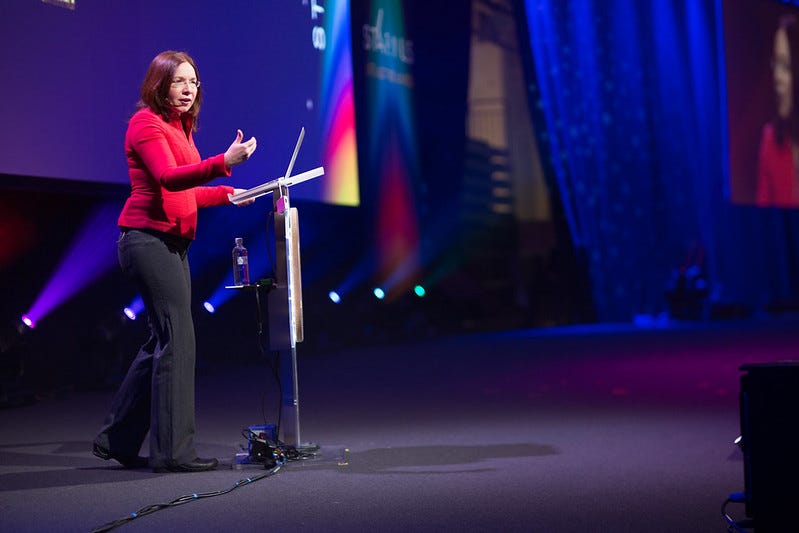 . . . . Facebook (FB), under attack from, well, all sides, took another one-two punch this week on the climate front, as a prominent climate scientist said it was impeding her attempts to fact-check posts from climate deniers. Katharine Hayhoe, (above) director of the Climate Science Center at Texas Tech University, told Scientific American/E&E News that her educational posts have been labeled "political," requiring her to register them with personal information she fears could expose her to attack.
Last week, Emily Atken's Heated newsletter and Judd Legum's Popular Information newsletter broke the story about how Facebook is using an "opinion" loophole to allow climate deniers to spread misinformation. Today a group of activists, including possible Joe Biden VP candidate Stacey Abrams and billionaire and former presidential candidate Tom Steyer, sent a letter to Mark Zuckerberg demanding he reverse the policy.
Facebook shares, meanwhile, continued to bump up against record highs, as the more people Zuckerberg pisses off, the more his investors seem to like it. . . .
Above, Katherine Hayhoe speaks at an event hosted by the Norwegian University of Science and Technology.
---
News briefs: Bank of England, electric utilities and more
Watch this: How fracking became America's money pit
The startup mentality of the U.S. fracking industry promised investors mythical growth and nonexistent returns. In the end, it burned a $340 billion hole in Wall Street's pocket, this video from Bloomberg QuickTake Originals explains.
Editor's picks:
Only four of top 50 electric utilities meet Paris Agreement models: study

Why the Bank of England cares about climate change

Morgan Stanley IM's new global balanced sustainable fund
---
Data driven: Our appetite for oil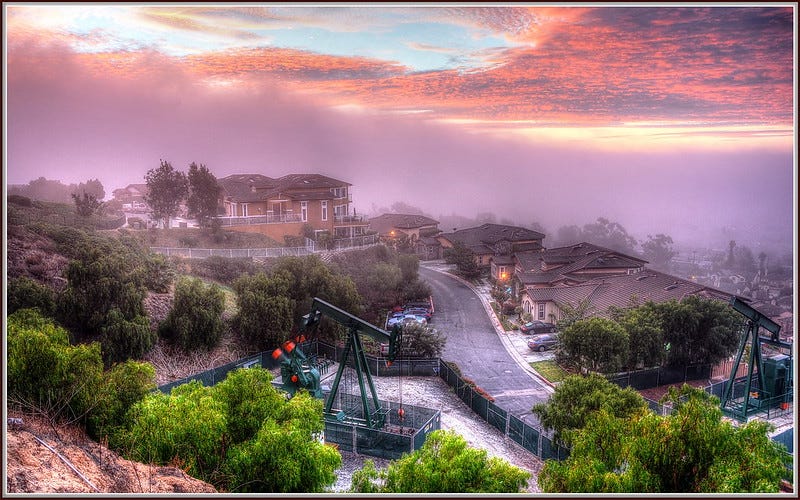 Based on the latest data from Worldometer, the world consumes about 35.4 billion barrels of oil a year, equivalent to 97 million barrels per day.
Above, oil well in southern California. Photo:
tdlucas5000
/flickr.
---
Latest findings: New research, studies and papers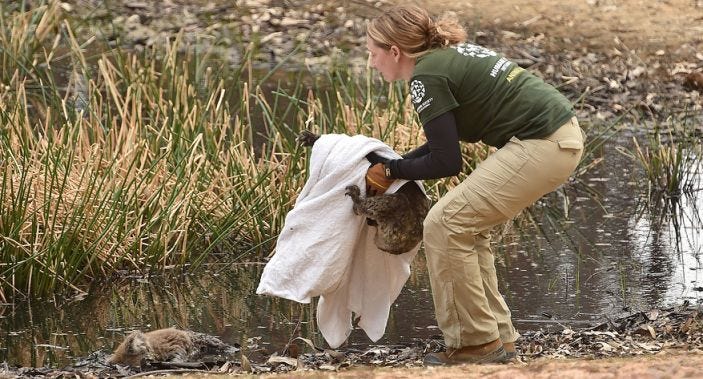 Koalas could face extinction in part of Australia
Koalas could become extinct in Australia's New South Wales by the year 2050, according to a new government report. The prediction is based on a year-long study launched just a few months before devastating wildfires burned more than 40,000 square miles of land, much of it in New South Wales. Read more on the research at Weather.com.
Solar radiation management as a climate Intervention
Joseph E. Aldy and Richard Zeckhauser, both professors at the Harvard Kennedy School, document that the world's single-minded focus on solely reducing emissions has failed to meaningfully address climate change. Drawing on their recent research, they argue that adding adaptation and amelioration strategies to existing emissions mitigation efforts is necessary if extreme losses to climate change are to be avoided. Read more from Resources magazine online. 
Biogas and the energy sector
Because of its versatility in usage and storage space, biogas plays a significant role in managing potential electricity grids. Through biogas production and utilization, society can go deeper into green energy applications. This gives an introduction to the current energy sector and where biogas can be used as a substitute for decarbonization of the energy sector. Author: Jacob Joseph Lamb, Department of Electronic Systems, NTNU. Available at SSRN.
Above: Humane Society International Crisis Response Specialist Kelly Donithan picks up an injured koala by fires in Australia, January, 2020.