Discover more from Callaway Climate Insights
Callaway Climate Insights provides news, critical analysis and original perspectives at the intersection of global finance and the challenges of climate change. 
Over 3,000 subscribers
Hydrogen rocks -- Europe makes its case
Twin challenges of capture and storage face EU as it launches plans for global hydrogen market -- traded in euros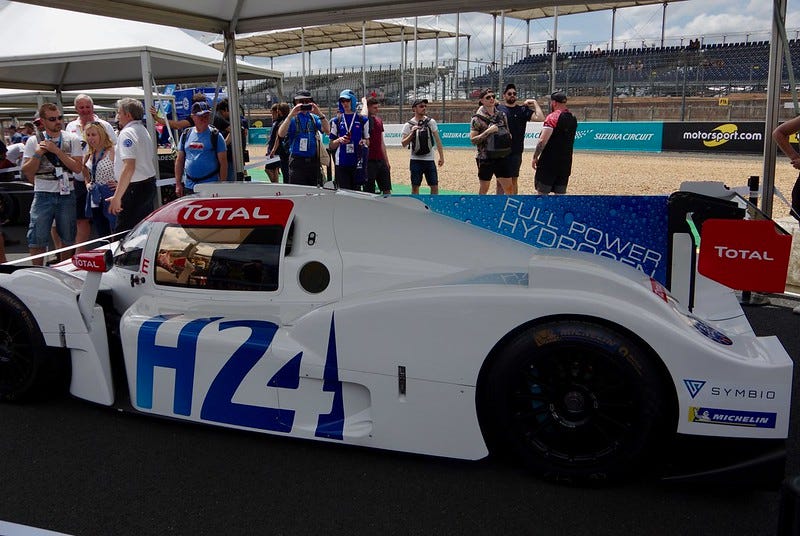 Hydrogen, fast: Mission H24 aims to introduce hydrogen-powered racing cars to the 24 Hours of Le Mans in 2024. Photo: David Merrett/flickr.
(Stephen Rae is the former Group Chief Editor of INM, Ireland's largest online and print media group. He serves on the board of the World Association of News Publishers (WAN-IFRA) and was previously on the board of the World Editors Forum. He was appointed by the European Commission to its High Level Expert Group on Online Disinformation.)
DUBLIN (Callaway Climate Insights) — Well, if you could measure excitement levels in a European Commissioner, they would have reached into the red zone at the EU Hydrogen Strategy launch.
Devoid of the usual numbers due to social distancing, the union's Climate Commissioner Frans Timmermans used his ample frame to fill the largely empty hall with energy.
"Hydrogen rocks!" boomed the Dutchman.
So it may.
Particularly as Europe pins all its hopes on clean hydrogen and offshore wind farms to power the union and meet carbon neutrality by 2050.
Last month he floated the idea of hydrogen being traded in euros and the continent becoming the major trading bloc in the energy.
On Wednesday, Timmermans spoke about producing 6 gigawatts in four years and 40 gigawatts by 2030 — "if we can finance the right projects quickly."
There is no doubt bold decisions have to be made if Europe is to achieve its targets and continue to lead by influence and soft power on climate change.
A stretchy strategy on hydrogen is going to be part of that, but it will also require megawatt levels of drive and resilience on the part of Timmermans and Energy Commissioner Kadri Simson, who flanked him on the stage in the iconic Berlaymont Building.
She spoke of Europe's partners in the East and South (Africa) all benefiting from the new strategy as suppliers.
But there are issues which won't go away, including the fact that Brussels is already spending less in this area than Asia or the U.S. The draft of the strategy leaked in June was candid: "EU lags behind in terms of public support to hydrogen per capita" pointing to the bigger budgets of China, Japan and the U.S. Timmermans himself admitted the Saudis were now talking in megawatts compared to Europe's gigawatts ambitions.
Another issue is who is going to capture and store the blue hydrogen — effectively CO2 — that results from processing.
The Norwegians have two giant undersea tanks that can accommodate 1.7 million tons of CO2 per year – hardly enough for the pace at which Europe plans to ramp up production.
Talking big and being ambitious is all part of the process.
But that's the easy part. Now it's all about delivery and some are not sure Europe can have it all.
Says Jorgo Chatzimarkakis of the lobby group Hydrogen Europe: "Every global commodity needs a marketplace and we see Europe at the brink of developing this global market — the ports of Rotterdam, Antwerp, Sines in Portugal where hydrogen comes in liquefied as ammonia, is regasified then brought in the European system. That's what we see, and that's what this plan … can do."
In other words, he sees Europe as the global marketplace for hydrogen traded in euros — but not necessarily the dominant producer.
It is, however, an exciting phase in reaching the holy grail of carbon neutrality by 2050, if not sooner.
Watching as Europe's steel and chemical producers pivot toward hydrogen is something which would have been unthinkable only a few years ago.
Simson may not have been as ebullient as Timmermans at the launch, but her words did resonate. "We will show the world that green steel is possible with hydrogen" and relatively soon — in four years, she predicted.
She also spoke of a visit Monday to a Danish offshore wind farm where the turbines are now four times bigger and 20 times more powerful than they were 30 years ago. This would also be the case in hydrogen production, she said confidently.