Discover more from Callaway Climate Insights
Callaway Climate Insights provides news, critical analysis and original perspectives at the intersection of global finance and the challenges of climate change. 
Over 3,000 subscribers
Norway's water power key to Europe's hydrogen plane fuel venture
Startups Sunfire and Climeworks to work with consortium's green fuel venture to build industrial-scale renewable fuel plants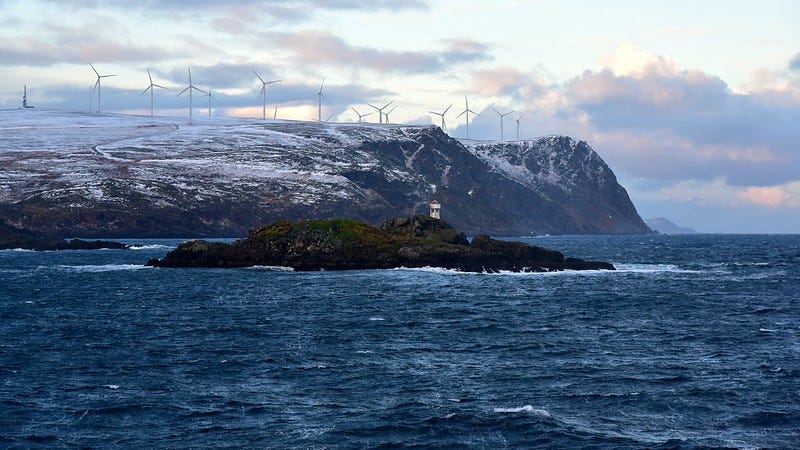 By Darrell Delamaide
(Darrell Delamaide is a freelance journalist in Washington, D.C. He has specialized in business and finance over a long career, writing for Barron's, Dow Jones, Institutional Investor, Bloomberg, and MarketWatch, among others. A longtime correspondent in Europe, Delamaide also has written about international economics, global markets, and foreign policy.)
WASHINGTON, D.C. (Callaway Climate Insights) — Norway is Europe's biggest producer of hydroelectric power in a tradition dating back to the 1890s, so it seemed obvious to a consortium of northern European companies that the world's first industrial-scale production of green hydrogen-based aviation fuel should be built there to exploit the vast resources of renewable energy.
The consortium plans to use Norway's hydroelectric and wind power to produce synthetic fuel, reaching 10 million liters by 2023 and 100 million liters, the threshold for commercially viable production, by 2026.
Startups Sunfire of Germany and Climeworks of Switzerland will bring their innovative technologies for power-to-liquid production and direct air capture to split hydrogen from oxygen in water and combine with carbon dioxide to create a synthetic gas that can be processed into liquid products, in this case aviation fuel.
Paul Wurth, a Luxembourg unit of Germany's SMS Group, will provide the engineering, procurement and construction expertise to build the plants in the Heroya industrial park in Porsgrunn, about 80 miles southwest of Oslo. Valinor, a family-owned investment company focused on sustainable projects and owner of wind power operator Norsk Vind, is the fourth member of the consortium.
At the 100 million-liter threshold, the Heroya plant will save 250,000 metric tons of carbon dioxide emissions a year. Lars Helge Helvig, founder of Valinor and chairman of Norsk Vind, says that would translate into enough blended renewable fuel to cut the CO2 emissions for the top five domestic routes in Norway in half. 
That may not sound earth-shattering, even though Norway is a big country. European Commission data put the 2019 emissions from the main airlines in Europe at 68 million tons carbon dioxide equivalent.
But the first industrial-scale plant is just the beginning. It will pave the way for others, so that eventually the consortium can export throughout Europe. 
"The new project holds broad possibilities for Norway and Europe," says Georges Rassel, chief executive of Paul Wurth, "offering the key to a deeper decarbonization than has ever been possible before."
Norway traditionally has benefited from hydropower thanks to the proliferation of steep valleys and rivers. It derives more than 95% of its electricity from hydroelectric facilities, with 31 gigawatts of installed capacity. More recently, it has also been developing on and offshore wind power as well as geothermal and wave power generation.
"We could not generate enough renewable energy in Germany to decarbonize the fuel sector," Carl Berninghausen, chief executive of Dresden-based Sunfire, recently told German business daily Handelsblatt. Norway's abundance of renewable energy sources made it the logical choice for the new plant, he says.
Karl Hauptmeier, managing director for the joint venture, explained in a webinar that the technologies employed will enable the plant to combine carbon dioxide (captured from the air) and water and then use electrolysis to produce a syngas of hydrogen and carbon monoxide, which can then be further processed into fuels for aviation or shipping.
The initial demonstration plant will require an estimated €90 million ($101 million) investment, but Hauptmeier says the plan is to build a series of industrial-scale renewable fuel plants in Norway. The synthetic fuel will be more expensive than biofuels in the initial phase but large-scale production using Norway's cheap electricity could eventually bring prices down to less than €1.50 a liter.
Norsk e-Fuels aims to sign up strategic partners who will pay the premium prices in the pilot phase in order to get priority on allotments under full production. The joint venture expects demand to far exceed supply.
Unlike fuels made from sources like forest residues, the basic feedstock for green hydrogen-based fuels is virtually unlimited, Hauptmeier says, constrained only by the availability of renewable energy. Nonetheless, he quickly adds, the fight against carbon will require both solutions.
Engineering work on the Heroya plant is underway and, subject to financing, ground will be broken around the middle of next year. The industrial-scale plant will cost in excess of an estimated €400 million on top of the demo plant, and the consortium expects support from the Norwegian government as well as financing from equity, bank loans and bond issues.
Above, wind farm in Norway. Photo:
Larry Lamsa
/flickr.