Purple air, defending ESG plans, and charting risk with Munich Re's Ernst Rauch
Welcome to Callaway Climate Insights, and especially to our new subscribers. Please share and if this was forwarded to you, please subscribe.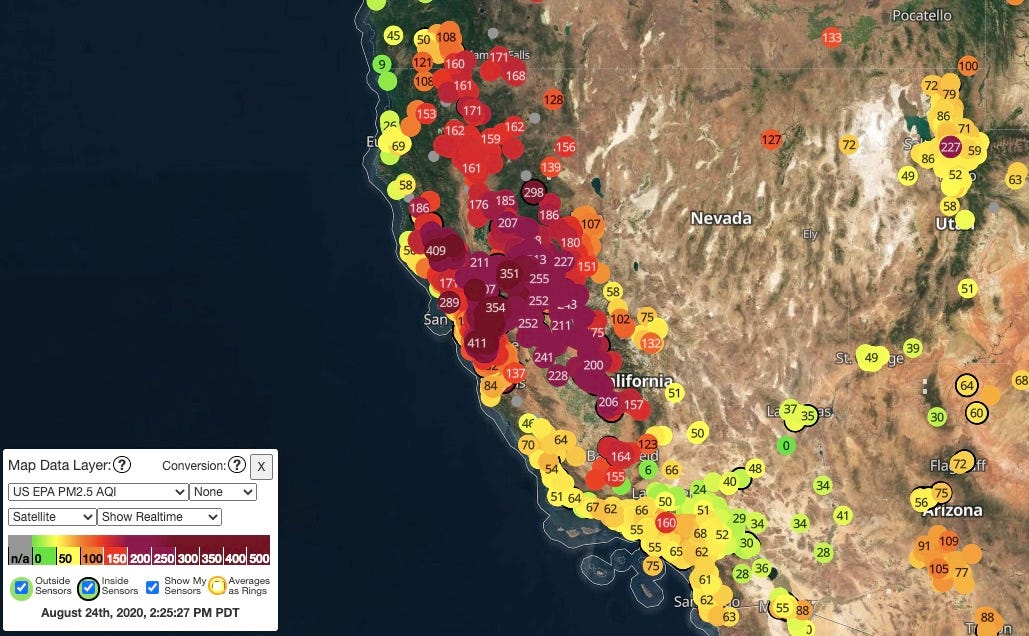 Above, real-time air quality readings from PurpleAir. An Air Quality Index value of 50 or below (green) represents good air quality, while a value of 101 or higher represents increasing unhealthy to hazardous air quality.
As the U.S. attention turns to hurricanes from wildfires, to Trump politics from Biden politics, the focus here in the San Francisco Bay Area this week is on how to breathe. With more than 1.5 million acres burned or burning around it, about the size of Delaware, the air quality in the Bay Area is now among the worst in the world.
Estimates are everywhere, but the European Union's Copernicus service estimates that 500,000 acres burned represents the same amount of CO₂ released into the air as that of six large, coal-fired power plants for one year. (See Copernicus data here). What's worse, the fires burn one of the best source for helping take carbon dioxide out of atmosphere — trees.
But attention spans are fickle, and for those not coughing and cleaning ash from their cars, the big story today is that of Marco and Laura. Just as we're getting used to more hurricanes, nature throws two at one time at the Gulf Coast. Fortunately, Marco petered out, but Laura remains a threat. As people hunker down, insurers are redoing risk models. We talk with the chief climate scientist at Munich Re, below, about mitigation, adaptation, and whether insurance will someday become impossible based on costs and how fast things are moving.
That interview, and the latest on the Harvard climate battle, Exxon's woes, and the government's proposal to blow up the ESG business, below. As the global motto for 2020 says: Stay safe.
And don't forget to contact me directly if you have suggestions or ideas at 

dcallaway@callawayclimateinsights.com

.
---
---
Munich Re climate chief urges action before insurance becomes impossible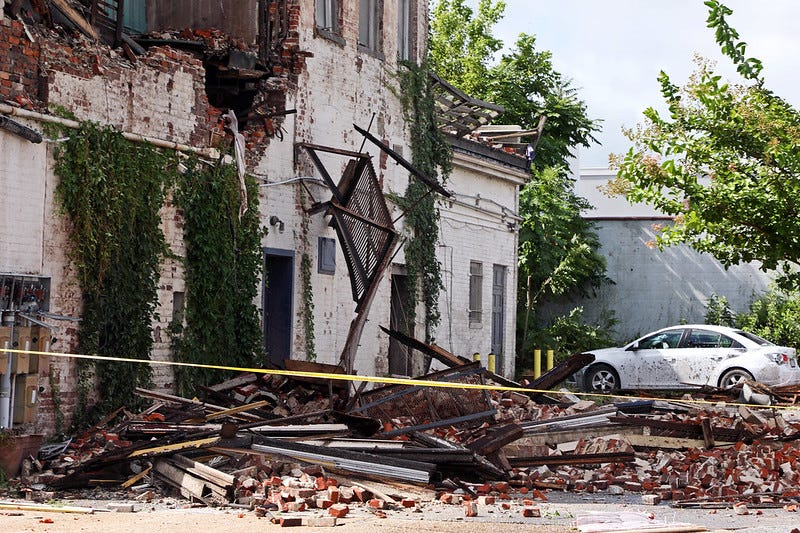 . . . . Risk factors: Insurers don't have time to debate climate change because they are too busy pricing risk. And lack of action — from building codes to land management — is making it increasingly difficult, Ernst Rauch, chief climate and geo scientist at Munich Re, tells Darrell Delamaide.
Rauch said the insurance giant's semiannual climate report last month showed global losses of $68 billion to natural catastrophes in the first half of the year, lower than the 30-year average. But almost half of those were in North America, where vulnerability to events like floods and fires make the risks greater. He said the goals of the Paris Accord are not enough to mitigate coming disasters but that attention to adaptive measures like better buildings would help stave off worse losses.
Looking ahead, Rauch says issues may come to a head over the next five or 10 years over the affordability of insuring these types of risks. "The issue is when does the question of affordability give way to uninsurability," he says.

Nor is affordability simply a question of businesses or individuals being able to pay the premiums for insurance, but ultimately an issue of social affordability. "At a certain point, we might have to say, it doesn't make sense to spend that much money," says Rauch. . . .
---
. . . . Crimson and clover: The youth climate push for representation on Harvard University's Board of Overseers prevailed in its election campaign last week, getting three of its five candidates elected to the 30-person board. It was the first time candidates brought forward by petition were elected since 1989, in the anti-apartheid era, and was a success for Harvard Forward, founded by Nathan Goldberg Crenier and Danielle Strasburger. The activists are pushing for more action on climate change from the university, including divestment of fossil fuels holdings and more seats on important boards for young alumni. They promise Yale is next. . . .
. . . . Bad week for Exxon Mobil Corp. (XOM), whose shares have lost almost 40% of their value since the beginning of the year because of the dramatic decline in oil prices, the pandemic and, well, general trash talk from the divestment community. The shares were booted off the Dow Jones Industrial Average after almost 100 years to make way for Salesforce.com (CRM), whose shares are up 25% this year. Few asset managers follow the narrow Dow average of 30 companies, so the move won't hurt Exxon with the index crowd too much. But it is part of a growing trend the oil giant finds itself on the wrong side of. Also this week, Norway hedge fund manager Storebrand, a $90 billion asset manager, said it dumped Exxon as well as Anglo-Australian mining giant Rio Tinto. And it's only Tuesday. . . .
. . . . California's climate troubles make predictable fodder for the Republican National Convention this week and President Trump and his supporters won't disappoint when it comes to pointing a finger at the state and blaming its woes on the Democrats. Against this backdrop, a special report on climate initiatives from Senate Democrats will likely be lost in the shuffle, but they put it out this morning anyway for those who wish to peruse. Heavy on quotes and light on specifics, the 263-page report calls for the creation of 10 million jobs in coming years and the spending of at least 2% of GDP on climate initiatives to get the U.S. to net-zero emissions by 2050, including a chunk spent on low-income and minority communities. It charts expected growth in renewable energy jobs and requires the U.S. to retake the lead in international cooperation. But none of that is possible without, well . . . .
. . . . File under bad idea: The Department of Labor's proposal to blow up the nascent ESG space this summer by creating a rule that requires financial advisers to select strategies based only on financial considerations is out for comment and Morningstar's Jon Hale tweeted last night that an analysis done on the 8,700 comments received in the 30-day comment period found them running 95% against said proposal. Another 1% was neutral. So there's still a chance, DOL? . . .
---
Data driven: Fallen climate heroes
. . . . Established in 1902, Big Basin Redwoods is California's oldest state park. In the heart of the Santa Cruz Mountains, its biggest attractions are its ancient coast redwood trees. The park has been devastated by lightning-sparked wildfires over the past week. These redwoods grow only on the Pacific coast, from Big Sur to southern Oregon. Studies show that coast redwoods capture more CO₂ from cars, trucks and power plants than any other tree on Earth, according to the Sempervirens Fund, California's oldest land trust and dedicated to protecting Big Basin park. . . .
---
News briefs: Vineyards on the move, fires may signal global trend
Watch this: Japan's SkyDrive, one of the country's newest flying car startups, recently revealed the SD-XX, a sleek two-person eVTOL aircraft, about the size of a car, with a range of several tens of kilometers at 100 kmh (62 mph). The company is hoping to complete its first flight test this summer, according to the Japan Times. Read more about flying cars from the World Economic Forum.
Editor's picks:
Climate changes shifting vineyards In Burgundy

California, Colorado fires may signal global fire transformation

UN carbon offset platform reaches 2 million CERs milestone
---
Latest findings: New research, studies and papers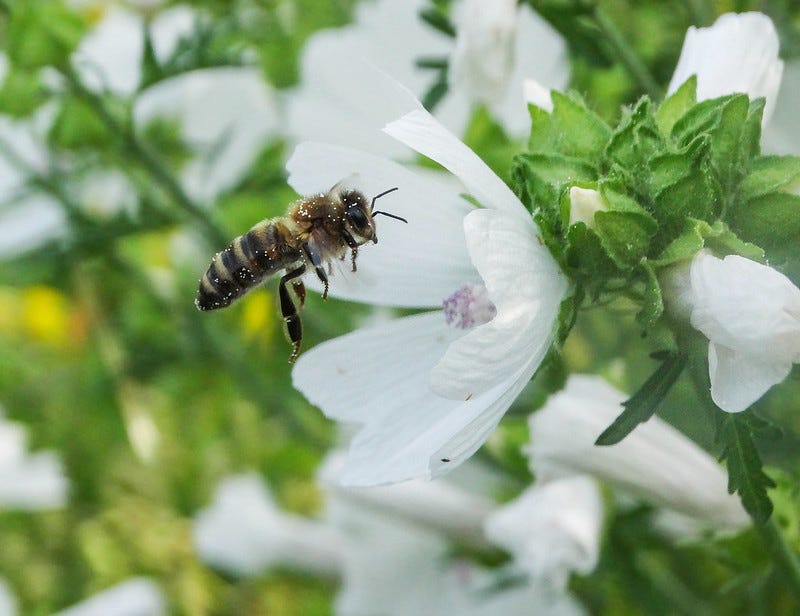 Take honey for that cold
As a study trumpets the food's medicinal properties, there's a buzz about beekeeping in the UK, Elle Hunt writes in The Guardian (via Society of Environmental Journalists). The study, published in the journal BMJ Evidence Based Medicine, found that honey was a more effective treatment for coughs, blocked noses and sore throats than many commonly prescribed remedies. The researchers from the University of Oxford recommended honey as a cheap, accessible and low-risk treatment for symptoms of upper respiratory tract infection (URTI), on which antibiotics have no effect. It came as no surprise to beekeepers. "I've been saying this for ages," says Carly Hooper, who has 12 hives near her home in Fleet, Hampshire, and a honey-based business.
Report: Negative emissions tech may not solve climate crisis
A team led by researchers at the University of Virginia cautions that when it comes to climate change, the world is making a bet it might not be able to cover. The team's new paper in Nature Climate Change explores how plans to avoid the worst outcomes of a warming planet could bring their own side effects. The handful of models the United Nations Intergovernmental Panel on Climate Change and decisions makers around the world trust to develop strategies to meet carbon neutrality commitments all assume negative emissions technologies will be available as part of the solution.
Removing CO₂ could spark rise in food prices
Technologies that can remove carbon dioxide from the air could have huge implications for future food prices, according to new research, the BBC reports. Scientists say that machines that remove CO₂ from the air will be needed to keep the rise in global temperatures in check. According to the report, critics say this would require the deployment of huge amounts of land which would reduce the amount of land for agriculture at a time of increasing global population.
Above, European honey bee. Photo:
Jevgenijs Slihto
/flickr.