The ABCs of hurricanes; Big Oil wears the green, and is Biden's plan too broad?
Welcome to Callaway Climate Insights and especially to our new subscribers. Please share with your friends and if this was shared with you, please subscribe.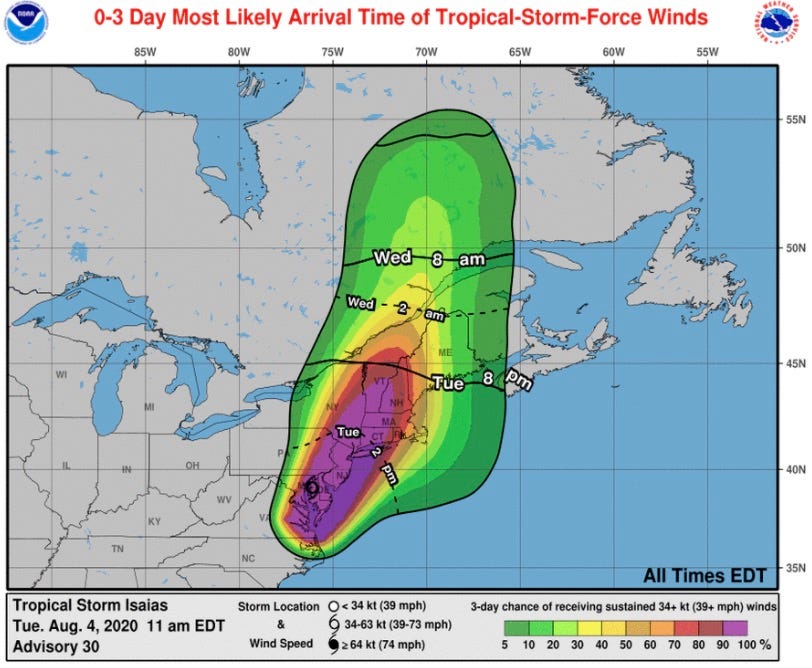 Above, the National Hurricane Center's wind advisory for the path of Isaias, which is barreling into New York and New Jersey after slamming the Carolinas and Virginia.
Nothing gets the media's climate-change attention like a hurricane headed for New York City, and Isaias isn't disappointing. Apocalyptic tweets, tornadoes, record storm surge predictions, and my favorite, the number of millions in the path of the hurricane, all competed for digital space as Isaias barreled up the East Coast Tuesday.
S&P Global noted that two nuclear power plants, both in North Carolina, with 35,000 megawatts in capacity, or enough to serve almost 23 million homes, were set to be battered, but as we published the winds had weakened to a tropical storm.
Isaias (it's gone back and forth from tropical storm to hurricane) is the ninth hurricane of a busy season on the East Coast, which looks set to challenge 2005 — the last time hurricanes ran the alphabet of names. Once we get to 21, authorities start using Greek names as they don't traditionally name hurricanes with the letters Q, U, X, Y, or Z.
Meanwhile, safely out of the path of the hurricane in California, the Apple Fire near Los Angeles had burned away more than 26,000 acres as 2,300 firefighters struggled to contain it and thousands have evacuated, Reuters reported. The blaze was reportedly started by the exhaust from a diesel truck.
California's wildfire season is pacing to be as strong as hurricane season on the East Coast, with about five times the acres already burned this year compared to last year, chiefly because of dry conditions after a mild winter. The worst of it typically comes in September and October.
Assuming you're not fleeing fires or or sheltering from the heavy rains and winds, remember those who are as the next big company pledges to be carbon neutral 30 years from now.
More insights below. And don't forget to contact me directly if you have suggestions or ideas: dcallaway@callawayclimateinsights.com.
---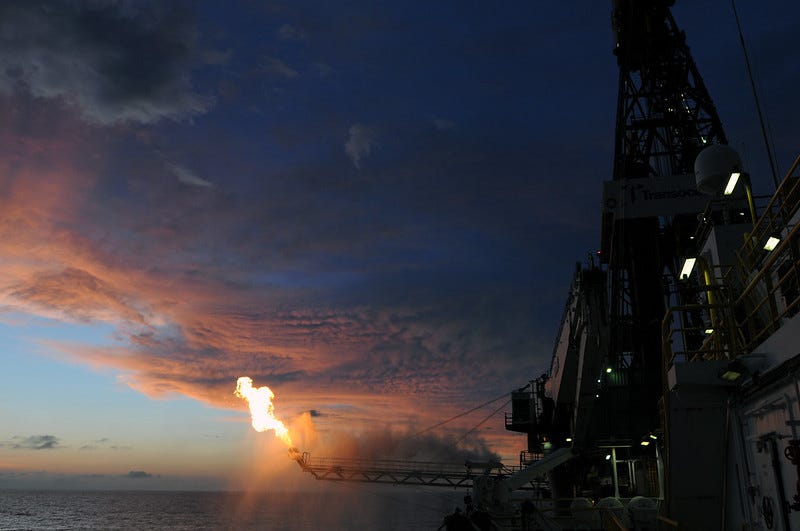 Above, flaring of leaking oil from the damaged Deepwater Horizon, in a BP-operated prospect in the Gulf of Mexico, 2010. Photo: U.S. Coast Guard/Petty Officer 3rd Class Patrick Kelley.
. . . . BP Plc (BP), one of the earliest Big Oil majors to wear the green on environmental initiatives, announced a slew of new low-carbon strategies today, as well as a massive second-quarter loss, a 50% dividend cut and 10,000 job reductions following the collapse of oil prices this year. Shares, of course, rose as much as 8%.
Some reports credited the company's new plans, which include a 10-fold increase in low-carbon investment in the next decade, and the promise of big production declines and no more oil exploration. More likely, battered oil investors were just relieved the results weren't worse. Shares are down more than 40% year-to-date.
Still, there is a realization among energy investors that the move to renewable energy and ending of fossil fuels can't happen without the biggest energy companies. That simply divesting their stocks won't help them evolve. Ten years since BP's catastrophic Deepwater Horizon spill in the Gulf of Mexico, the largest in history, the fact that BP is making these moves is testament to the power of investor pressure. . . .
. . . . Smoke-filled rooms? Probably not as Democratic presidential candidate Sen. Joe Biden's campaign team pulled together his climate plans last month. But with help from team leaders such as former candidate John Kerry and Rep. Alexandria Ocasio-Cortez, the broad plan released did receive better marks from climate constituents.
That's likely because it addressed everything and promised to cut nothing, such as fracking or nuclear energy. In an election year, you have to appeal to all, and this report from the Washington Post is a thorough roundup of how Team Biden arrived at this point. Carbon sequestration payments to farmers and a nod to gas-fired energy as renewable for oil and gas workers in swing states, topped off the proposals.
If Biden's poll numbers remain strong — a big IF, of course — as voter registration issues dog both campaigns, which of these parts of the climate plan will rise to the top will be a key focus of the energy investing class. Even hedge fund managers understand you can't have it all.
---
Canada's new greenhouse gas rules trigger tech rush in emissions measurement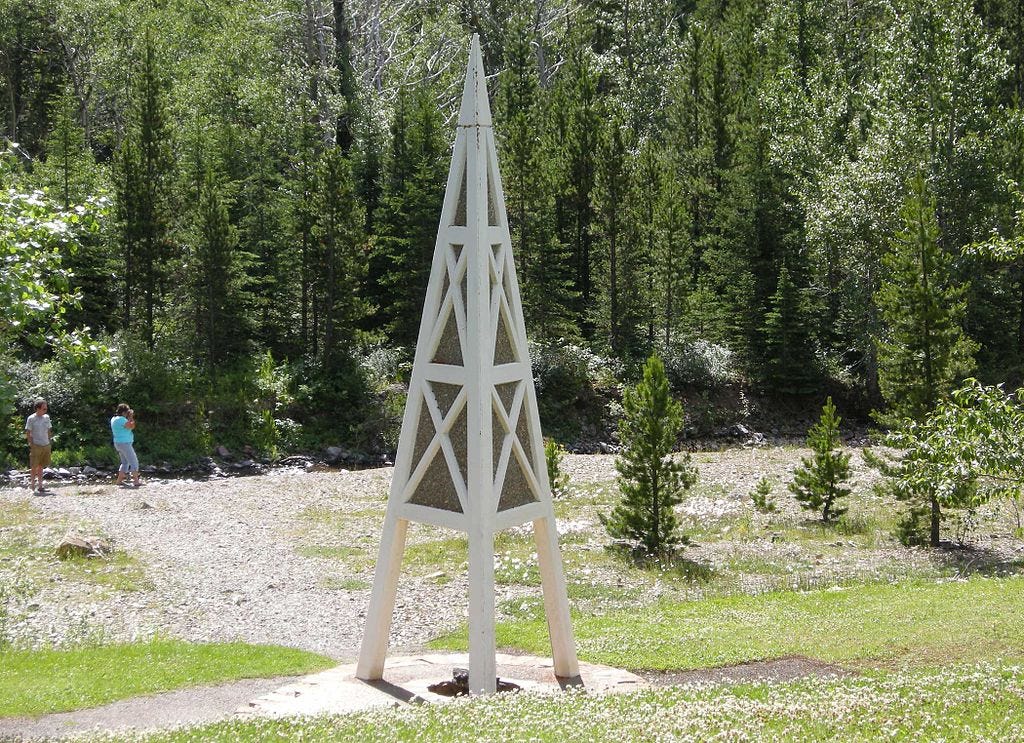 . . . . Measure up: Canada has rolled out strict new rules governing methane emissions from oil and gas wells, requiring producers to reduce their methane emissions within five years by 40 to 45% compared to 2012, writes Avery Mullen from Halifax, Nova Scotia. That translates into a need for exact measurements of emissions, which spells opportunity for Halifax-based software startup Arolytics. . . .
But the company is not without potential competitors. Calgary-based Envirosoft and Solstice Engineering are both established companies whose offerings include compliance software. Crowd-sourced corporate intelligence website Owler pegs Envirosoft's annual revenue at about $8.5 million and Solstice's at $8 million. . . .
---
Data driven: The bigger they are…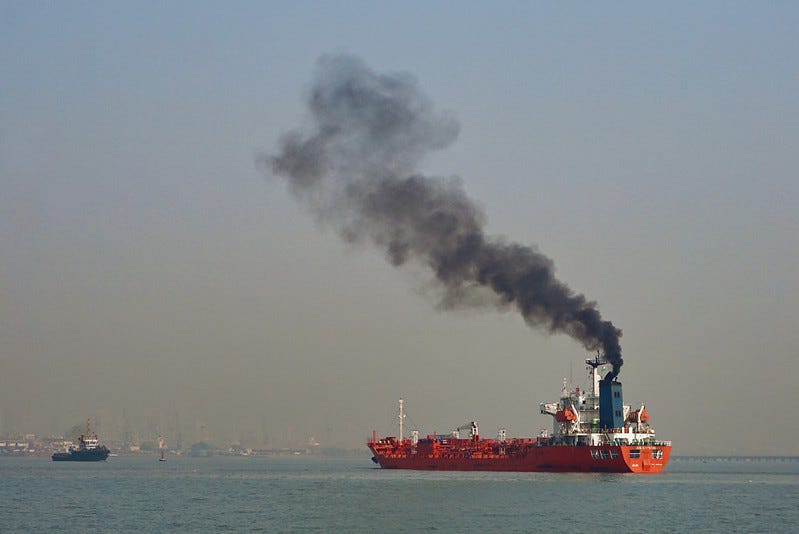 . . . . Just two countries, China and the U.S., are responsible for more than 40% of the world's CO₂ emissions, Sean Fleming writes for the World Economic Forum. According to the WEF report, there are huge disparities between the world's top 15 CO₂ emissions-generating countries. China creates almost double the emissions of second-placed U.S., which is in turn responsible for more than twice the level of third-placed India. . . .
Above, a ship in Mumbai harbor. Photo:
Cyprien Hauser
/flickr.
---
News briefs: Space 'butterfly'; banks' low-carbon promises
Watch this: Astronomers using the European Southern Observatory's's Very Large Telescope have imaged a "space butterfly," a planetary nebula known as NGC 2899. This video offers stunning views of this object and the science behind it.
Editor's picks:
Citi, Bank of America make carbon-transition pledges

Green investing tool launched by funds with $1 trillion in assets

Have global oil demand and CO₂ emissions peaked?

Irish Supreme Court ruling could have climate policy broad impact
---
Latest findings: New research, studies and papers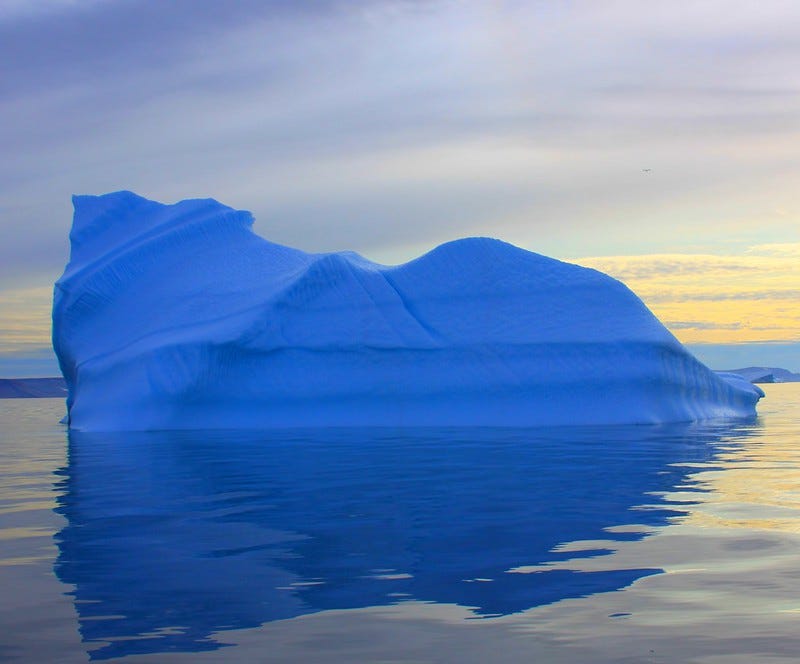 Economics support for the UN climate targets
The authors show that the UN climate targets may be optimal even in the Dynamic Integrated Climate-Economy integrated assessment model, when appropriately updated. When updates from climate science and economics are considered jointly, we find that around three-quarters (or one-third) of expert views on intergenerational welfare translate into economically optimal climate policy paths that are consistent with the 2 °C. or 1.5°C. targets.
Authors: Martin C. Hänsel, Moritz A. Drupp, Daniel J. A. Johansson, Frikk Nesje, Christian Azar, Mark C. Freeman, Ben Groom and Thomas Sterner 
Read the analysis of this research at Nature.com.
Internet of trees? Vodafone uses NB-IoT in climate change research
Vodafone is trialing Narrowband-IoT (NB-IoT) technology in two English forests, helping researchers understand the role of trees in tackling climate change. This latest trial will see sensors attached to trees in two forests — Alice Holt Forest in Surrey and Hardwood Forest in Northumberland — delivering data to Defra who will be able to assess the impact of temperature, humidity and soil moisture on tree growth and function. These insights will allow scientists to estimate how trees can mitigate climate change by absorbing or storing carbon from the atmosphere. Defra and Forest Research will then have findings to share with policy makers and the public. Read more in TechRadar.com.
Increasing dependence on mountain meltwater a threat
In many southern stretches of California's Central Valley, as much as 50% of water currently used for agricultural irrigation originates from the Sierra Nevada, where in early spring of each year, accumulated snow in the peaks begins to melt and flow into the lowlands. The Central Valley is one of many mountain-dependent world regions expected to face heightened water stresses as climate change disrupts usual snowpack and meltwater patterns. The full report is available at The Stormwater Report (Water Environment Federation).
Above, iceberg, Greenland. Photo:
Drew Avery
/flickr.