Discover more from Callaway Climate Insights
Callaway Climate Insights provides news, critical analysis and original perspectives at the intersection of global finance and the challenges of climate change. 
Over 3,000 subscribers
The holy grail of climate change and the murderer next door
Welcome to Callaway Climate Insights, and especially to our new subscribers. Your sharing helps us meet them. Please share and if forwarded to you, please subscribe.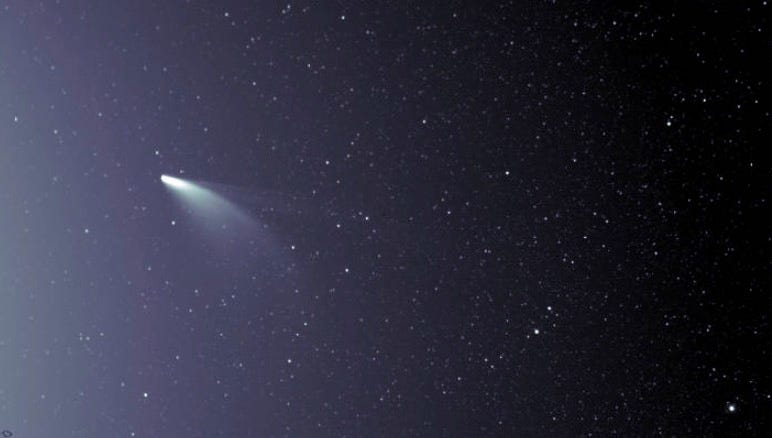 It is inevitable that for the world to adapt to climate change we'll need more horsepower than we do now on the data and science front. Enter artificial intelligence.
Gains made in AI in the next few years will disrupt every industry and create opportunities to do things we never would have thought of before. Late last week, a coalition of nine technology companies and climate change groups announced a joint plan — called Climate Trace — to track all greenhouse gas emissions in the world real-time.
If successful, it is the holy grail of the climate crusades. An independent tracker of emissions data could monitor every country, every company, every ship or plane for that matter, in a way that would remove the squabbling over data and motives that has fractured global efforts to collectively combat what is a global problem.
The group, led by former Vice President Al Gore, is optimistic it can have something ready by the Cop26 conference in Glasgow, now scheduled for November 2021, thanks to Covid-19. Gore told a Bloomberg Green conference Tuesday that he expects a hard launch in six months and by next June to be able to report global emissions every six hours, which is not real-time but close enough to start.
The news release is the easy part though, and like all machine learning and AI projects, we don't know what we'll find or if we'll get along long enough to use it.
For an idea about what might happen, though, I turned to an expert, below. . . .
Above, Comet NEOWISE. Photo: NASA/Johns Hopkins APL/Naval Research Lab/Parker Solar Probe/Brendan Gallagher.
---
'What if a murderer never had to leave their own house?'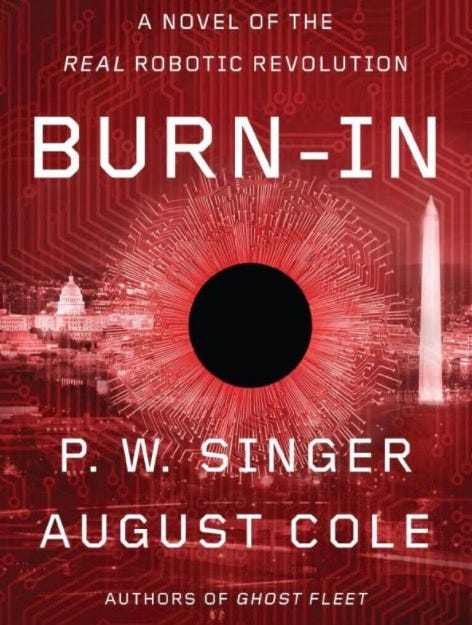 "The stories we tell ourselves about our present and future lives will be greatly shaped by real foreknowledge about our roads not taken."
. . . . August Cole is a former colleague of mine at MarketWatch and currently a best-selling author of fiction about the intersection of AI and global conflict. His latest book, Burn-In: A Novel of the Real Robotic Revolution, co-authored with P.W. Singer, is a thriller about the role AI plays in society only about 15 years from now. So we asked him about climate change then.
Question: Burn-In is the story of an FBI agent and her partner on a national mission, but the partner is an AI-controlled robot — TAMS. It's a real thriller, but you both had to imagine what AI, and indeed the world, will look like 15 years from now. What were your climate assumptions and how did you get to them?
Answer: There's a quote attributed to William Gibson, sci-fi legend who coined the term cyberpunk, that the future is already here, it's just not evenly distributed. To riff on that, the climate of the future is already here, but it's effects aren't equally distributed. The weather in Burn-In is volatile, with big swings for example, that compound the other technological-driven disasters that take place in the book. It's hotter, wetter, and unpredictable. When we were building out the world of the 2030s in Washington, D.C., we knew we had to look at some of the climate projections from international bodies like the UN, but also to understand what it would be like, in a sensory and emotional way, to live in such a world. What we wanted to do was also show how the systemic vulnerabilities that hackers could exploit in Internet-connected infrastructure could be compounded by naturally occurring extreme-weather events, such as flooding in downtown Washington. Since there is a call-to-action aspect to the novel, we wanted to demonstrate as well that the current precautions like flood barriers don't really reflect the looming danger . . . .
---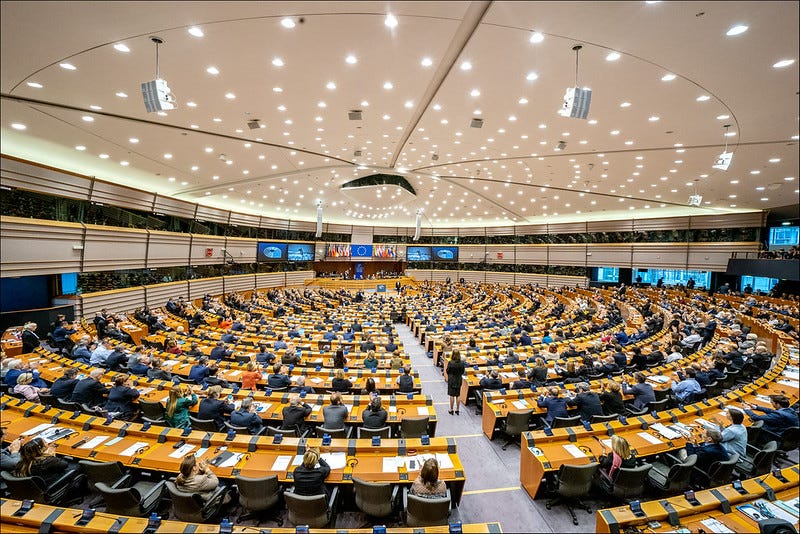 . . . . A dog't breakfast, as they say, for the green recovery from European Union leaders overnight after they emerged from a five-day budget battle in Brussels. The €1.8 trillion ($2.07 trillion) recovery spending deal to combat the economic problems sparked by the coronavirus pandemic contained only a vague reference to climate action as part the investment. The agreement includes a €750 billion recovery plan and a multiyear EU budget of more than €1 trillion for 2021 to 2027, with about 30% of the money estimated to be targeted toward environmental issues. 
The Guardian quickly called Swedish environmental activist Greta Thunberg for reaction and she didn't disappoint, saying the deal goes nowhere near far enough. "As long as the climate crisis is not being treated as a crisis, the changes that are necessary will not happen," she said. . . .
. . . . Pledge week: A host of influential companies jumped on the climate pledge bandwagon this week, each topping the other with promises of dramatic action to help reduce their carbon footprints and track data. Morgan Stanley (MS) kicked the week off on Monday with a promise to start reporting the carbon emissions of its holdings and investments. Procter & Gamble (PG) said it will go climate neutral by 2030. Microsoft (MSFT) announced a new coalition with eight other global companies called Transform to Net Zero. And Apple (AAPL), in probably the most difficult pledge of all, said it will remove carbon from its supply chain — including in China — by 2030. Lisa Jackson, vice president of environmental, policy and social initiatives at Apple, said the pledge included investment in an "impact accelerator" to help minority-owned businesses. . . .
. . . .Buyer's market: The collapse of oil and of fossil fuel stocks this year inevitably got bad enough to attract takeover speculation, and Chevron Corp. (CVX) was first out of the gate with a $5 billion deal to buy Noble Energy this week to take advantage. Analysts said more deals could be expected as many oil companies can't make money with oil at $40 a barrel. The deal includes a massive assumption of debt that could hamper other deals, but it needs to be viewed as a bet that at least in the energy industry, some believe prices will soon recover. . . .
. . . . They said it: Al Gore, former journalist, speaking at the Bloomberg Green Zoom conference on Tuesday, remarked that climate journalism may be entering a "golden era" in 2020 as mass media wakes up to the opportunity. Our ears are burning at Callaway Climate Insights. . . .
Above, (file photo) a 2019 European Parliament meeting.
---
Taking the cons out of concrete at CarbonCure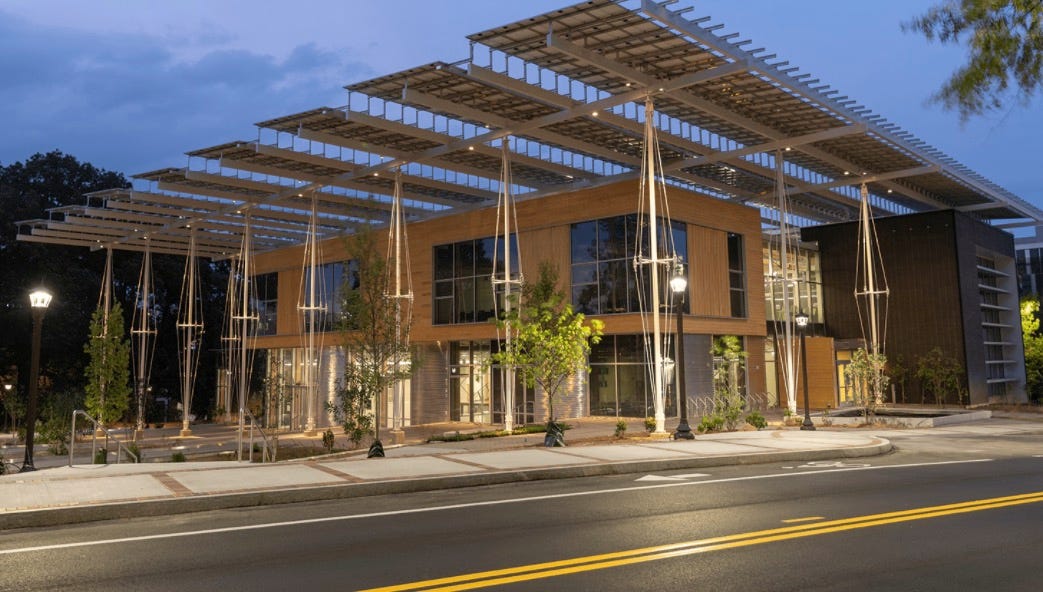 . . . . Economic recovery from Covid-19 is going to largely focus on infrastructure, with various strategies working their way through Congress, Brussels and in Asia. Infrastructure means concrete, more specifically cement, the production of which is estimated to cause up to 10% of global carbon emissions. So we asked Canadian journalist Avery Mullen to check in with CarbonCure Technologies, one of leaders in treating the concrete process to capture the carbon.
The company is working on a new round of funding, following a successful round a year-and-a-half ago from Bill Gates' Breakthrough Energy Ventures, and it's just done a deal in Germany which should help it expand into Europe, said CarbonCure President Jennifer Wagner.
CarbonCure now has two revenue streams: selling the equipment, and as of this year, selling carbon credits. The result is that the company can generate income from the machinery even after it has been sold.

"We think it's going to be transformative for both our business and our customers' businesses," she said, referring to the carbon offsets. "Because those funds can be funneled back to the concrete producers to help incentivize them to adopt the technology at more plants and use it in more production". . . .
---
Shoutout: John Lewis and his environmental legacy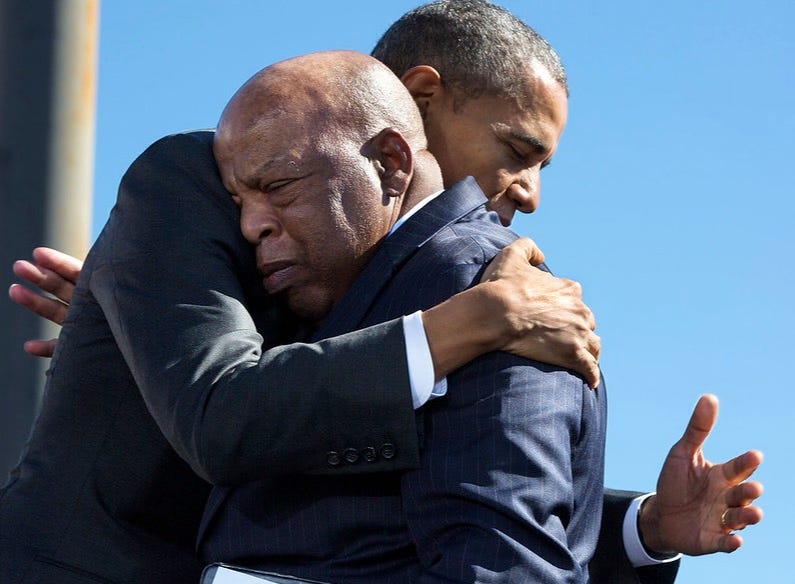 . . . . Like everyone else this tumultuous summer, I was overtaken by the tributes and stories tied to the passing of Rep. John Lewis (D-Ga.) over the weekend. One particularly enlightening piece came from Marshall Shepherd at Forbes, who noted that while Lewis was fighting the great civil rights battles of the past 50 years, he was also a staunch supporter of environmental progress.
Another example of how climate change is a civil rights issue as much as anything else. . . .
Above, President Barack Obama hugs Rep. John Lewis, D-Ga. at the 50th anniversary of Bloody Sunday and the Selma to Montgomery civil rights marches, at the Edmund Pettus Bridge in Selma, Ala., 2015. Photo:
bswise
/flickr.
---
Data driven: Powering renewables
. . . . From the International Renewable Energy Agency: As in other recent years, Asia accounted for most growth in renewable electricity generation, with an increase of 219 TWh in 2018. Asia's share of global renewable generation also continued to increase, reaching 40%. Europe and North America each have a 20% share, followed by South America (12%) and Eurasia (5%). . . .
---
News briefs: Morgan Stanley discloses climate impact; flooding in China
Editor's picks:
Morgan Stanley will disclose climate change investment impact

Global warming, development add to severe floods in China

Diageo's Johnnie Walker whisky to be sold in paper bottles
---
Latest findings: New research, studies and papers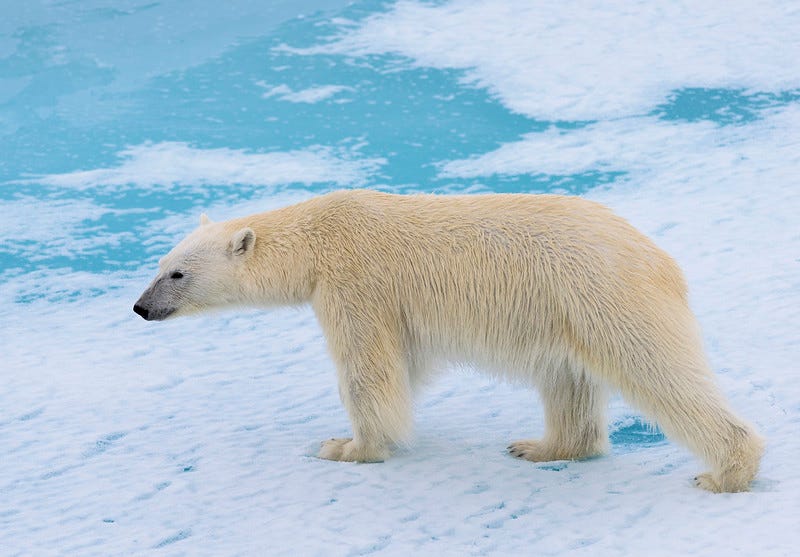 Above, polar bear on thin ice. Photo:
Christopher Michel
/flickr.
Asset revaluation and the existential politics of climate change
While scholars have typically modeled climate change as a global collective action challenge, the authors of this paper offer a dynamic theory of climate politics based on the present and future revaluation of assets. … As climate change and decarbonization policies proceed, holders of both climate-forcing and "climate-vulnerable" assets stand to lose some or even all of the value of their assets over time, and with them, the basis of their political power.
Authors: Jeff Colgan, Brown University Watson Institute for International and Public Affairs; Jessica F. Green, University of Toronto Department of Political Science; Thomas Hale, University of Oxford Blavatnik School of Government
Available via SSRN.
Global warming pushing polar bears closer to extinction
By century's end, polar bears worldwide could become nearly extinct as a result of shrinking sea ice in the Arctic if climate change continues unabated, according to research explained in this story in The New York Times. Read the study at Nature Climate Change: Fasting season length sets temporal limits for global polar bear persistence.