Discover more from Callaway Climate Insights
Callaway Climate Insights provides news, critical analysis and original perspectives at the intersection of global finance and the challenges of climate change. 
Over 3,000 subscribers
Zeus: Green travel revolution starts now
Most of the global reductions in emissions since Covid-19 struck came from roads and air travel. Investment in recovery must now focus on new ways to get around. We can't stay home forever.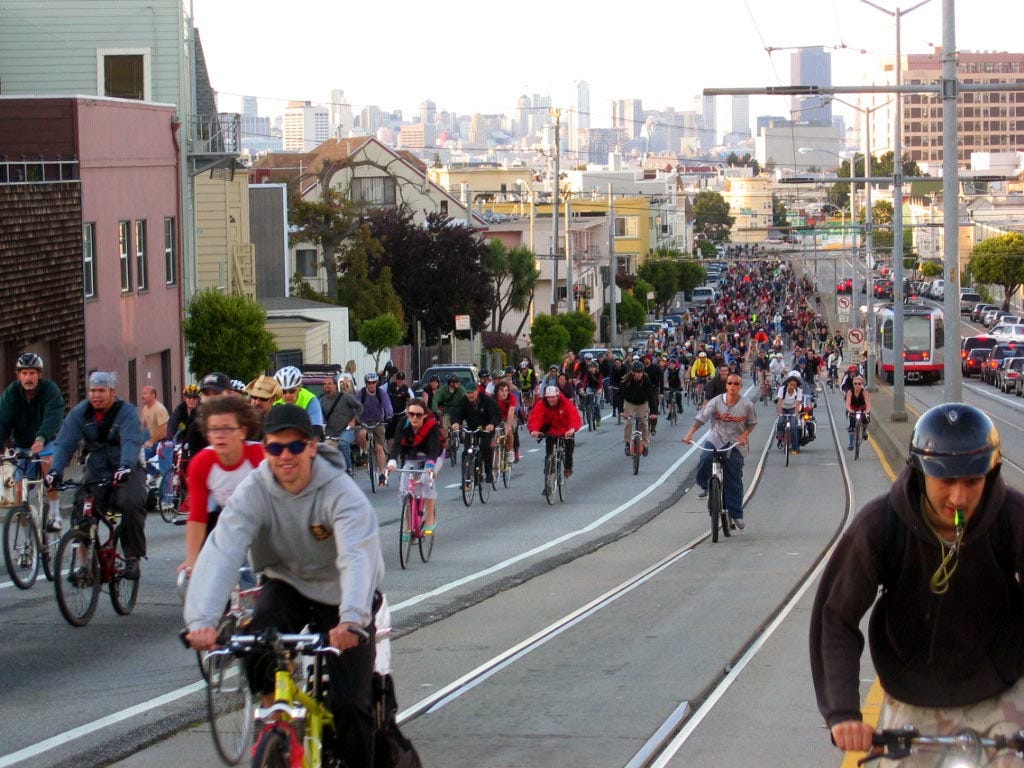 SAN FRANCISCO (Callaway Climate Insights) — One of your Facebook friends probably asked in the past few weeks where's the first place you'll travel after the lockdowns end. You probably said to visit family, then rattled off a few bucket list destinations. For me they are Jerusalem and the Greek Islands.
You didn't think much about how you'll get there though. The Covid-19 economic recovery is shaping up to be heavy on investment in bikes, electric cars, rail travel and fundamental changes in how we fly. Those Segways never really developed beyond tourist products 20 years ago, but inventor Dean Kamen was ahead of his time.
What was missing then were car-free areas in cities, something now becoming more commonplace. The gradual creation of bike lanes in big cities like New York and London will become a bigger deal now, as will entire downtown areas without car, truck and bus traffic. The data that most Covid-19 victims lived in high-pollution cities and industrial regions is not lost on city planners from Singapore to San Francisco.
Why is this column called Zeus? David Callaway explains here.
Europe's green recovery plan, as detailed in a scoop this week by our own Stephen Rae in Dublin, calls for a "renaissance in rail" travel, with zero-emission trains replacing short-haul flights on the continent.
Investments in electric vehicles and charging infrastructure are also heavy in the plans, which acknowledge that some 300,000 companies and 14 million people are tied into the European auto industry. One such idea, reported in the Financial Times, is to use the cable duct network of Virgin Media in the UK to build charging stations around the country for electric vehicles.
Flying will change, too. Darrell Delamaide reported on two Swiss startups this week that are working with Lufthansa to develop carbon-neutral aviation fuel.
Those reports of packed planes are the result of fewer planes flying by the cash-strapped airlines. To attract people back to air travel, including those business elites who make up two-thirds of air miles flown, airlines will need to do better than empty middle seats and temperature checks. Less short-haul flights will help them invest in better standards on long-haul flights, which as always, are the money-makers.
All of this doesn't make airlines and auto maker stocks a screaming buy for investors, though they have perked up a bit in recent weeks as markets have recovered and governments have started to open up, according to the Dow Jones Transportation Index (DJT). But it is a strong signal that many of the climate change innovations that make headlines and attract attention will be in the travel space.
We can't put globalization back in the bottle, as much as some would like to try. But this Covid-19 scare will certainly go down as a milestone moment in how we think about getting to where we all want to go.
For decades, our concept of travel and work involved more and more ways to cram people together. Subways, buses, rush hour traffic, coach class. Remember the blueprints for airline travel where we'd all stand up next to each other the whole time? Ride-sharing, hot-desking, elevator riding.
Simply applying social-distancing rules on these old formats won't work. The coronavirus is pushing us into a new, more environmentally aware era.
For visionaries and innovators, and investors looking for profit and purpose in the environmental, social and governance (ESG) spectrum, the changing way humanity makes its way around the globe is a uniting theme.
After all, we can't stay home forever.
Above, riders in San Francisco's Critical Mass monthly bicycle ride, which has been happening since 1992. Photo: Michael W. Parenteau/Wikipedia.