Discover more from Callaway Climate Insights
Callaway Climate Insights provides news, critical analysis and original perspectives at the intersection of global finance and the challenges of climate change. 
Over 3,000 subscribers
ESG's third quarter rally; plus climate VC and baseball with Prelude's Gabriel Kra
Welcome to Callaway Climate Insights. A strong Q3 for ESG stocks; and a shelling for fossil fuels. Enjoy and please share with your friends and colleagues.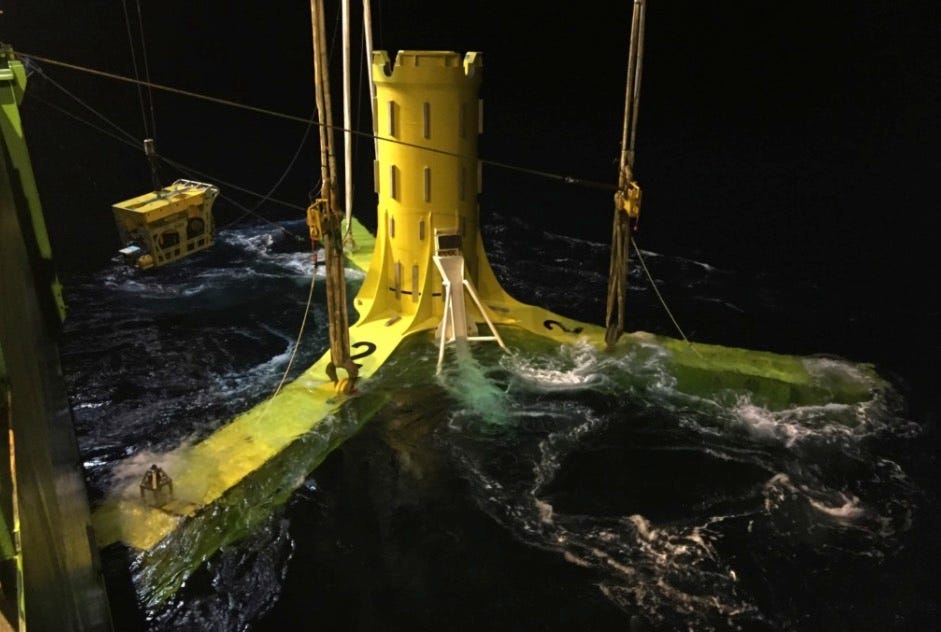 Above, turbine installation for the
MeyGen tidal energy project
underway off northern Scotland. Photo: MeyGen.
Wildfires and hurricanes over the summer drove the news cycle, but environmental, social and governance stocks helped steer the stock market to tidy gains for the third quarter. S&P Global Markets reports its S&P 500 ESG Index returned 8.77% for the quarter through Tuesday, compared with 8.54% for the S&P 500 Index.
Energy stocks got whacked, down about 20% and led by the big oil companies. But electric truck startup Nikola Corp. (NKLA) lost two-thirds of its value after an attack by a short-seller and the resignation of its founder.
One basket of climate stocks assembled by Denmark's Saxo Bank is up 78% year-to-date. Even in this upside-down 2020 stock market, where bad is good and tech is king, that's no mean feat.
We should expect similar gains from ESG funds when fund companies begin to trickle out reports in coming days, as inflows from investors approach $3 trillion. History tells us that dramatic market rallies like this don't end well. And anything can happen in the U.S. election less than five weeks away. But for now, with rates low and Wall Street getting behind the ESG theme, the rising tides of climate change are lifting all boats.
More insights below. . . .
And don't forget to contact me directly if you have suggestions or ideas at

dcallaway@callawayclimateinsights.com

.
---
ZEUS: Climate VC and baseball with Prelude's Gabriel Kra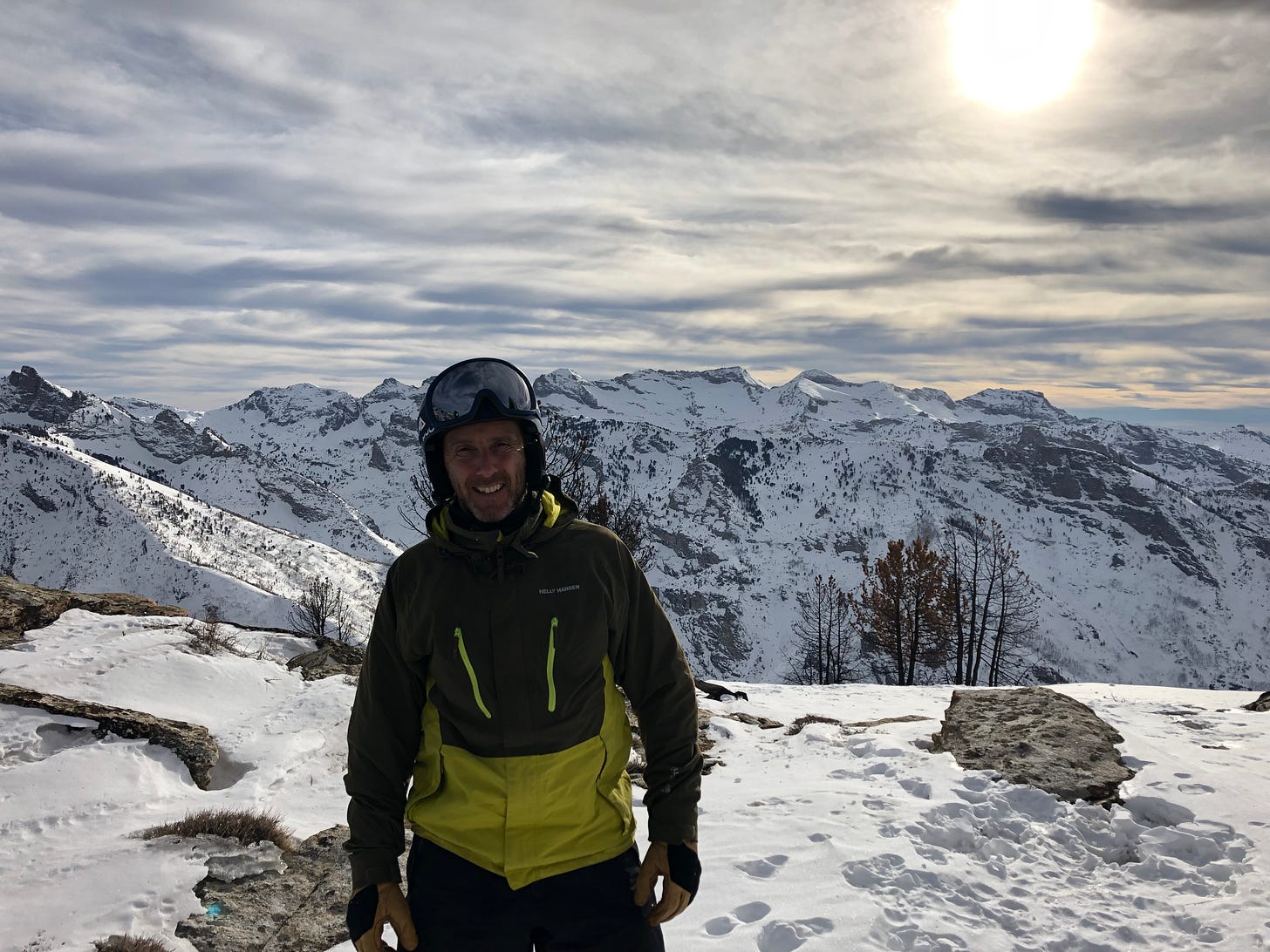 . . . . Second or third inning: That's the baseball analogy Gabriel Kra, managing director of Prelude Ventures, uses to estimate where battery storage technology is right now in terms of helping the world adapt to climate change. Kra, a baseball fan, former ski bum and philosophy major in college, tells David Callaway what Prelude looks for in the startups it invests in. And three startup CEOs tell how Prelude in turn has helped them work toward their dreams of building businesses that make money and reduce carbon. Prelude, founded seven years ago by billionaire husband and wife team Nat Simons and Laura Baxter-Simons, is a refreshing example of a Silicon Valley venture capital firm willing to wait for its returns — both profit and environmental.
"When you're an entrepreneur in the really early stages it's exhilarating but often terrifying," said Shilla Kim-Parker, founder and CEO of Thrilling, which uses logistics and technology to help second-hand clothing stores reduce waste by going online. Prelude was part of Thrilling's seed round of $2.1 million last year.

"They are down-to-earth, value oriented, principled and humane partners," she said. "Gabriel sets the culture and tone for the entire organization."

One of Prelude's holdings, Quantumscape, a San Jose, Calif.-based maker of lithium batteries for electric vehicles, said last month it will go public through a special purpose acquisition company, or SPAC. The image above is from its website.
---
. . . . Is it possible the five-mile stretch of oil slime that hit the Gulf Coast of Florida's beaches this week was oil still left over from the BP Deepwater Horizon spill a decade ago? That's the speculation as so far nobody else has owned up. . . .
. . . . Dominion Energy (D) shares were upgraded by JP Morgan to overweight from neutral, with a new price target of $84, up from $82, as the Virginia energy company's 12 megawatt, offshore wind project began operations. . . .
. . . . Chargepoint, one of the largest electric vehicle charging networks, said it would go public later this year in the latest special purpose acquisition company (SPAC) deal, valuing it at $2.4 billion, according to Reuters. . . .
. . . . It's been hard to avoid the massive publicity from David Attenborough's "Extinction — The Facts" documentary, but this analysis by Mark Allbrook of  World Wise Today is well worth the read. . . .
---
European notebook: EU looks to tidal power; Poland agrees to give up coal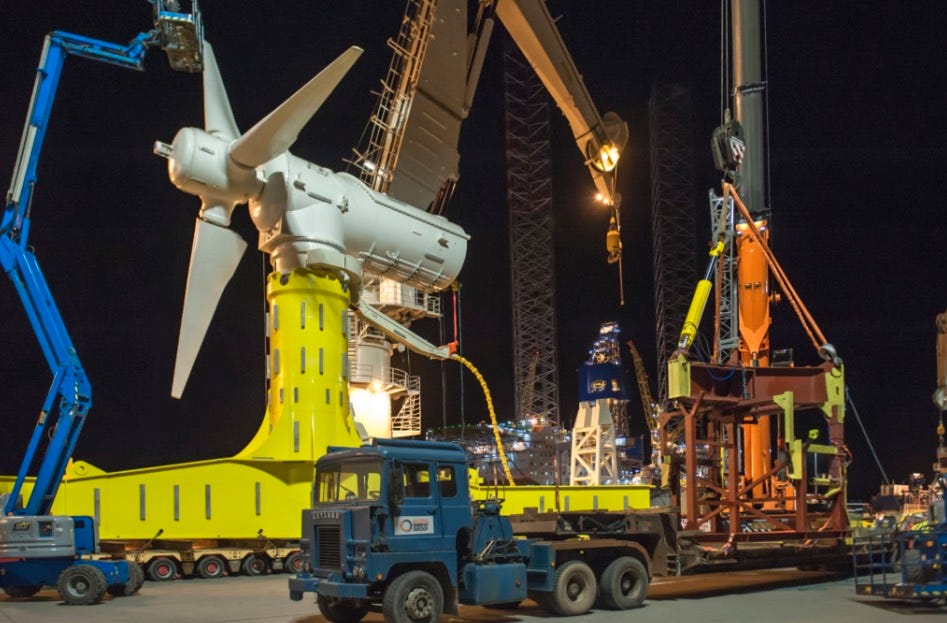 . . . . Europe's Green New Deal and its focus on hydrogen fuel is whetting the appetites of ESG investors, but like the U.S. and China, the continent has a major coal problem it needs to deal with. Late last week, it took a major step with a groundbreaking deal in Poland between the government and the mining unit to close its last coal plant by 2049 and to find jobs for all coal workers in the renewable space. Plus, the MeyGen tidal energy project off of Northern Scotland is underway as Europe weighs the value of its coastal tidal power vs wind and solar energy. . . .
---
If you read only one thing: 'The backup plan I'd hoped we'd never need'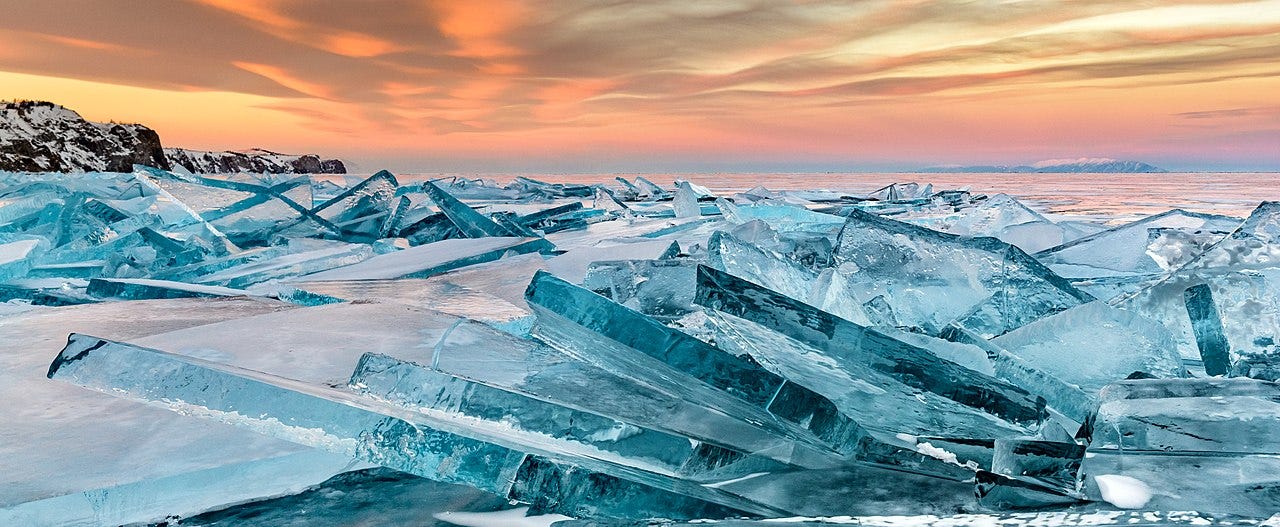 Above: Ice ridges. Sergey Pesterev/Wikimedia.
. . . . Desperate times: The devastating loss of ice in the Arctic Circle this year — reported this week to have reached the fastest pace since the end of the last Ice Age — has scientists scrambling for solutions. And none is too zany, including a plan to sprinkle glass crystals over the continent to continue reflecting the sun and protecting the ice, writes Katarine Zimmer for the BBC in this week's must read, headlined The daring plan to save the Arctic ice with glass.
The Arctic Project, run by Leslie Field, also an adjunct lecturer at Stanford University, has been experimenting with a powdery mix of glass beads to see if they can stave off polar melting by reflecting the sun's rays back into space. Predictable cries of "geoengineering" come every time scientists mess with nature, the article says. But time is running out and seas are rising.
Over the past decade, she and her team have scattered the silica spheres over several lakes and ponds in Canada and the United States, so far with encouraging results. For instance, in a pond in Minnesota, just a few layers of glass powder made young ice 20% more reflective — enough to delay the melting of the ice. By spring, when the ice in an uncovered area of the pond had completely vanished, there was still nearly a foot of ice in the section treated with the glass beads. . . .
---
Data driven: Not on the menu
. . . . The WWF reports that because whale sharks filter-feed at the surface and several dead individuals have been found with significant amounts of plastic in their stomachs, scientists have long speculated that marine plastic pollution must be impacting these giant fish. A recent study shows whale sharks could be eating as much as 137 pieces of plastic every hour. . . .
---
News briefs: UN biodiversity summit, PlayStation's carbon emissions
Watch this: "Humanity is waging war on nature" says António Guterres, Secretary-General of the United Nations at the UN Summit on Biodiversity.
Editor's picks:
Cloud gaming with PlayStation and carbon emissions

World Bank, others launch City Climate Finance Gap Fund

MetLife commits to emissions reduction
---
Latest findings: New research, studies and projects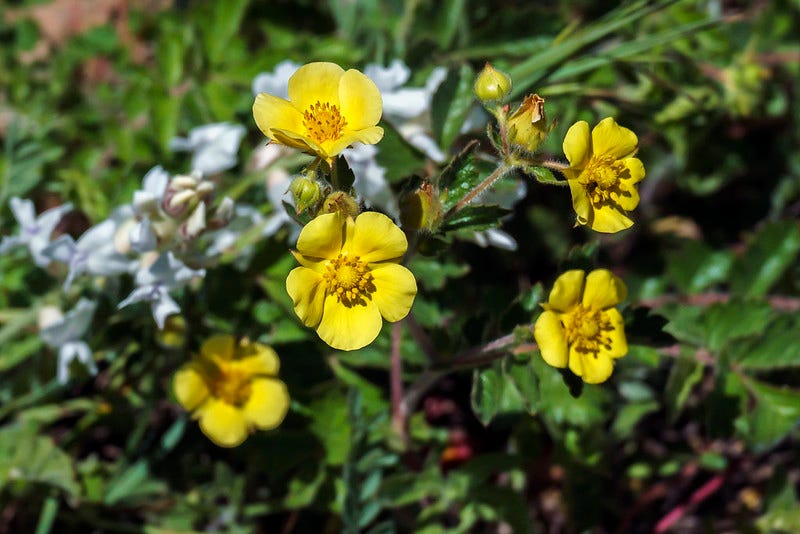 Alpine and sub-alpine cinquefoil flowers in Rocky Mountain National Park. Studies show some flowers are changing their colors in response to climate change. Photo:
qurlyjoe
/flickr.
A call for new research on climate finance
From the abstract: Climate finance is the study of local and global financing of public and private investment that seeks to support mitigation of and adaptation to climate change. In 2017, the Review of Financial Studies launched a competition among scholars to develop research proposals on the topic with the goal of publishing this special volume. We describe the competition, how the nine projects featured in this volume came to be published, and frame their findings within what we view as a broader climate finance research program.
Authors: Harrison Hong; G. Andrew Karolyi; José A Scheinkman
Published in The Review of Financial Studies, Volume 33, Issue 3
More research:
---
Speaking of climate change (at the first presidential debate) . . . .
"The first thing I will do, I will rejoin the Paris Climate Accord." — Democratic presidential nominee Joe Biden.
In reply to the question of whether he "believes" human pollution contributes to climate change, President Trump replied:
"I think a lot of things do, but I think to an extent, yes — I think to an extent, yes, but I also think we have to do better management of our forests."