Airline climate goals slammed; electric ferries, and California revisits carbon market
Welcome to Callaway Climate Insights, where journalism meets climate/finance solutions. We hope you enjoy this issue. If you do, please share.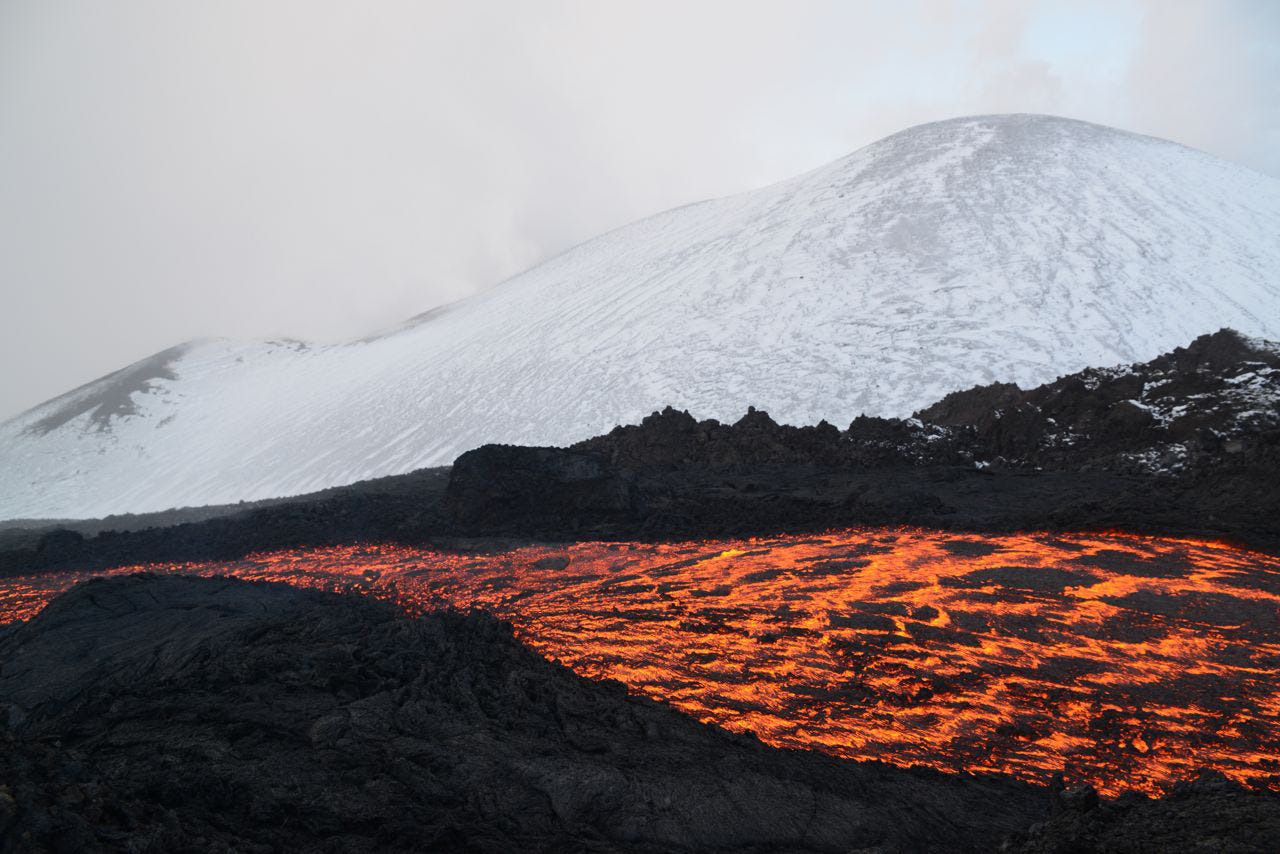 A tale of fire and ice: lava flow meets snow during the eruption of Tolbachik in eastern Russia. Photo: Benjamin R. Edwards/National Science Foundation.
Latest News and Insights:
Airlines carbon goals branded "critically insufficient"

California reconsiders landmark carbon trading platform

Minnesota sues energy companies for lying about climate impact

Deutsche Bank bans most domestic flights for business trips
Our metrics show Callaway Climate Insights readers are an engaged audience, with readership going up each issue. Let us know what you like best, or hate most, by emailing me directly at dcallaway@callawayclimateinsights.com.
---
. . . . Count me among those who will lament the passing next month of the Segway, which featured in a number of fond holiday memories tooling around European capitals with my daughter over the years.
The battery-powered personal transporter, one of the original climate change innovations, designed by Dean Kamen to change how the world moved around cities, will cease production on July 15, the company said this week.
The device was introduced with great fanfare 20 years ago, hailed by the likes of Bill Gates as a game changer for humanity. But restrictions on how and where it could be used on city streets held it back from ever getting past a novelty for tourists or a better golf cart for local police.
Archeologists will someday look at Segways as an early attempt by artificial intelligence to kill off the human race, with fleets of marauding robots tossing us over their handlebars to the video delight of their social media masters. Either that, or early pretenders to the Tesla. . . .
---
ZEUS: Covid sports ban may just be a warmup for climate change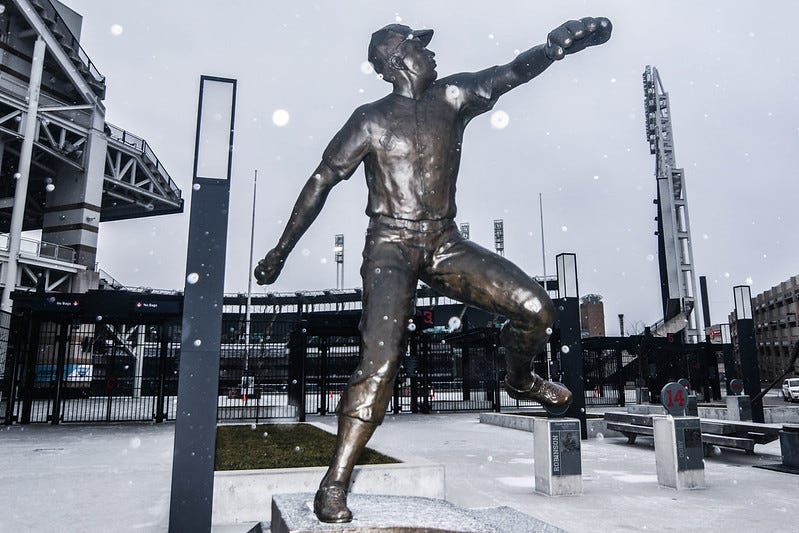 . . . . It's been 100 days without sports in the U.S. OK, a couple golf tournaments, some Nascar, and a few horse races. But for many of us, it's been Bundesliga or bust. Now comes a study that says climate change may alter the future and structure of sports in ways that will make the Covid shutdown seem like warmup, writes David Callaway.
Floods, fires, and rising seas and temperatures have already impacted major tournaments and games in the past year. A report by David Goldblatt for the Rapid Transition Alliance predicts one in three British golf courses will be underwater by the end of the century, including St. Andrews. Flooding will wipe out many soccer venues and storms and fires will threaten the very fabric of outdoor viewing that so many millions of us enjoy.
But sports has an upper hand on other industries. It's tremendously popular, and sports stars and leaders can command change, as they have in these times of Black Lives Matter. Starting by cleaning up their own substantial emissions — which include crowd waste, aviation emissions, and a willingness to take sponsorships from fossil fuel companies — sports bodies from the NFL to the IOC have a chance to lead by example. So in the future we won't all be reduced to perpetual reruns of Tom Brady Super Bowl wins. . . .
---
European notebook: Holland deal on renewables avoids EU fines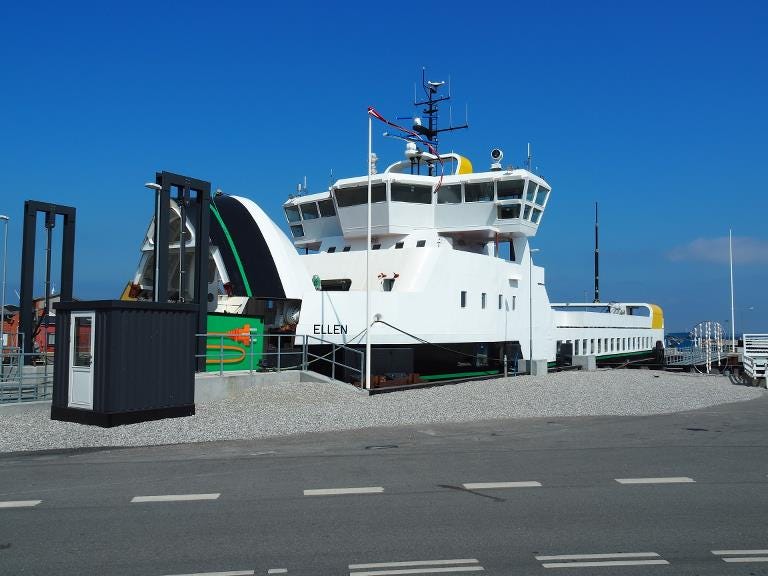 . . . . Holland's green woes this week were Denmark's gains, after Holland was forced to sign a €100 million ($112 million) deal with its neighbor to offset a big miss in its renewable energy production targets. Stephen Rae writes in his European notebook that the deal allows the Dutch government to avoid EU fines and gives Denmark a windfall to invest in a new hydrogen project.
Denmark also celebrated this week the debut of what it called the world's largest and most powerful electric ferry, which covered as much as seven times the distance as previous electric ferries had achieved.
That, and the latest from Greta Thunberg on how Covid-19 has changed society's view of the role of science . . . .
---
. . . . Global airlines emission-reduction goals were branded "critically insufficient" in new data by Climate Action Tracker on Thursday. For the most part, because the attempt by the United Nations CORSIA aviation group to regulate emissions with fines doesn't cover countries such as China, Russia, Brazil or India.
The plan won't cover even 50% of emissions and might even lead to some airlines being compensated for progress without real emission reductions elsewhere, according to Silke Mooldijk of the New Climate Institute. . . .
. . . . California is re-evaluating its landmark carbon market, the first in the nation, amid concern it won't meet its goals to help the state cut its emissions by 50% by 2030, according to CalMatters. Covid-19 and the collapsing oil markets are both hurting the cap-and-trade market's potential and might have to lead to changes to the program, including tougher environmental measures. . . .
. . . . Minnesota sued ExxonMobil, Koch Industries and the American Petroleum Institute this week for deceptive practices and false advertising, essentially accusing the energy companies and industry group of lying for decades about the impacts of their business models on the environment. The state joins a list of more than a dozen others who have sued in the past, but was the first to add the API industry group to the list of defendants. . . .
. . . . Deutsche Bank (DB), which has been cutting costs aggressively during the Covid-19 crisis and demanding travel concessions from its staff, added this week a rule banning plane travel on many domestic routes in Germany, according to Sueddeutsche Zeitung. Based on last year's travel, switching to the train could save the company 1400 tons of carbon emissions a year. . . .
---
Cutting trees, shooting opossums - a green budget New Zealand style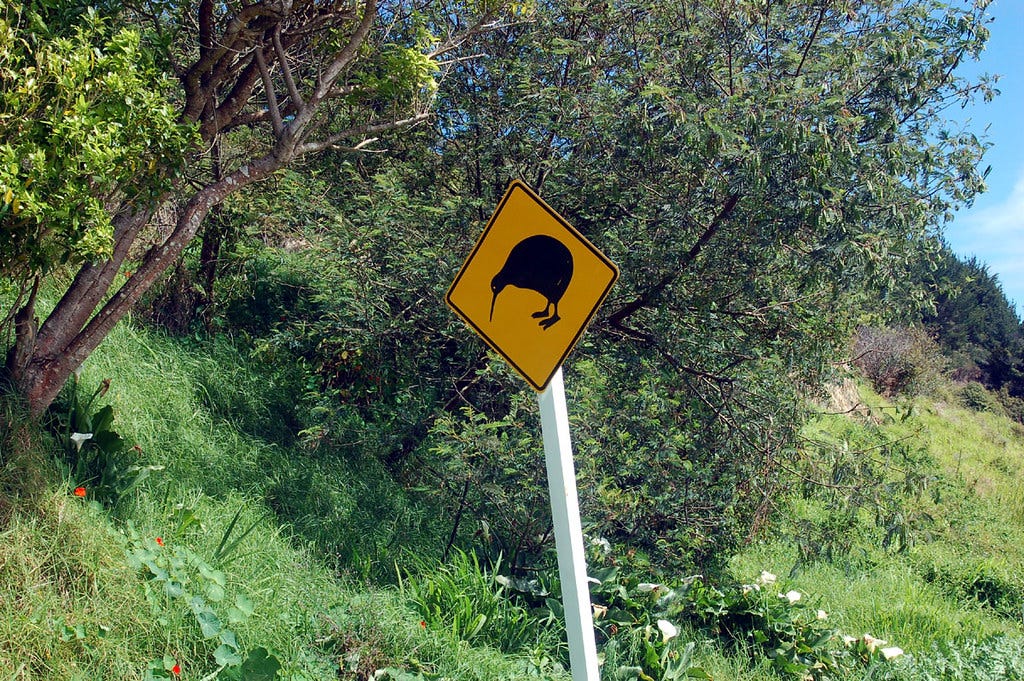 . . . . New Zealand, the only country to date to claim it has defeated Covid-19, is now trying to gear its economic recovery to green initiatives. In a commentary on the political struggles of Prime Minister Jacinda Arden to navigate any green spending through a fragile, coalition government, Peter Bale details the unique relationship New Zealanders have with their beautiful country and its current inhabitants.
To understand just how real this package is, it's worth remembering that animals considered cute elsewhere — and even endangered in some of their native habitats — are loathed here with a fiery passion that is taught from the earliest years at school. It's considered a patriotic duty to join a local Landcare group and trap stoats and opossums and club them to death in suburban and rural parks if the traps haven't done their deadly work. . . .
---
Startup upstarts: Nils Aldag, cofounder of green hydrogen firm Sunfire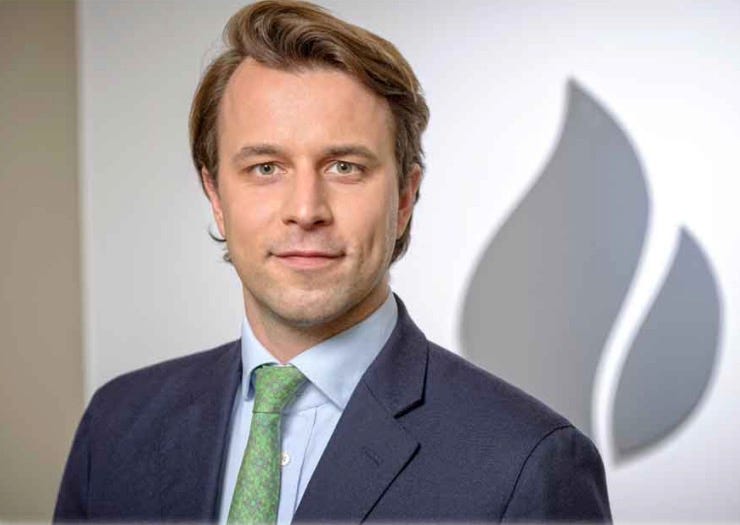 . . . . Nils Aldag, 33, is the millennial face of a hot energy startup that is raising money and emerging on the cutting edge of Europe's efforts to convert to hydrogen fuel as part of its Green Deal.
He co-founded Sunfire GmbH in 2010, based in Dresden, which produces hydrogen from renewable energy resources, with steam electrolysis to convert the hydrogen to petroleum substitutes. Aldag and his two co-founders are moving into the commercial stage from startups, in part with a deal to join a consortium in Norway to produce hydrogen on an industrial scale by 2025. . . .
---
Data driven: Slippery slope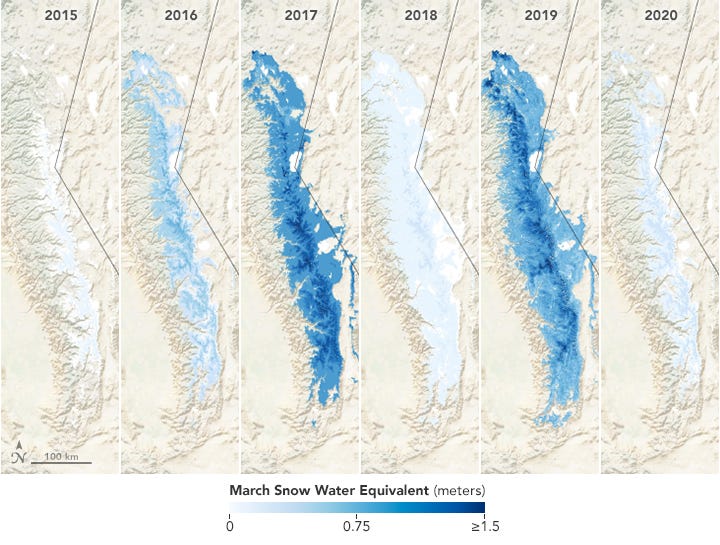 According to a research letter in Geophysical Research Letters, the amount of snow in the western United States has seen an average drop of 41% since the early 1980s. As a result, the ski season has shrunk by 34 days. In the image above, from NASA's Earth Observatory, early March snowpack in the Sierra Nevada in 2020 is compared to the lowest snow year on record (2015), an average snow year (2016), and one of the most abundant (2017). Snow-water equivalent in 2020 was not record-breaking, but still measured just 37% of the five-year mean.
---
The heat is on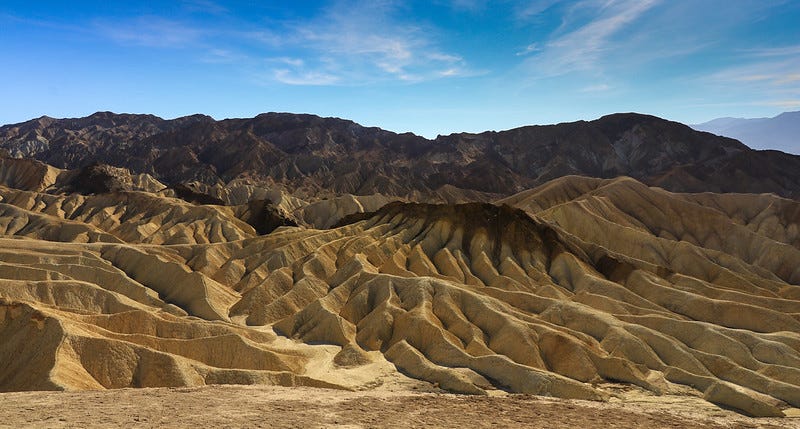 According to the National Weather Service, the high temperature for Wednesday, June 24 in the contiguous U.S. was 119°F. at Death Valley, Calif. The low temperature was 35°F. at Angel Fire, N.M., 850 miles away.
Above, Death Valley National Park. Photo:
Sandrine Néel
/flickr.
---
News briefs: Carbon allowance price-dip to last years
Editor's picks:
IETA: Carbon price dip to last two years

Facebook creates fact-checking exemption for climate deniers

The issue with bathroom tissue
---
Latest findings: New research, studies and papers
America's snow storms expected to diminish
A National Science Foundation study led by Northern Illinois University scientists suggests that American winters late this century could experience significant decreases in the frequency, intensity and size of snowstorms. Under an unabated greenhouse gas emissions scenario, the study projects 28% fewer snowstorms on average per year over central and eastern portions of North America by the century's last decade, with a 33% reduction in the amount of snow or frozen precipitation and a 38% loss in average snowstorm size. "If we do little to mitigate climate change, the winter season will lose much of its punch in the future," said Walker Ashley, an NIU meteorologist and lead author of the study, published in Nature Climate Change.
Climate change and the macro economy
This Occasional Paper from the European Central Bank reviews how climate change and policies to address it may affect the macro economy in ways that are relevant for central banks' monetary policy assessment of the inflation outlook. To this end, the paper focuses on the potential channels through which climate change and the policy and technological responses to climate change could have an impact on the real economy. 
Authors: Malin Andersson, European Central Bank; Claudio Baccianti, ZEW – Leibniz Centre for European Economic Research
ECB Occasional Paper No. 2020243, via SSRN
The Effects of Climate Change on GDP by Country and the Global Economic Gains From Complying With the Paris Climate Accord
From the abstract: This work extends a large dimensional intertemporal CGE trade model to account for the various effects of global warming (e.g., loss in agricultural productivity, sea level rise, and health effects) on Gross Domestic Product (GDP) growth and levels for 139 countries, by decade and over the long term, where producers look forward and adjust price expectations and capital stocks to account for future climate effects. The potential economic gains from complying with the Paris Accord are also estimated, showing that even with a limited set of possible damages from global warming, these gains are substantial.
Authors: Tom Kompas, University of Melbourne; Pham Van Ha, Australian National University; Tuong Che, Australian National University
Earth's Future, 2018. Available at SSRN
---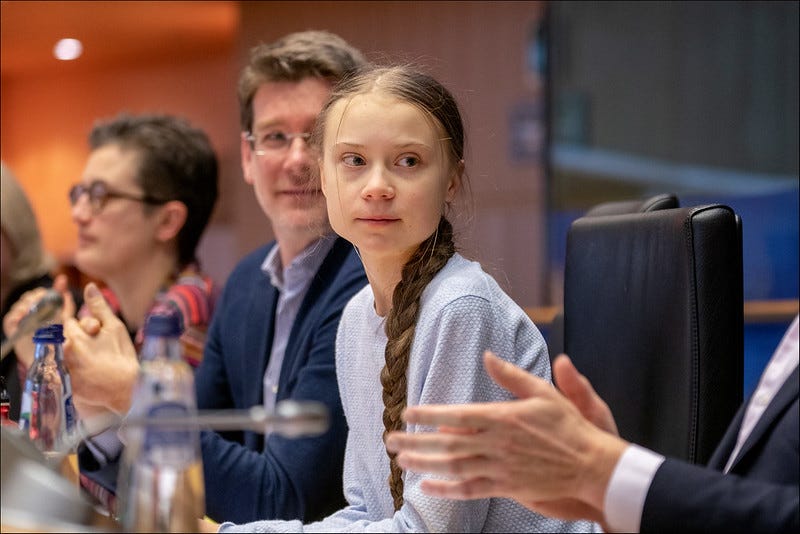 Words to live by . . . .
"The climate and ecological crisis cannot be solved within today's political and economic systems. That isn't an opinion. That's a fact."  — Greta Thunberg
Above, Greta Thunberg urges MEPs to show climate leadership. Photo:
European Parliament
.