Discover more from Callaway Climate Insights
Callaway Climate Insights provides news, critical analysis and original perspectives at the intersection of global finance and the challenges of climate change. 
Over 3,000 subscribers
Why energy firms make bad sports arena namesakes; Dems' new climate plan
Welcome to Callaway Climate Insights, your source for climate finance news and analysis. Enjoy, and please share with your friends.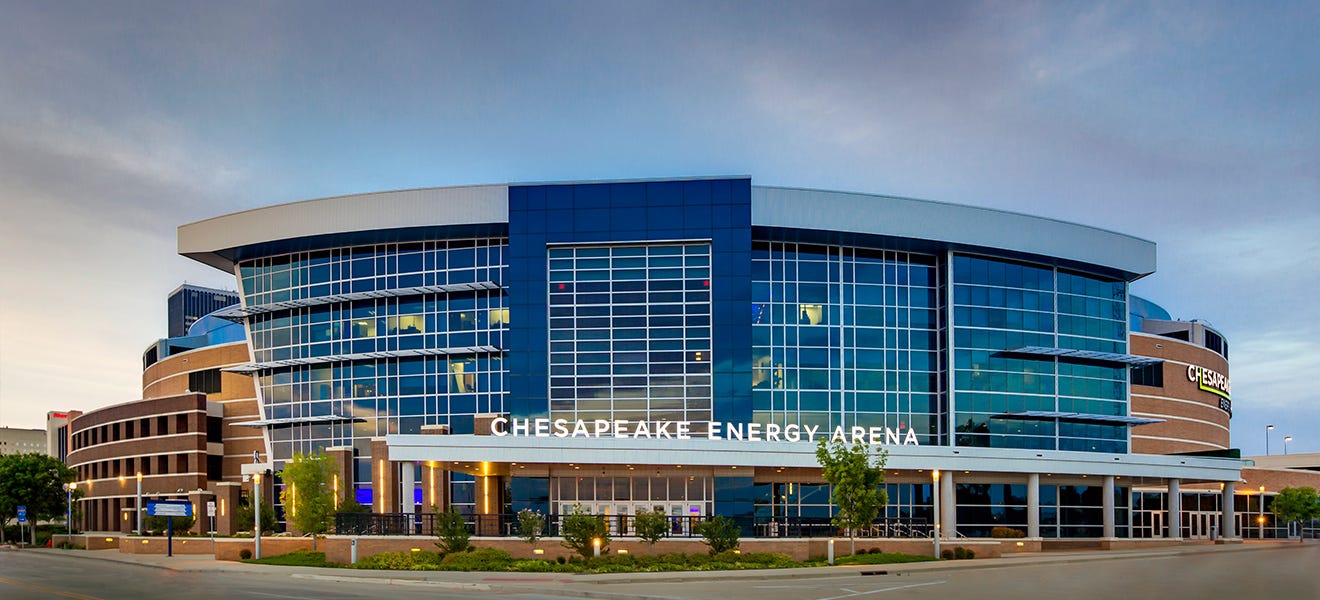 LATEST NEWS AND INSIGHTS
Chesapeake Energy bankruptcy sets worst default pace in four years

Norway's water power the key to Europe's hydrogen plane fuel venture

U.S. flood risk almost twice as bad as FEMA expects

Democrats offer new climate plan as Trump threatens ESG, infrastructure spending
How do you like Callaway Climate Insights so far? Anything you'd like to see more coverage and insight on? Please email me directly at dcallaway@callawayclimateinsights.com.
SAN FRANCISCO (Callaway Climate Insights) — Chesapeake Energy's Corp.'s (CHK) bankruptcy filing over the weekend was among the most spectacular since Enron Corp. in 2001 in terms of personalities, stories of lavish spending and fossil fuel hubris. It also marks 2020 as the worst in four years in numbers of oil company defaults, and it's only the end of June.
Chesapeake was a victim of a collapsed shale oil market more fragile and more tied to low interest rates than anyone could have imagined even two years ago, when fracking helped the U.S. claim it was the largest energy producer on the planet for the first time in almost 50 years.
While the circumstances were entirely different from Enron's collapse, the two companies shared the common corporate ego that compelled them to brand their local sports stadiums with their logos at the top of their games.
Enron Field in Houston was named Astros Field after Enron's collapse and is now Minute Maid Park, which, by the way, bodes poorly for orange juice futures. Chesapeake Energy Arena, home to the Oklahoma Thunder basketball team in Oklahoma City, will remain for now as the company works out its restructuring plan. But it is unlikely to outlast the coming surge in oil bankruptcies in the next 18 months.
I've always contended the story of America's boom-and-bust economic cycle in the past 30 years can be told through the names of its sports arenas. Here in San Francisco alone, we've had four names for the bayside ballpark where the Giants play baseball — three merged telecoms and now it's Oracle Park. And remember CMGI Field, named for a holding company of failed Internet startups, which housed the New England Patriots for a time?
As the fossil fuel industry yields to rising renewable investments in the next decade, we can only hope history doesn't repeat itself for the newly-named Climate Pledge Arena, named last week by Amazon for Seattle's new hockey team.
---
Norway's water power key to Europe's hydrogen plane fuel venture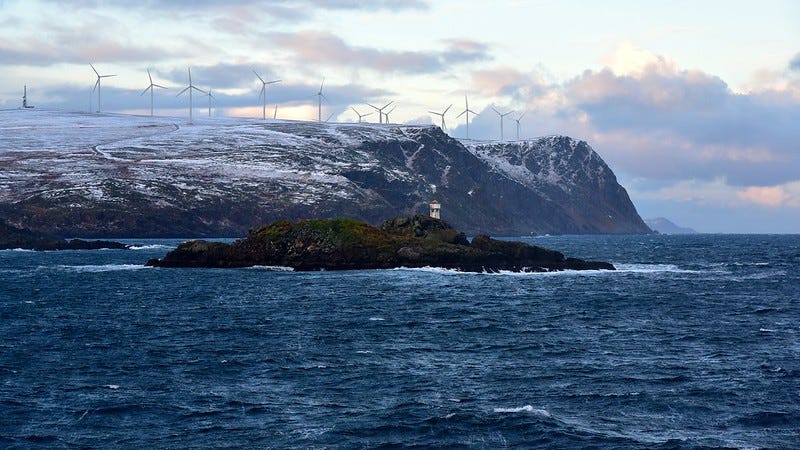 . . . . Norway's 120-year-old hydroelectric power tradition makes it the obvious candidate to house a new consortium of northern European companies who want to build the world's first green hydrogen-based aviation fuel operation on an industrial scale, writes Darrell Delamaide. The consortium plans to use Norway's hydroelectric and wind power to produce synthetic fuel, reaching 10 million liters by 2023 and 100 million liters, the threshold for commercially viable production, by 2026.
Startups Sunfire of Germany and Climeworks of Switzerland will bring their technologies for power-to-liquid production and direct air capture to split hydrogen from oxygen in water and combine with carbon dioxide to create a synthetic gas that can be processed into liquid products, in this case aviation fuel. . . .
---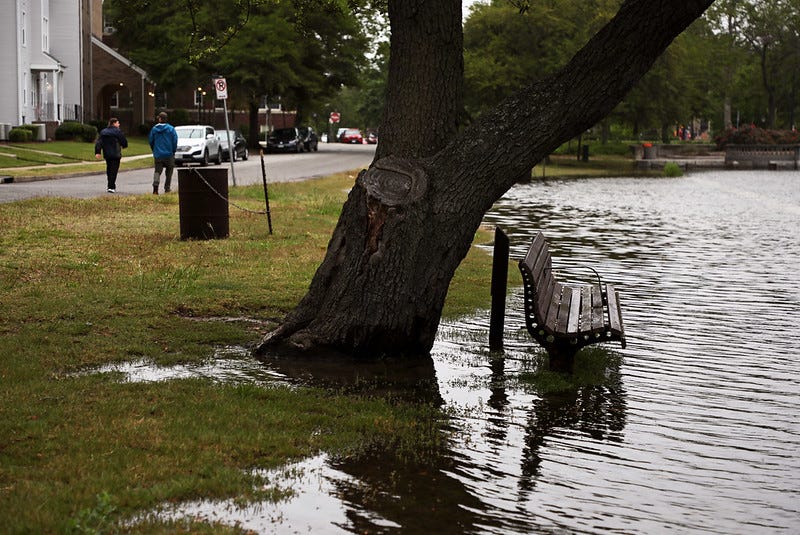 . . . . Flood gates: Like everybody else who read this fascinating story in USA Today Monday about flood risk, I quickly checked my own home's risk here in Marin County. Phew, no flooding. Just wildfires.
But more than 14.6 million homes are at increased flood risk, about 40% more than the Federal Emergency Management Agency estimates, according to data firm First Street Foundation. Flooding in the Midwest, like we saw in Michigan this spring, is forecast to be particularly bad. In Chicago, more than 75,000 homes not previously considered at risk are on First Street's database. And yes, low income neighborhoods bear the brunt of the risk. . . .
. . . . Meanwhile in Washington, House Democrats on Tuesday offered a sweeping new climate plan to update the Green New Deal and draw a climate line in the Election Year sand. The plan covers almost all aspects of the economy in a 547-page document. But most ambitious — and controversial — will be its attempts to eliminate all pollution from cars by 2035.
The new offer comes as Democrats hope to schedule a vote in the next few days on their $1.5 trillion infrastructure bill. The bill, laced with green incentives, faces little chance of passing the Senate and the White House is openly opposed to the debt spending plans to finance it. This follows a one-two punch against the environmental finance industry by the Trump Administration in the past week in which it uses regulation — regulation — to inhibit green shareholder resolutions and prevent financial advisers from investing in ESG strategies.
The ESG rule, proposed by the Labor Department, is sparking wide interest as it not only fails to see environmental, social and governance investing as practice instead of an asset class; it also discounts the substantial gains ESG funds and ETFs have enjoyed in the first half of this year. The proposal forbids advisers from investing securities for any reason other than financial returns. Oil stocks, anyone? . . . .
Above, tidal flooding in Norfolk, Va. May, 2020. Photo: Virginia Sea Grant/flickr.
---
Startup upstart: Sustainable fashion fits Christian Birky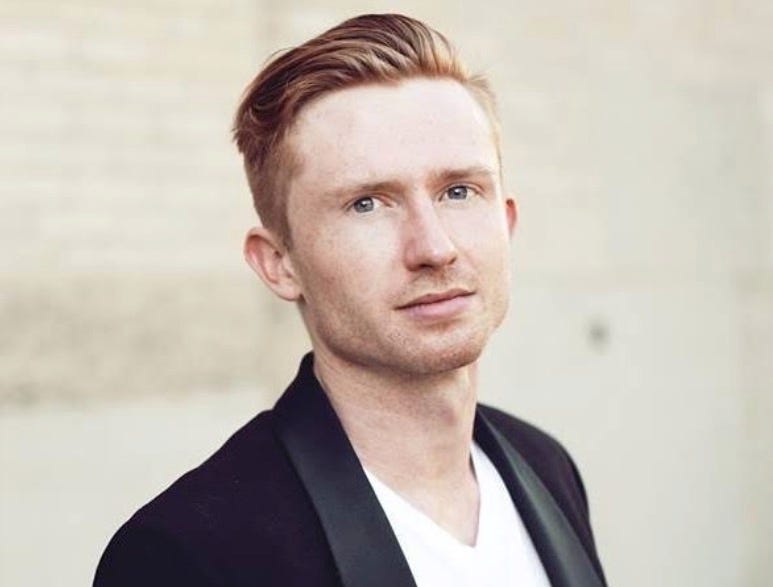 . . . . Christian Birky, 29, is the co-founder of two companies in the apparel industry, Lazlo and Nimbly. Each seeks to use data and smart manufacturing to take emissions out of the massive global supply chain that moves clothing products from continent to continent.
"There's so many emissions that come out of moving things all around the globe," said Birky. "We're still working on coming up with an exact figure in terms of the percentage of reduction that happens when you produce in the U.S., but that's a driving force in why we're doing it." . . . .
Read more of the Startup upstarts we've featured in Callaway Climate Insights: Everhope's Frohman Anderson, Ned Horneffer, of PositivEnergy; Corey Vernon, Radicle Impact; and Harry Rappaport, Gratitude Railroad/Urchinomics and Nils Aldag, cofounder of green hydrogen firm Sunfire
Startup upstarts: Do you know of folks making a difference, working on innovative and creative solutions to the challenges of climate change? Send us an email and we'll consider featuring them in this series.
---
Shoutout: Scorching Siberia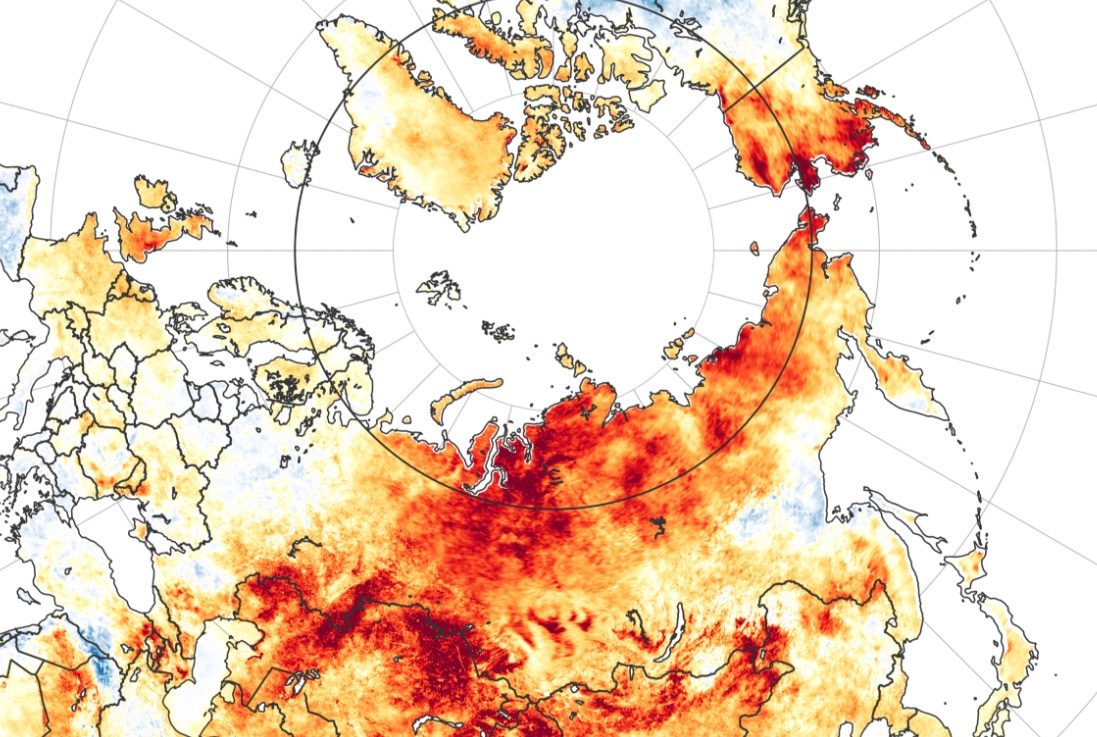 . . . . The Heat is on: By now most of us have heard about the 100-degree day baked into temperature records in Siberia earlier this month. But National Geographic has the deepest piece I've yet seen about What a 100-degree day in Siberia really means, and the fact that we're going to see a lot more of them. Don't miss this excellent piece of journalism by Alejandra Borunda.
"It has been really bizarre to see," says Ivana Cvijanovic, a climate scientist at the Barcelona Supercomputing Center. "All across Siberia, it has really been so hot for so long. January, then February, then March, then April. The pattern — it really really stands out." . . . .
Above, Fires are raging in eastern Siberia in the midst of an unusually long-lived heat wave. Image: NASA Earth Observatory.
---
Hot, hot hot: 24/7 Wall St. - 50 hottest cities in America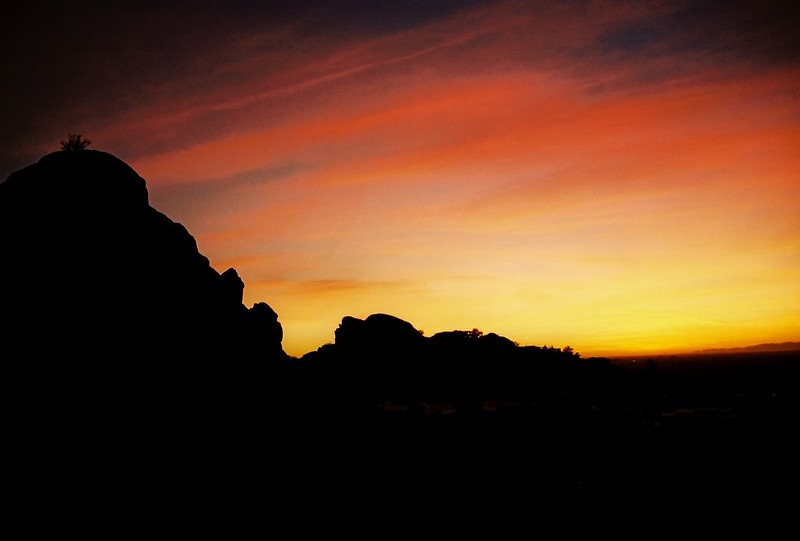 . . . . Back in Arizona: Not to be outdone by, uh, Siberia, our partners at 24/7 Wall Street are out with a special report on the 50 hottest cities in America. Check it out, and find the sweltering place where your baseball team will soon have spring training. . . .
Above, Camelback Mountain, Phoenix. Photo:
Ravneet
/fllickr.
---
Data driven: Sun, wind and water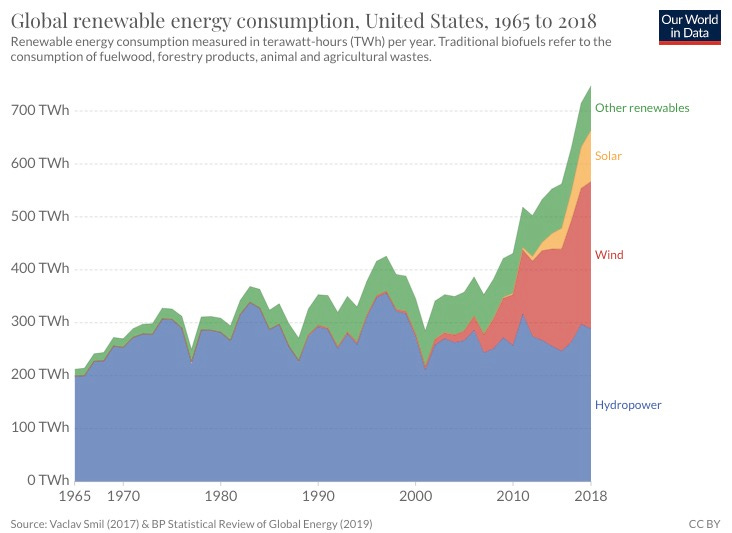 Note the growth in renewable energy consumption in the U.S. from 1965 to 2018:

---
News briefs: Diageo's green bourbon, World Bank and climate finance
Watch this: How nature can provide the best defense against climate change
Editor's picks:
Diageo plans green bourbon

World Bank identifies ways to boost climate finance

KKR-backed platform acquires Environmental Dynamics International
---
Latest findings: New research, studies and papers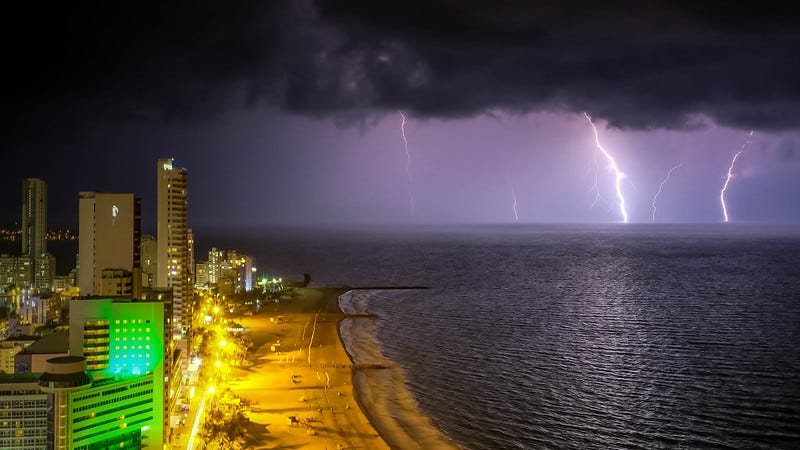 Climate policy and investments in electricity markets
The co-evolution of climate policy and investments in electricity markets: Simulating agent dynamics in UK, German and Italian electricity sectors: Achieving electricity sector transitions consistent with stringent climate change mitigation under the Paris Agreement requires a careful understanding both of the coordinating role of national governments and of its interactions with the heterogeneous market players who will make the low-carbon investments in the electricity sector. 
Authors: Elsa Barazza, Neil Strachan; Energy Research & Social Science Volume 65, July 2020, via Science Direct
Investing in climate change adaptation and mitigation
Uncertain future payoffs and irreversible costs characterize investment in climate change adaptation and mitigation. Under these conditions, it is relevant to analyze investment decisions in a real options framework, as this approach takes into account the economic value associated with investment time flexibility. 
Authors: Tsegaye Ginbo, Luca Di Corato, Ruben Hoffmann; Read more via Springer
Risk Forecasting in the Light of Big Data
This article focuses on big data implications for risk forecasting in the areas of economic and financial risks, environmental and sustainable development risks, and public and national security risks.
Roman Kernchen, Eyvor Institute; SSRN
Climate change and infectious disease in marine mammals
One of the most measurable indicators of climate change is temperature, with sea-surface temperature (SST) anomalies (deviations from the long‐term average SST), in particular, mirroring global warming trends. Furthermore, increases in SSTs have already resulted in disease outbreaks in many marine species, including corals. The authors evaluate infectious disease‐induced mass mortality events in marine mammals by pathogen type and species, and investigate the potential relationships between intrinsic and extrinsic ecological factors on the occurrence of these events. They discuss their results in the context of the conservation and management implications for marine mammals. 
Authors: Claire E. Sanderson, Kathleen A. Alexander; Via the Wiley Online Library
Antarctic Cold Reversal
New research findings underline the crucial role that sea ice throughout the Southern Ocean played for atmospheric CO2 in times of rapid climate change in the past, according to this report in SciTechDaily. An international team of scientists with the participation of the University of Bonn has shown that the seasonal growth and destruction of sea ice in a warming world increases the biological productivity of the seas around Antarctica by extracting carbon from the atmosphere and storing it in the deep ocean. This process helps to explain a long-standing question about an apparent 1,900-year pause in CO2 growth during a period known as the Antarctic cold reversal. The research results have now been published in Nature Geoscience.