Sports and plague; 'hydrogen rocks' in Europe; the $50 trillion climate moment
Welcome to Callaway Climate Insights. We debut two new journalists today. Enjoy and please share. If this was forwarded to you, please subscribe.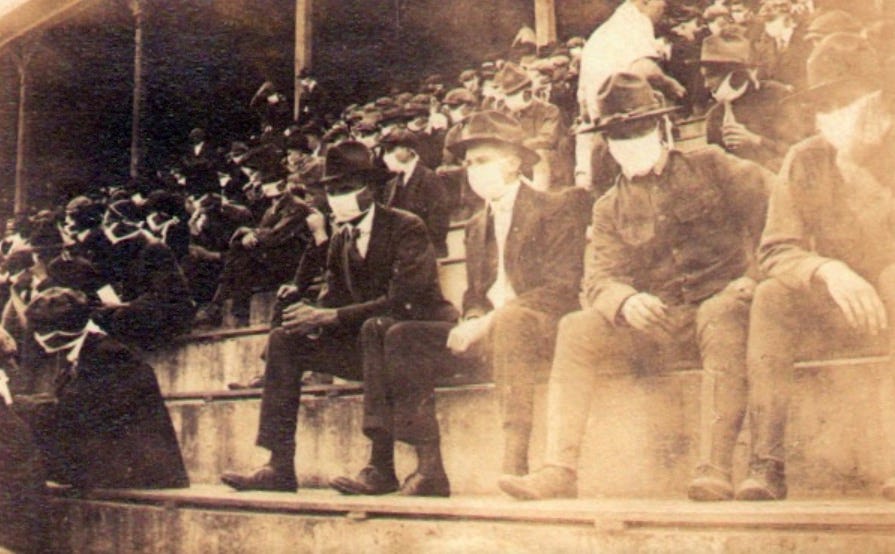 Many of the issues people struggled with during the 1918 influenza pandemic - as seen in this 1918 photo taken during a Georgia Tech football game - are the same as those we're dealing with today, like wearing masks.
SAN FRANCISCO (Callaway Climate Insights) — There is a must-read piece of journalism by Sports Illustrated's Tom Verducci in the latest edition about baseball and pandemics and war in the time of the Spanish flu pandemic. Written in a series of imaginary letters, it tells the true story of a Boston sportswriter covering the Red Sox and Babe Ruth in the 1918 World Series as the pandemic hits.
My synopsis won't do justice to this story of sports, war and the horror of the Spanish flu, so I won't try. Except to say that it covers all the death, politics, stupidity, and heroism of the world we live in now. Including a spectacular scene in which Boston medical authorities are racing to build outdoor hospital tents for dying patients just two miles from Fenway Park as Ruth pitches against the Chicago Cubs.
I mention this as it's the best story I've read about the coming together of the twin horrors of war and plague with our daily lives, and it springs to mind as I read today's report from the World Meteorological Organization that there is a 20% chance of the world exceeding the 1.5°C. global temperature increase limit target in at least one of the next five years. And a 70% chance of exceeding it in one or more months before 2025.
It comes on the heels of a report that while we've all been binge-watching Peaky Blinders and guzzling pinot noir, the U.S. has already had 10 billion-dollar weather disasters so far this year, mostly in the form of storms. And that's before the first hurricane of the season!
My ZEUS column this week is about the cost of dealing with climate change by 2050. It's clear that the costs and the change are already happening, and that we're going to have to deal with it at the same time Covid-19 ravages the planet, baseball or not. Verducci notes at the end of his piece that they never did come up with a vaccine for the Spanish flu. It just disappeared after killing at least 50 million. We might get lucky with Covid-19, but there is no quick fix for climate change.
Enjoy the journalism below.
---
ZEUS: The $50 trillion opportunity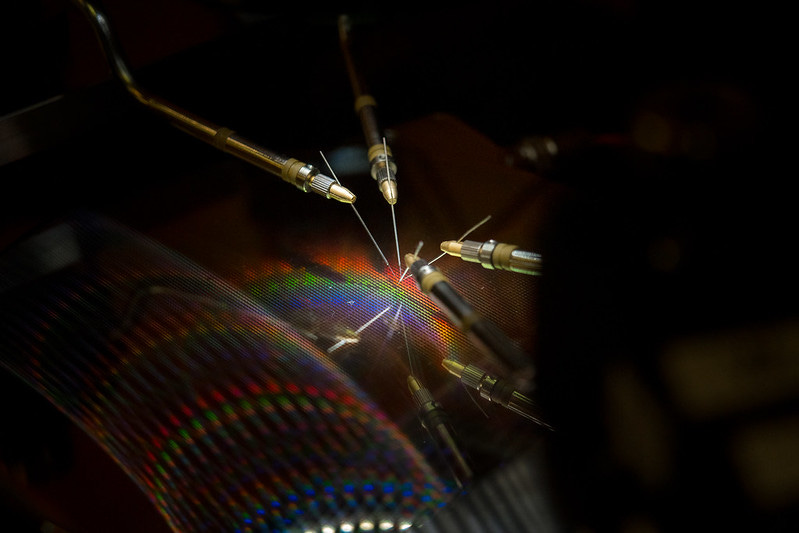 . . . . Estimates for the cost to humanity of adapting to (not solving) climate change are all over the map. But they all end with "trillion." Most assume we can spend our way out of this; a tall order given the state of the global economy. So why are some investors, entrepreneurs and innovators so positive? Part of it is the very nature of what defines their success.
More of it is because each day we are discovering and investing in more ways to reduce our carbon footprint, such as this crazy story this week about how spreading rock dust — rock dust — on crops can remove up to two billion tons of CO2 per year. Savings, such as energy efficiency, are going to be as important as spending. And we are making progress. . . .
---
'Hydrogen rocks' — Europe makes its case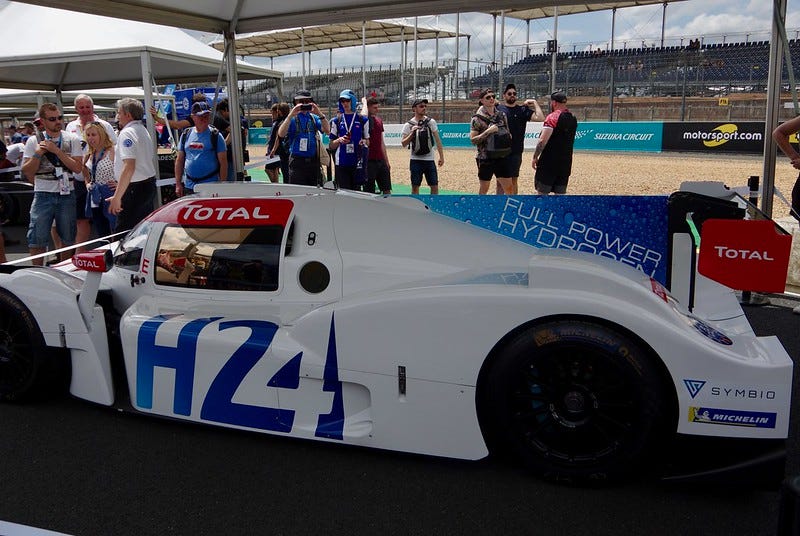 . . . . EU Climate Commissioner Frans Timmermans showed no shortage of enthusiasm for Europe's hydrogen bet in a Covid-19-inspired virtual press conference this week, but Stephen Rae argues he'll need more than his own ample energy to create a European market for hydrogen in the next four years. Getting the steel and chemicals industries on board is crucial, as are storage and distribution plans.
But there are issues which won't go away, including the fact that Brussels is already spending less in this area than Asia or the U.S. The draft of the strategy leaked in June was candid: "EU lags behind in terms of public support to hydrogen per capita" pointing to the bigger budgets of China, Japan and the U.S. Timmermans himself admitted the Saudis were now talking in megawatts compared to Europe's gigawatts ambitions. . . .
North Sea targeted for offshore wind venture
. . . . Nine European countries call for a joint venture in the North Sea to create an offshore wind territory but will need 10 times the existing installed structures to make it happen, writes Elizabeth Hearst. Read Offshore wind power territory planned for Europe's North Sea.
We'll always have Paris
. . . . EU, Canadian and Chinese authorities voiced support for meeting the targets of the Paris agreement of 2015, despite the impact of Covid-19 on their economies, writes Elizabeth Hearst. Read EU, China, Canada restate commitment to Paris Agreement despite Covid. . . .
---
Challenges await after California zero-emissions truck rule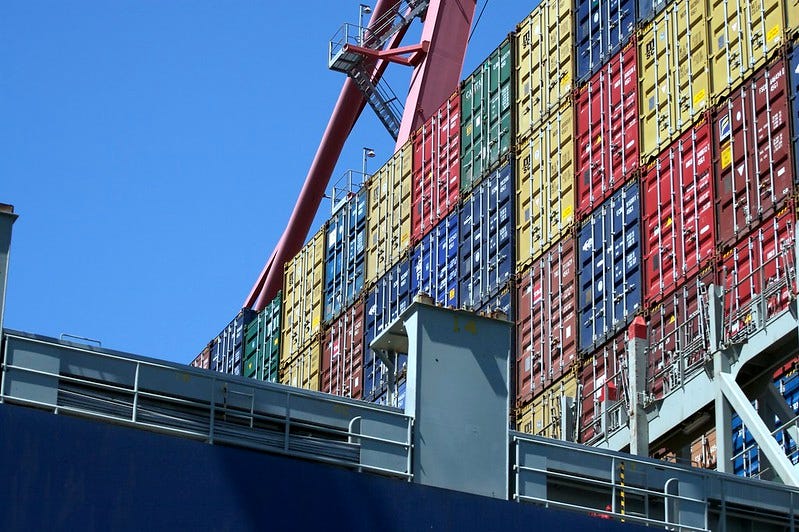 . . . . California's zero-emissions truck rule, approved last month, captured the environmental world's attention and divided the shipping industry. It's the country's first legislation of its kind and will require more than half of new trucks sold in California be zero-emissions by 2035, gradually increasing to 100% by 2045. It's an ambitious plan. One that as many as seven states are preparing to mimic. But the challenges to the trucking industry, including upfront costs and creating a charging station network, are formidable. Molly Glick weighs the odds. . . .
---
Data driven: 'Sixteen Tons'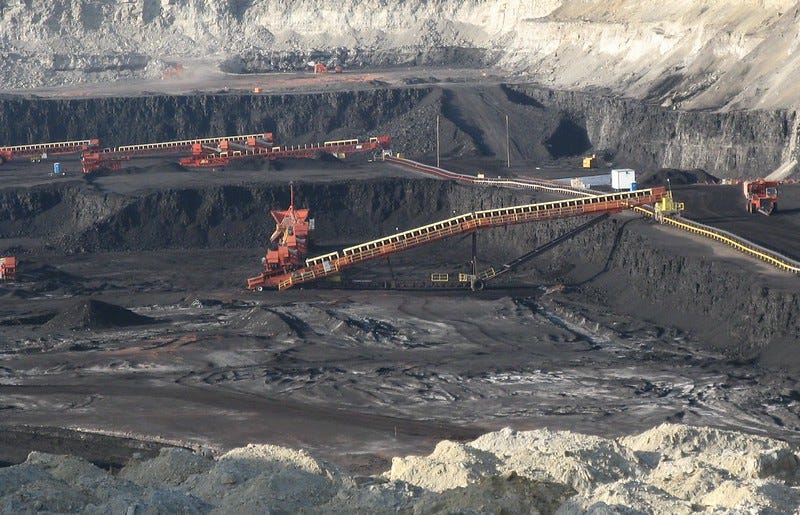 How much coal does the United States export and to where?
In 2019, the U.S. exported about 93 million tons of coal to at least 50 countries. About 59% of total coal exports in 2019 were metallurgical coal and 41% were steam coal. (Source: U.S Energy Information Administration)
Above, surface coal mine, Gillette, Wyo. Photo:
Greg Goebel
/flickr
---
News briefs: Time says 2020 is 'our last best chance'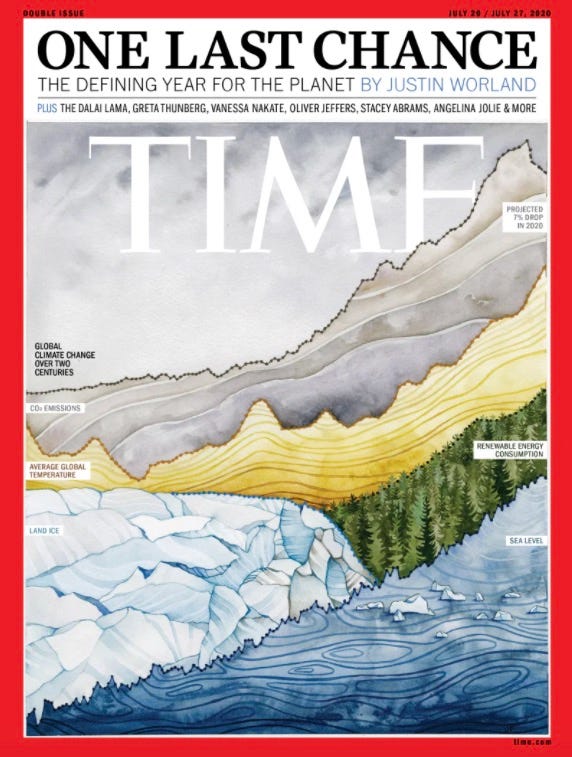 . . . . Don't miss this: "There's a divide about which way to go," Justin Worland writes in this Time magazine cover story, 2020 Is Our Last, Best Chance to Save the Planet. Worland says, "from our vantage point today, 2020 looks like the year when an unknown virus spun out of control, killed hundreds of thousands and altered the way we live day to day. In the future, we may look back at 2020 as the year we decided to keep driving off the climate cliff — or to take the last exit."
Editor's picks:
San Francisco's airport using Neste's sustainable aviation fuel

Rocky Mountain Institute's new Center for Climate Finance

ESG investing in times of crisis: 'Governance is king'
---
Latest findings: New research, studies and papers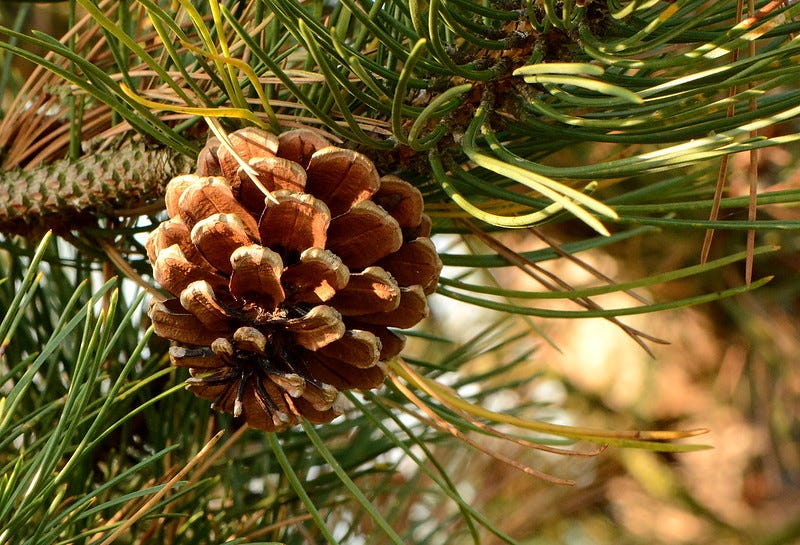 Trees cannot sequester enough carbon to slow abrupt climate change
The idea of planting trees to sequester atmospheric carbon is considered. Obviously, the process of photosynthesis ensures that trees sequester carbon from the atmosphere. However, there are important questions that arise as we consider whether, how, and how many trees to plant. How fast do trees sequester carbon from the atmosphere? How much carbon do trees sequester? What negative side-effects are associated with planting large numbers of trees? These critical questions are addressed herein.
Author: Guy R. McPherson, professor emeritus of conservation biology, University of Arizona. Available at Modern Concepts & Developments in Agronomy
The place of capital markets in addressing climate change issues
From the summary: "... renewable energy can gradually but surely replace fossil fuels on a large scale, given there is an abundance of investments therein. The commercial marketplace is currently volatile and unmotivated towards climate financing due to the obtainable uncertainties and complexities. This reality spells out the need for policymakers to advance clear and financially sustainable pathways for investors to tread towards climate financing." 
Author: Habeeb Asudemade, available via SSRN. 
New tool to model economic, environmental impacts of drought
In a recent study published in Environmental Research Letters, a National Science Foundation-funded team led by a researcher from North Carolina State University analyzed the effects of a drought in California. The scientists found that drought led to significant increases in power costs for three major utilities in the state. Researchers developed a new software tool to model the economic and environmental impacts of the drought. 
---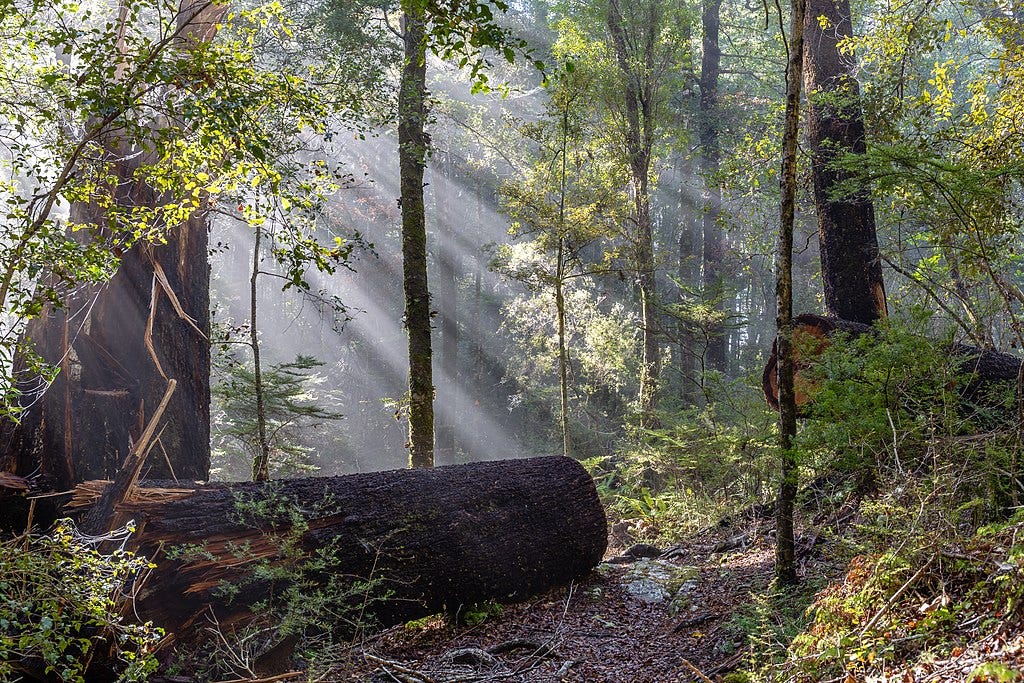 Words to live by . . . .
"If you really think the environment is less important than the economy, try holding your breath while you count your money." — Guy McPherson. 
Above, part of New Zealand's
Te Araroa Trail
. Photo: Michal Klajban/Wikipedia.